Astronomical Prague Clock

The Amazing 14th Century Jewel of Old Town

The famous Prague clock is one of the best attractions in a city of many. But it's more than just a famous clock.
It's the center of the city's universe - a Prague astronomical clock that not only keeps time, but includes 12 apostles, dark symbolic images, a bell and rooster that crows. Pretty cool, eh?

It also has lots of aspects charting time including moon phases, zodiac signs and more details that honestly, kind of confuse us.

So, let's keep it simple! This page includes a little video of the clock, some great tips for viewing the Prague clock and a plea to visit the tower where it resides.

But, wait, where is the clock?

Good question!!! The Prague astronomical clock is right on Old Town Square. In fact, it's on one side of Old Town Hall Tower. You can't miss it.
Clock Repair Work 2018
The clock with undergo repairs and restoration from January 8th to the end of August 2018. The Old Town Tower will be open, as well as its observation viewing point.
Tips for Visiting this Prague Clock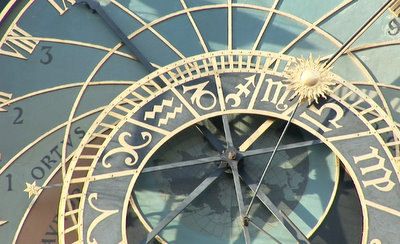 Detail of the clock with astrological symbols
Visiting the Prague astronomical clock is easy enough. You show up, you look at it and you move on - maybe you even see the show, right? Well, not exactly!

This famous sight, the Prague clock is a scene of incredible detail and texture. AND, it's right on Old Town Square so it's not the quietest of spots in Prague. But these tips will help you enjoy the astronomical clock much more.
Early bird. We know you'll be on vacation, but really, if you can take the time and get up early to see the clock your experience will be much more enjoyable. You won't feel crowded and pushed for sure. Now, we don't mean 6am. How about 9am? Have breakfast and head here first thing to see the apostles and get a view of the clock up close. Also, if you plan to visit the clock tower for the incredible views, get there early right when the tower opens. Less people - less distractions - better experiences and much better photos!
On the hour. If you plan to see the show of apostles passing above your head, then show up about 10 to 15 minutes before the hour strikes.  This way you can get a good comfortable spot to view this mechanical wonder.
Get up close. There's always space below the clock to walk by since people usually stand back away from the tower to take pictures. But, if you don't get up close to the Prague clock then you will miss the whole point. It's symbolic of the whole city, the Prague astronomical clock is a world of detail and texture - so get up close and don't miss the historical beauty.
No expectations. We recently stood below the clock with our children and watched the hourly display of apostles and other figures. It's always a special event for us even though we've seen it a thousand times. But, a small group standing behind us was completely disappointed by the clock's hourly performance. They were obviously expecting something more exciting and grand. So, our suggestion to all visitors - leave your expectations at home and enjoy this old clockworks for what it is. After all, this is a 14th century marvel. It doesn't project holograms or shoot out fireworks. It's simply a beautiful old clock that is still amazing today.
Old Town Hall and the Clock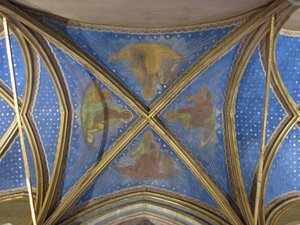 Okay, this is our blatant plea to visit a personal favorite sight of ours. We seem to have a lot of these and most go unheaded. But, we understand -  it takes time to visit these smaller sights that we know and love.

Most people come to see the clock and keep walking onto the square or often to Charles Bridge. But, if you take the time to go inside the Old Town Hall, you will have a completely different perspective of Old Town and the Prague clock. We promise.
You can view several gothic rooms inside the town hall that have incredible details, paintings and deep history of course. But, we like to visit the original floors of the town hall. The streets of Old Town were actually built up after problems with flooding and today you can visit the cellar for a really cheap entrance fee.

The tower at the Old Town Hall might offer the best view of the city. It definitely beats all others for its view of the square below and Old Town. Very exciting. And, yes, there's a lift. 
Our personal favorite sight in Old Town Hall is just behind the Prague clock. Beside the chapel on the first floor is a window that you can look through to see the 12 apostles as they wait for their hourly queue.

For us, they are mesmerizing - carved with such detail and care. Their hands and expressions are incredible and can't ever be seen from the street below.
Visit Prague's tourist site for more info about the clock.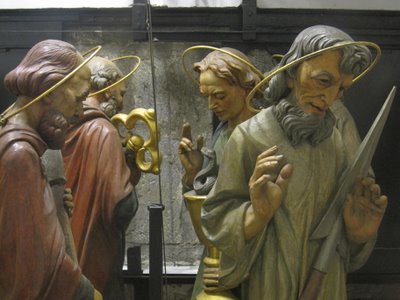 ---
Home > Prague attractions > Prague clock
---