Luxury Prague Hotels

Finding a luxury Prague hotel is much easier now than ever. The impeccable services and sheer number of 5 star hotels are bound to make old Communist leaders flip in their graves.
Lobby at the Four Seasons
This is a brief list of a few recommended luxury hotels. Each one is close to the main attractions and combines the charm of Prague with dazzling style, amenities and service - perfect for any visit.
At the Golden Well
This is the kind of hotel we love to visit and read about.
Nearly every guest review for the Golden Well Hotel is excellent. Check rates and read reviews.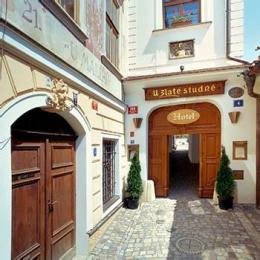 At the Golden Well (U Zlaté Studně)
This gorgeous hotel is hidden in a little nook of Malá Strana.
Even if you don't stay here, it's worth just walking up to the hotel to experience this beautiful little area.
fantastic views from some rooms and from the terrace
the hotel sits on the slope of the castle, snuggled against its gardens
first-class restaurant with romantic dining
the location is historical, but so is the place - was once owned by a Roman Emperor.
numerous hotel awards for customer satisfaction
To say any more would be pointless.
Address: U Zlate Studne 166/4, Prague 1. Tel: +420 228 881 626
---
Four Seasons? Yes, Any Time!

Some people never stray from a Four Seasons hotel. And their Prague setup is another reason for strong loyalty.

At first glance, the gorgeous location is enough to be 5 stars.
On the banks of the Vltava and hidden around the corner from Charles Bridge, the hotel is in a wonderful place. It's tucked away enough to not be conspicuous but also ideal for exploring the city.

Other hotel highlights...
the hotel's Allegro Restaurant was chosen by Zagat as the best restaurant in Prague, 3 years straight

some rooms offer wonderful views of the castle
unique hotel construction - uses three separate buildings for optimal comfort

Location: Old Town, next to Charles Bridge and 100m from Old Town Square
Address: Veleslavínova 2a/1098, 110 00, Prague 1. Tel: +420 221 427 000
---
Where the Music Matters

It's all about the music at this luxury Prague hotel.
The Aria Hotel plays on a musical theme with rooms inspired by a genre of music or a particular artist.
Rooftop at Aria Hotel
You might feel like singing too once you realize how well the hotel is located. This is a beautiful spot - in Malá Strana (Lesser Town), just two minutes walk from Charles Bridge.

Some rooms offer romantic views of the lovely Vrtbovska Gardens next door. And others offer a classic scene of the grand dome of St. Nicholas Church.
Address: Tržiště 9, 118 00, Prague 1. Tel: +420 225 334 111
Check rates and read guest reviews.
---
Mandarin Oriental Prague

If you're not familiar with this chain of hotels, then please start here. Because his Mandarin Oriental is a jewel.
It's located on a quiet street in Malá Strana (Lesser Town) - maybe ř minutes walk from Charles Bridge.
The buildings that make up the hotel were once part of an original monastery dating to the 14th century. And, the hotel has kept its serenity and architectural splendor while adding all the fine services you would expect in a luxury Prague hotel. 
The hotel boasts a wide variety of rooms. Some lovely small rooms overlook the quiet courtyard while others offer wonderful views of Malá Strana and Prague Castle. The penthouse suite is luxury pure and simple.
Address: Nebovidska 459/1, 118 00, Prague 1. Tel: +420 233 088 888
---
Luxury Prague Hotel - for a King
This exclusive luxury Prague hotel is part of the Best Western international chain. It's been created with a remarkable old European charm. The decor and fantastic interiors are fit for a king.
The Hotel Royal Palace is located just below the castle and steps from Charles Bridge. The exquisite Wallenstein Gardens are very close as well.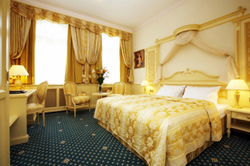 The hotel offers only 36 rooms, but each one has a lovely view of either Prague Castle or nearby Old Town and the Vltava River.
The hotel's Amadeus Restaurant serves delicate international and Czech dishes. After a day of exploring Prague, check out the wellness studio. There's a sauna, steam room, whirlpool and small gym.
Check prices and availability.
Address: Letenska 11, 118 00, Prague 1. Tel: +420 224 811 281
Hotel Savoy Prague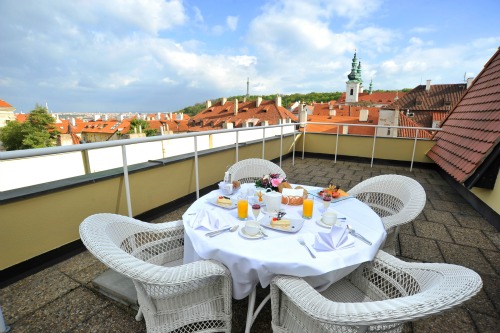 Dining on the terrace at the Savoy
The Savoy Hotel Prague is a perfect alternative to the hustle and bustle of other Prague hotels. It sits quietly to the side of main sights and offers excellent service.
Guests continually rave about the quality that the Savoy provides and we recommend it too especially because of its competitive rates.

The Savoy has a small variety of rooms and suites which makes it perfect for a romantic getaway. Some suites include private terraces with views of the immediate area.

This luxury Prague hotel has a few other surprising amenities like a fitness room, sauna and steam bath. And, don't miss the library for time with a book and tea.
Check prices and availability here.
Address: Keplerova 1, 118 00, Prague 1. Tel: +420 224 302 430