Aria Hotel Prague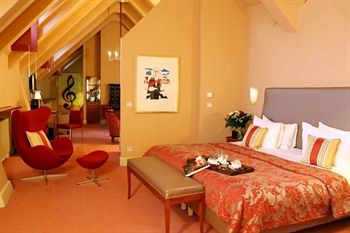 Luxury Musical Themed Rooms
The Aria Hotel Prague is one of the best and most romantic hotels in Prague. It's also very different.
The Aria offers rooms based on different musical themes.

Now, at first thought a music theme-based hotel might seem a bit kitschy. But don't worry, the Aria is a tasteful blend of luxury and musical references.
The Aria Hotel Prague was rated as a Top 10 Luxury Hotel in the World for 2011 by TripAdvisor.
And, it has garnered more buzz and accolades from other publications like Telegraph.co.uk and Conde Nast.
If that's not enough, consider the Aria's backdrop. The beautiful Vrtbovska Gardens which guests have direct access to.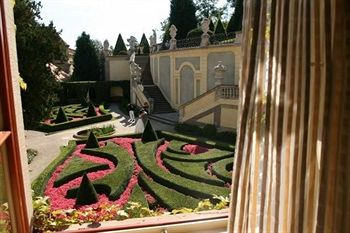 View of Vrtbovska Garden from the hotel
Lots to Enjoy at Aria Hotel Prague
Beautiful architecture - the Aria commissioned top architects to bring the hotel a luxurious elegance to fit the charm of Lesser Town. Of note, look for the Italian mosaic of an original Gregorian chant that lines the entrance.
Rooms for ears and comfort - each room is named after a musician or composer, from Czech's very own Antonín Dvořak to the soothing Billie Holiday. You will find a biography of each artist in your room as well as a selection of books and an  connection with music from 52 select artists.
Music Libary - the music theme isn't contained to individual hotel rooms. Guests have access to a musical library with a broad selection of CD's, music DVDs and literature. And, there's a private screening room.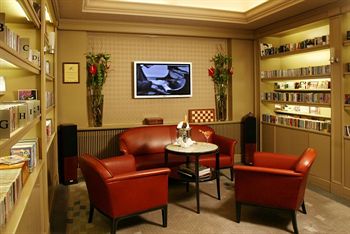 Music Library at Aria Hotel Prague
Music salon -  possibly the coolest spot at the Aria Hotel Prague is this room. It combines a nice selection of music books, comfy leather furniture and a fireplace.
Fitness

- a

 growing number of Prague hotels offer a fitness option for their guests, but the fitness room at the Aria like a personal gym. It's equipped with all the equipment you need to keep your routine - AND - the room looks out onto Vrtbovska Gardens.
Fine dining - the hotel's Coda Restaurant offers a wonderful place for dinner or even lunch. Breakfast is included in each booking and is served here as well. We suggest reserving a table for dinner for the panoramic views of Prague.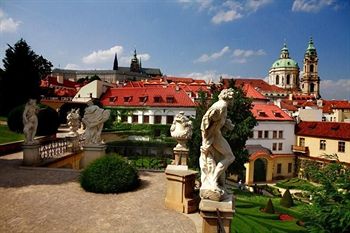 Vrtbovska Garden with hotel in background
Fantastic Location!
TIP...  For a real treat, consider climbing up the bell tower of St. Nicholas' Church. The church is a very short walk from the Aria Hotel Prague and offers splendid views of the entire Malá Strana area. Check out the old spy's nest there too!

The Aria is in the lovely area of Prague called Malá Strana (Lesser Town). Aside from the beauty of the Aria, it's the hotel's location that may win your heart.
Unlike Old Town, this area isn't the center of Tourist-ville. So you won't have to compete for sidewalk space or be confronted by the occasional drunk stag party.
For example, within a few steps of the hotel you can gaze up at a variety of beautiful embassies, stroll Vrtbovska Gardens or find yourself wandering under Charles Bridge onto the flowing greenery of Kampa Island.

Malá Strana offers days of exploration on its own. And evening walks are save and highly recommended.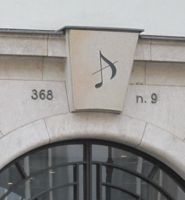 Okay, we're getting carried away. We're a bit biased toward Malá Strana. When we are looking to get away for a coffee or Sunday afternoon walk, we often find ourselves meandering this area. It just happens.
Of course, there are great connections to the rest of the city from here as well including a tram stop for the ever useful #22 that takes you up the hill to the castle and across the city to the National Theatre and other important destinations.
For more hotel ideas in this atmospheric area, please browse our Malá Strana hotels.
For more about Vrtobvská Gardens please visit their website.
---
---