Walking Tours in Prague
The best walking tours in Prague are guided by locals. They make the city accessible and provide a unique perspective on history and sightseeing.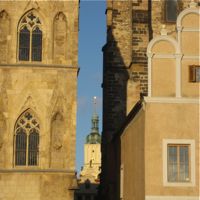 Even if you're not the type of person who normally books a tour, Prague may quickly change your mind.

The sheer density of detail and architecture in Prague begs the help of a good tour guide.

And, Prague is a city meant for walking. Just look at these old streets. 
---
Castle Walking Tour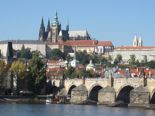 Visiting the largest working castle in the world is a big task. But this tour adds in-depth value with details about the castle's many buildings and deep history.

It covers about 3 hours and tours consist of small groups so you get a more personal touch. I don't recommend the large group tours that can't provide the same accessibility for everyone.

This castle tour runs daily, except for holidays.
Duration: 3.5 hours

More about the Prague Castle Walking Tour
---
Historical Prague Jewish Tour

The complex area of Prague known as Josefov is best to explore with an expert guide. After all, 1,000 years of history are crammed into this little quarter.

The Jewish tour visits the striking Old Jewish Cemetery and includes admission to the Jewish Museum and various synagogues.
This tour is offered daily except for Saturdays and Jewish holidays.
Duration: 2.5 hours
---
Prague's Royal Route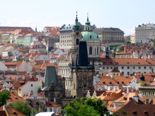 Prague's original Royal Route is the path soon-to-be kings took on their way to their coronation at Prague castle - from Old Town, across Charles Bridge and onto the castle.

So, to say the least, this tour offers a broad variety of fantastic sights. And, as far as tours in Prague go, this guided tour is very affordable. 

The Royal Route Tour is offered daily except for holidays.
Duration: 3 hours
More info about the Royal Route Tour
---
Mozart's Footsteps Walking Tour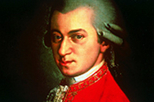 Wolfgang Amadeus Mozart had a colorful relationship with Prague and Czech people. His time in Prague is explored in wonderful detail on this lengthy tour.
A guide will take you to a number of places where Mozart spent time and a few places where you can still feel his influence. Don't worry, this tour is not just for classical music lovers.
The Mozart tour is offered daily except for holidays.
Duration: 3 hours
---
Prague Photography Walking Tour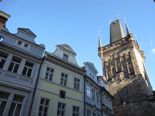 This is one of our favorite tours in Prague. Not only do you get to meet and follow along with a local photographer, but this tour takes in all sorts of places that you'd otherwise miss.
You get to explore little streets in less popular areas of Malá Strana and Hradčany near the castle.

You don't have to be a professional photographer to enjoy this tour and benefit from the guide's photography tips. Just bring your excitement for Prague and your camera!

The Photography tour is offered daily except for holidays.
Duration: 3.5 hours
Book a Prague Photography Tour
---
More Tours in Prague
For more tour ideas, these pages might also interest you...
Back to Prague Sightseeing Tours