Where to stay in Prague?
10 Unique Districts to Choose From
Deciding where to stay in Prague? I know it can be a little overwhelming. You want to get it right, but there are so many choices and variables.
I can relate. In my time working in local hotels, I've met hundreds of people who have gone through the same process.
The same questions, the same doubt.
Cute, cozy, unique - Hotel Clementin in Old Town
So, let's do a little comparison shopping by looking at ten of Prague's main districts. Within each of these districts I have a few recommendations for specific areas or neighborhoods to consider. 

It's a simplistic assessment, but I hope it helps you get some clarity in your search for the best accommodation for you.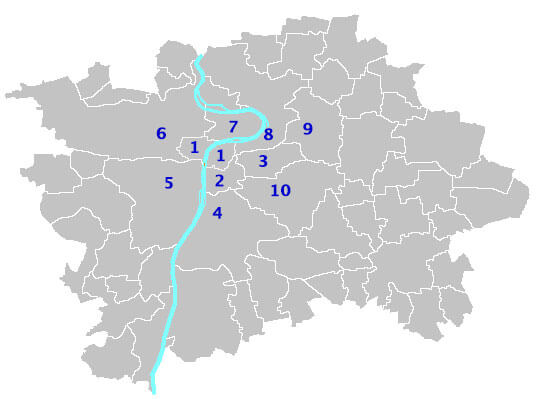 Prague districts 1 to 10
Prague 1 is Number 1
Prague 1 is the heart of the city. It includes the historical areas of Malá Strana (Lesser Town), Old Town and parts of New Town and Hradčany.
You can basically walk to most sights and attractions from any part of this district.
So, it's easy for me to recommend finding a hotel in Prague 1. Of the four areas in this district, I like Mala Strana the most. It's charming and less touristy.
Where to stay: all of these areas within Prague 1 offer a fantastic mix of location and quality.
Lesser Town (Malá Strana)
Old Town (Staré Město)
New Town (Nové Město)
Hradčany
Pro: Excellent location, high-quality hotels, easy walking and transport options. Simply ideal.
Con: Higher prices, touristy and crowded. Parking options are limited.
Related links: Mala Strana hotels and Old Town hotels
---
Prague 2, the Next Best Thing?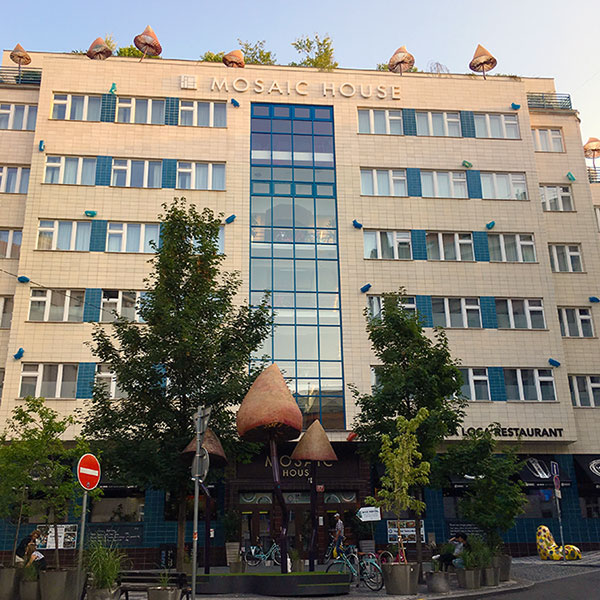 Prague 2 is kind of like Prague 1's little brother.
It's less historical, but still fun and different in a good way.
Prague 2 is close to historical sights but removed from tourist crowds.
It has a wonderful eclectic collection of nightlife, restaurants and alternative places to see.
And you can find some great accommodation here too. From cheap-ish hotels like the lovely Dahlia Inn to the more upscale Park Inn. Or, what about the cool hostels the Boho group offers.
Apartment rentals in this area can also be excellent. Many residential buildings have been renovated while keeping their early 20th century atmosphere. Search VRBO for nice examples.
Where to stay in Prague 2:
Vinohrady
New Town (Nové Město)
Vyšehrad
Also, if you prefer to be near Wenceslas Square or the main train station then Prague 2 could be the ideal spot for you. Check out some Wenceslas Square hotels.
Pro: Very good location, lots of hotels to choose from with decent prices. Vibrant neighborhoods, good dining and places to visit.
Con: Some hotels are on main streets with heavy car traffic. Not all of Prague 2 has good access to public transportation
---
Prague 3, Now We're Getting Different
Prague 3 has long been known as a working class district. It's filled with blocks of residential flats, little shops and many, many pubs. 
If you're looking to save money on your hotel, and still be close to the city sights, then I would focus on this area.
These areas of Prague 3 offer a great balance of city life and proximity to the historical sightseeing.
I think the best part of staying in Prague 3 is its local vibe. You won't be "just another tourist" here.
Pro: Cheap hotels in the area, no tourists. Nice restaurants and shopping options. Metro line A runs through here.

Con: A few sections of Prague 3 can be a bit rundown and neglected. Some areas have limited public transport (bus only).

---
Prague 4, All Kinds of Options
Prague 4 is the city's largest district. So it gets a bit sticky when trying to describe it adequately.
It's a hodgepodge of commercial areas, highways, various housing and paneláky (panel housing).
For accommodation, this is a good area of cheap 3 star hotels and pensions. And prices will be consistently low.
If you're driving, this also might be an ideal area to stay. The highway from Prague to Brno connects through Prague 4 and there is good access to the ring road as well.
Where to stay in Prague 4? Try these areas, but always check on a Google street map for more details.
Pro: Eclectic jumble of areas with many of Prague's cheap hotels here. Easy access to highways and the Metro line C. Definitely a "local" district.
Con: Can be congested and lacks historical character of other districts. Luxury hotels are missing in this area.
Prague 5, From Very Good to...
Praha what? Yes, Mala Strana is in Prague 5 too!
Here's where it gets tricky. Prague 5 is a large swath of Prague.
It has lots of areas means lots of hotel vareity - good and bad.
I should write a whole page... Where to stay in Prague 5 ;-) 
For example, Prague 5 has part of Mala Strana in it. This means it's a stone's throw from Charles Bridge and Old Town.
So you can find magic in a little hotel like the Hunger Wall Residence.
Or, just head south a bit into Smíchov to find plenty of small independent hotels and apartment rentals to choose from.
Then, if you continue south, you'll find the bustling area known as Anděl with it popular shopping mall and metro station.
From here, the district spreads wide and areas get harder to describe. They can range from charming to industrial or sometimes unkempt.
Where to stay in Prague 5?
Malá Strana, if possible
Smíchov , especially areas around Anděl 
Pro: Some lovely, hidden areas in this district which are very convenient for sightseeing. Good area for shopping, transportation and local experiences.
Con: Some areas are accessible only by car or bus. Some parts are far from city attractions with poor restaurant options. Choose your hotel carefully. 
---
Prague 6, My World
Bias alert... outside of the beauty of Prague 1, I really like Prague 6 for where to stay in Prague. Maybe it's the parks and fresh air, or simply because my family and friends are in this area ;-)
Either way, Prague 6 has a lot to offer.
First, the district starts just on the other side of the castle. Near the Hradčanská metro station you'll find a bustling little area of shops, restaurants and little hotels here and there.
Second, there are really good connections to the rest of the city from here. From the convenient tram lines to the metro line A, you can be in Old Town or Malá Strana in just a few minutes.
I recommend these specific areas...
These areas offer a nice collection of hotels and private rentals to choose from. Plus, they are safe, family-friendly and prices are cheaper than other parts of the city. 
You may also choose Prague 6 if you want to be close to Prague airport.
Pro: Easy access to the historical city center, good local restaurants, awesome parks and unique character. Excellent public transport in Prague 6.
Con: The far reaches of this district can be rural and too far from the city itself. I wish there were more hotels to choose from.
---
Prague 7, Up and Coming
The up-and-coming neighborhood of Holešovice is the highlight of Prague 7. It's turned popular in recent years with new restaurants, art spaces and hip cafes.
And if you like parks, two of the best in Prague are here: Stromovka and Letná park.
Prague 7 also has excellent public transport connections with a number of tram lines and the Metro line C.
Generally, you can get to the historical zone within a few minutes. And if you're near Letná, you might even consider walking to Old Town.
Pro: Great off-the-beaten gems in Prague 7. Nice dining options and parks for getting away from the typical stuff.
Con: Some areas can be a bit rundown and dirty. And a few major roadways here can be congested.
---
Prague 8, Hit and Miss
Prague 8 is a dynamic area with lots of variety. It's also pretty hard to describe because it can range drastically in style and hotels.
For example, at the southern end, Prague 8 borders Prague 1 with Old Town a short walk away. Here you can also find the Florenc bus station and the City Museum also. 
Floenc is also a transfer point on the metro for lines B and C. So getting to other parts of the city can be a breeze from here.
Prague 8 is also a great destination for smaller, budget-friendly hotels - especially the further you get from the city center.
If you're looking for where to stay in Prague 8, I suggest looking directly at Karlin.
In recent years this area has seen a resurgence in energy. A number of interenational offices have opened here. And with those have come new restaurants and delightful cafes.
There are a few very nice hotel options too, including the Hilton and Hotel Jurys Inn.
As the district twists northward, it becomes less inviting and more suburban with highways and a lot of traffic. Although this makes a easy connection to Dresden and northern parts of the country.
Pro: I think the best area of Prague 8 is Karlín, and around the metro line B stations like Florenc and Invalidovna. Quick access to Old Town and other places to see in Prague. 
Con: Some parts can be congested with busy roads. And it's less accessible in the northern areas, except by bus or car.
---
Prague 9, Now We're Getting Out There
Ok, so now we're getting removed from the center of Prague. That's fine, but it's harder to find quality hotels and areas to recommend.
But, Prague 9 is of specific interest if you want to be near the highway that leads north of Prague, to Dresden for example.
Also, the O2 Arena is in Prague 9 so if you're planning to see a concert or performance then staying nearby would be ideal. The Hotel Duo gets some love from prior guests and looks like a good option in this district. See hotels near Prague.
The metro line B runs through here also, so it's a relatively quick trip to Mustek which is very close to Old Town Square and other sights.
Pro: Real Prague awaits in districts like this. It's not historical, but certainly authentic. Good connections to highways and metro line C.
Con: It's kind of "out there." Takes time to get into the city. Not a great selection of hotels.
---
Prague 10, Renewed and Interesting
Don't let the high district number fool you. Prague 10 is very accessible and offers a variety of places to stay. It's also not far from central attractions and has excellent transport lines.
For me, the most appealing part of Prague 10 is Vršovice. It's had a revival in recent years and more people are drawn to its eclectic restaurants, cafes and unique location - just outside Prague 2.
Actually Prague 10 borders two other attractive areas, Prague 2 and 3. Along this border they have similar non-touristy traits. 
A mostly residential area, many younger people and expats look to this area for cheaper apartments and and local vibes.
As Prague 10 extends to the east into Strašnice the energy seems slower and less vibrant. But prices for small pensions and hotels will be even cheaper.
Pro: There are plenty of inexpensive, good accommodation in Prague 10. Vršovice is the most popular neighborhood. Down to earth vibe, nice transport options.
Con: Some areas are less pleasant, especially along the train route and highway. Less accessible by metro.
---
Did you find where to stay in Prague? Or, still stuck?
Was this information helpful? Or, did I overload you? 
Unfortunately neighborhoods in Prague are not very distinct. You can walk from one to another and never know you crossed any kind of border.

So, I totally understand if you get a headache from planning where to stay in Prague ;-)
If you have any questions, please contact me.