Deciding How Many Days in Prague?

Consider these lessons from other travelers and my 5-day itinerary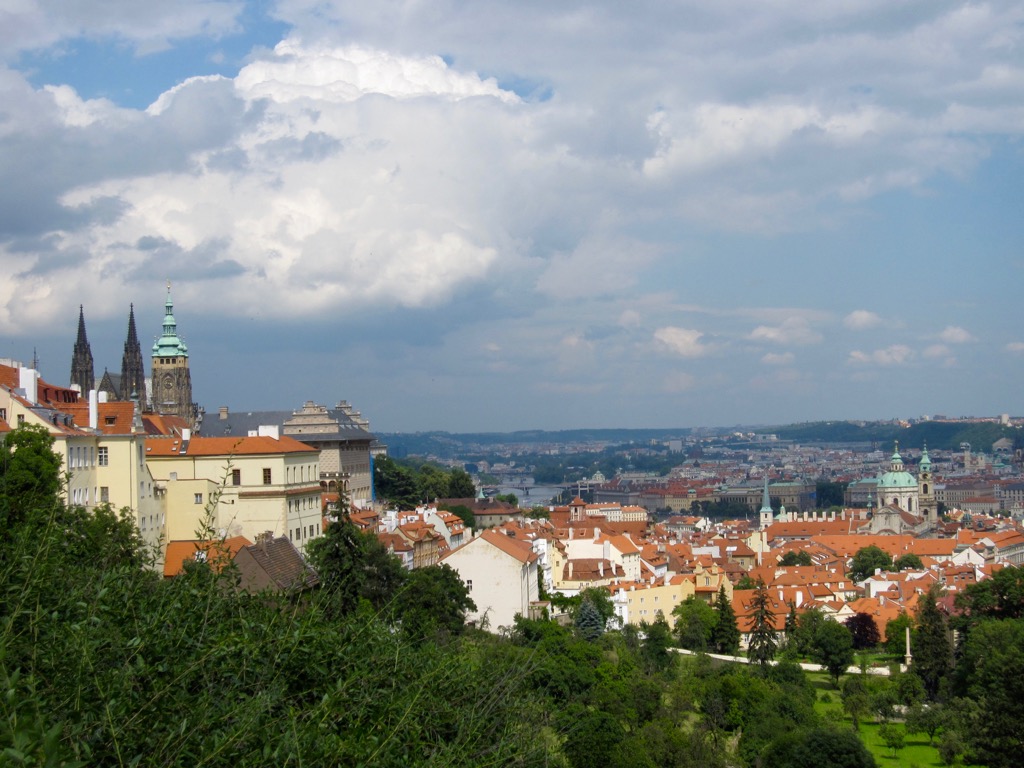 So, how many days in Prague to stay? When planning a short trip, I suggest a minimum of 4 or 5 nights. The longer the better.
A city packed with attractions, Prague may seem impossible to plan for. The overwhelm can be real while your list of things to see is getting longer by the minute. 
But don't take my word for it.
My advice comes from speaking directly with other visitors.
For years I worked in a local hotel and spoke to thousands of guests - especially at checkout.  Before coming to Prague, they wrestled with the same questions around how many nights to stay in Prague.
I asked for their experiences... Did they plan well? What would they consider next time?
Over and over, I heard the same things…
We didn't have enough time.
I need to come back, there's so much to see.
Prague is beautiful, but we didn't realize there's so much to do.
Many guests simply wanted an extra day to explore the city. Some were disappointed that they didn't do something specific.
Prague impressed them, but it left them wanting more.
Statistics for 2021 tell us that visitors spent an average of 2.5 nights in Prague.
3 Lessons from Hotel guests
I learned a few important lessons in my conversations with our guests. Here are three takeaways that might help you decide on how many nights to spend in Prague.
1. Who's tired? I'm not tired... where are we again?
Long flight to Prague, jet lag, or European road trip?
Regardless, most of my guests arrived tired.
If you combine tiredness with all the things to see in Prague, you quickly understand why staying 4 or 5 days is better.
So, take it easy on your first day. Or, plan a rest day without a big itinerary. The more rested you are, the more enjoyable Prague will become.
There are plenty of super-ambitious itineraries online but they don't account for your feelings. Sure you can visit Prague Castle and walk across Charles Bridge into Old Town in two hours. But, you won't absorb the experience.
I recommend picking one part of the city to explore on your first day.

For example, visit the castle and walk the area below the castle - Mala Strana. Have lunch, wander the streets, stop in a cafe for a drink. Walk across Charles Bridge and just soak up the experience.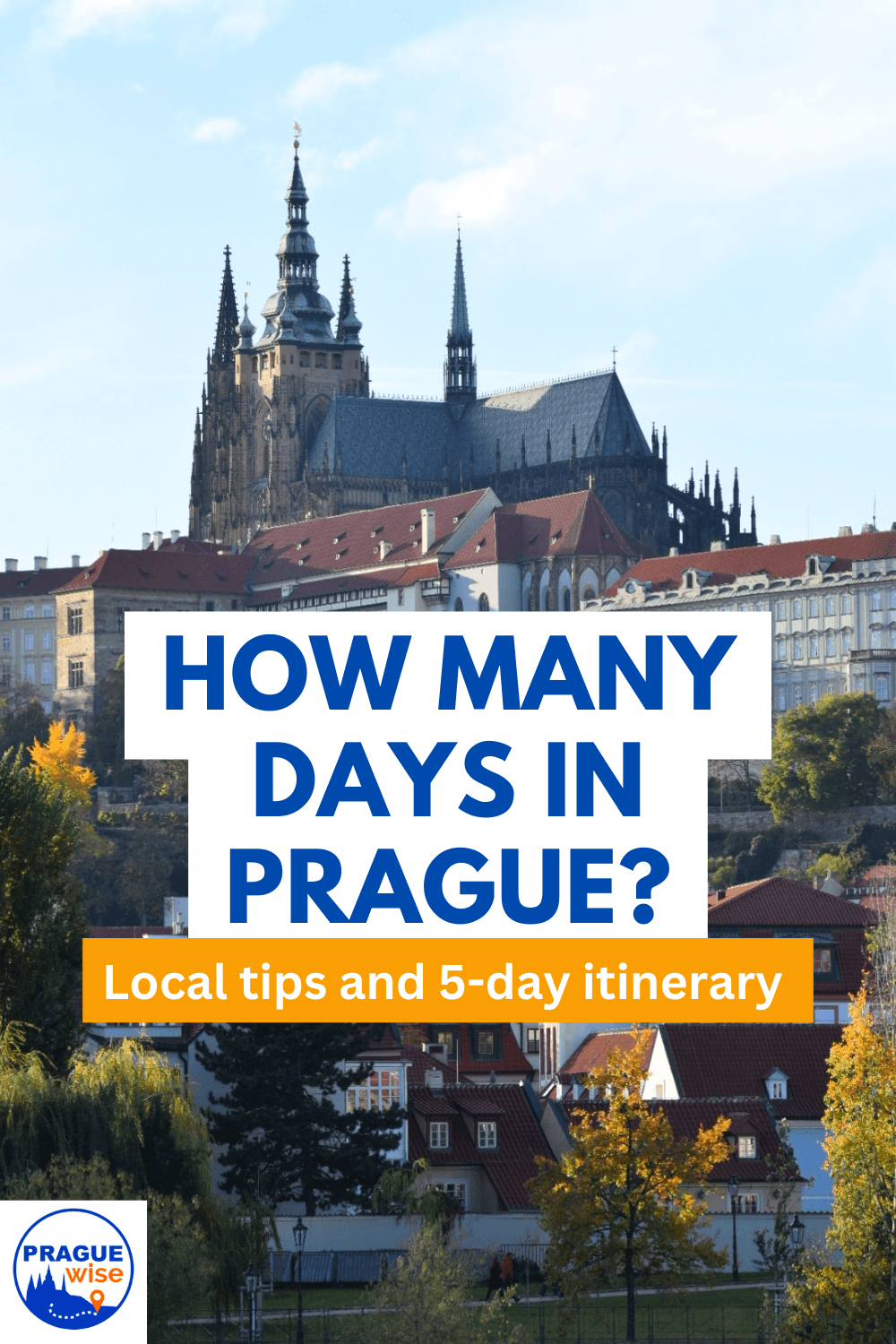 2. A Whole Lot of Stuff to See in Prague
I'll never forget this.
A guest once described her visit to Prague… It's an outdoor gallery for the soul.
I'm sure you've seen the photos. But if you've never been here the visual atmosphere can be shocking.
You can wander for days just looking around, without entering a single building.
You could spend three days in the area below the castle, Lesser Town (Mala Strana), before getting across the river. That's why every day is important.
Don't believe me?
Let's count just a few places to visit before even crossing into Old Town…

Attractions - Prague Castle, Strahov Monastery and Library, Loreta, Schwarzenberg Palace, Luxembourg Palace, Infant of Prague, John Lennon Wall
Parks and gardens - Petrin, Wallenstein Garden, Vrtbovska Garden, Naplavka riverbank, Kampa Island, etc.
You could spend days just in Lesser Town Prague (Mala Strana)
And, that's just a few places to visit over a two day span.
So if you're debating about how many days in Prague, 3 or 4? Always go with the longer stay. I guarantee that  the number of sights will make every extra moment necessary.
3. The Prague Effect
When we travel, we create lists of things to do and see. We stress about where, when, and how to get to places.
But we rarely think about the times in between. You can't run all day from Wenceslas Square to Shooter's Island and cover everything without being drained of energy.
The Prague Effect is real, sort of. It's the overloaded look that I've witnessed on many visitors. 
It's the effects of trying to see and do too much with limited time in Prague...
I got burned out by lunch time.
I was so tired of walking. I just wanted to sit down.
My brain was overloaded.
Prague is beautiful, but it will wear you out.
So, with deepest sincerity… when determinging how many days in Prague, please practice some self-care while you're here. And plan to integrate some time each day to sit back and enjoy the moment.
If it's warm there are plenty of benches, green spaces, and parks. I could hang out around Naplavka for hours. Grab a beer and watch the sun go down behind Prague Castle. Or, enjoy the Saturday market and people watch.
If it's cold out, linger in one of the hundreds of cafes in Prague. Some are an experience unto themselves (hello, Cafe Savoy!). 
So, when you decide how many days in Prague, remember your feet and soul will be happier with a little extra time. Adding a half-day to your schedule, or going from 4 to 5 days, can make a huge difference.
After all, you're on a vacation. 😀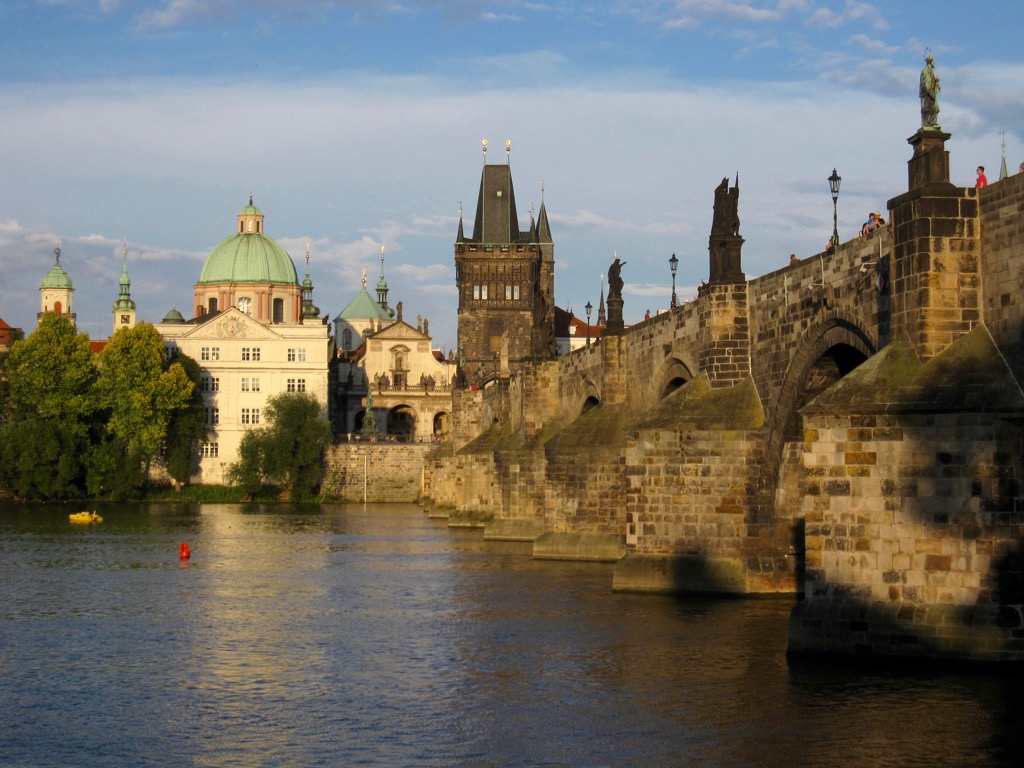 No matter how many days in Prague - it's never enough!
Bonus lesson...
Get the Heck Out of Here!
It's a very clear lesson when deciding how many days to stay in Prague - you should ALWAYS plan for a day trip.
A day trip from Prague is easy. And guests in my hotel were always happier when they took a day trip. Their eyes were brighter upon return. Their energy strengthened.
Prague is just a gateway. There are so many wonderful places in the Czech Republic. The country is filled with castles, chateaus, cozy villages, and breathtaking parks.
Destinations like Kutná Hora (bone church), Český Krumlov, and Karlštejn Castle are popular choices which can be reached in a day.
But you don't have to go where everyone else is going. There are other options just outside the city that will spark an adventure or two. Check out towns like Beroun or Mělnik in less than an hour from Prague. Both are charming and easily accessible.
Important to know...
You don't need a whole day for a trip. You can hop on a train and be somewhere in an hour. Spend a few hours exploring, grab a bite to eat, and head back to Prague. You don't need days to experience Czech culture and make lasting memories.
Let's ask our Facebook followers...
How many days in Prague?
I checked in with my 6,000+ followers on Facebook for some feedback. Here are a few of their answers...
5-Day Itinerary in Prague
Here's some help with organizing your time. Keep reading or download the itinerary.
This 5 day Prague itinerary will solve your planning worries. I've made suggestions to adapt it into shorter 3 or 4 day itineraries too.
Please note, there's not a correct way to visit Prague. Everyone's got their own preferences of seeing the city. This is just one quick example.
5 days in Prague gives you time to relax
DAY 1 - Prague Castle and Lesser Town (Mala Strana)

No matter how many days in Prague you spend, days 1 and 2 are must-see/do.
Start at the castle's north entrance near the tram stop. Get a ticket so you can access all areas and spend a few hours exploring.
NOTE: your ticket for Prague Castle is good for two days, so you can come back to visit parts that you miss.
Exit the castle from the main gate near the square (west side). You can stop for lunch or a drink. Or, follow the street or stairs down into Mala Strana.
Spend the rest of the day exploring Mala Strana. The little streets, gardens, and churches will keep you busy. Of course, you can walk over Charles Bridge or save it for the next day.
DAY 2 - Old Town and Wenceslas Square

Start at Muzeum metro station, just below Prague's beautiful National Museum. Walk down Wenceslas Square and explore at your leisure. There are plenty of options to shop, eat, and wander around. Eventually you'll want to walk down the square, away from the museum. This area is known as New Town, but will turn into Old Town at the bottom of the square.
Explore Old Town Square, the astronomical clock, and the little streets. Get lost and find something good to eat and drink. The options are endless and you can easily spend the whole day here.
In the afternoon visit the Jewish Quarter. The cemetery and museums are rich in history and culture. It's easy to spend all day in this area. You can come back on the fifth day if you don't cover everything.
I also recommend visiting Old Town Hall and going up the tower for amazing views. And, try to walk over to see the Powder Tower and the amazing Municipal House.
Finally you'll want to find Charles Bridge and cross over to Mala Strana - taking a thousand pictures along the way. It might be crowded, but just enjoy being a tourist. It's ok! 😀
Day 3 - Other Significant Attractions
This is where the benefits of staying five days in Prague really kicks in. Here are some ideas…
This is where the benefits of staying five days in Prague really kicks in. You can get creative and combine a number of other iconic Prague attractions.
Or, just relax and take it slow.
Here's just one idea for a day of walking and fun:
Take the metro to Vysehrad and walk around the grounds. It's a lovely relaxing place. I love going into the catacombs.
Walk down from the fortress to the river embankment (Naplavka). Either walk north along the river or take a tram. You'll come to the Dancing House and eventually the National Theater.
If your legs are feeling good…
Below the theater you can rent a paddle boat for an hour if the weather's nice.
Then cross the bridge and hang out on Shooter's Island (Strelecky ostrov). Gorgeous views of Charles Bridge from the north end. Then either go back into Old Town or continue in Mala Strana.
Still going strong…?
Head to Mala Strana and walk through Kampa Island and visit St. Nicholas Church. Or,  take the cable car up Petrin. Meanwhile, in Old Town you can go to Clementinum, for example.
Wow, that's a big day!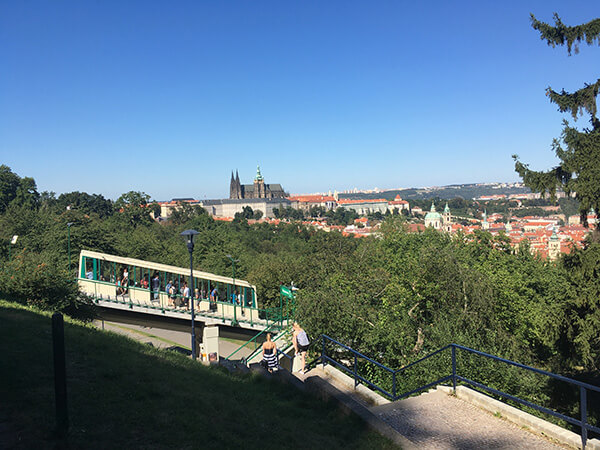 Taking the cable car up Petrin
Day 4 - Day Trip from Prague!
There are lots of options here. So instead of choosing just one trip from Prague, let's consider a few. I've partnered with tour providers to assist you in organizing each trip. 
Most popular day trips from Prague:
Cesky Krumlov - incredibly charming small town about 2.5 hours south of Prague. It's the most popular choice but for good reason. Tour starts in Prague. Book a tour
Kutna Hora - visit the stunning St Barbara's church and the ossuary (bone church) nearby. An easy one day trip you can manage yourself or book a tour to Kutna Hora
Karlovy Vary - a unique spa town set within beautiful countryside, also famous for its international film festival. Tour details
Terezin - not far from Prague is the former concentration camp, museum and Jewish ghetto from World War II. A somber, yet informative experience.
Day 5 - Reserved!
This day is reserved for [YOU].
Maybe you didn't see enough of Old Town or the castle? Want to explore hidden or unusual places? Want to go to Prague Zoo? Need to do a little shopping or just relax in a cozy cafe?
Whatever you missed, or need more of, now is your time. 
I would love to share a couple of my favorite places that are unique to Prague, which might inspire you to visit…
Vrtbovska garden - a hidden Baroque gem in Mala Strana
New World Street - a fairy-tale lane just beyond the castle
Charles Bridge Tower - the view will stay with you forever
Letna park - nothing like an afternoon of views and a beer garden overlooking the city.
A few final thoughts on deciding how many days in Prague...
I hope this 5-day Prague itinerary sparks your curiosity and inspires you. You can download it here.
You really can't go wrong with 5 days.

If you can only stay 4 days, then skip the day trip - or make a very short trip and come back in the early afternoon. Karlstejn Castle or Nymburk could be two options for a short trip out of Prague.
If you can only stay 3 days in Prague, combine days 1 and 2 and skip the day trip. Prague is so compact, you can see lots in just one day. It's less fun, but manageable. The city is relatively small and all the historical areas are connected to each other.
So, how many days will you stay in Prague?
I would love to hear your feedback on this topic. What did you decide and how did you spend your time? 
Feel free to contact me if you have any questions or get stuck in planning mode.
Your trip will be great regardless of how many days you come to Prague.