5 sightseeing tips for visiting Charles Bridge

Charles Bridge in Prague is one of the most memorable places you'll visit. It's an amazing centerpiece to the city's soul, connecting Old Town with Malá Strana (Lesser Town).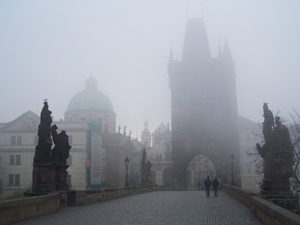 Charles Bridge in the fog of autumn
Like a lot of places in Prague, I'm a bit infatuated with this bridge. And it's easy to see why. The Gothic tower, the 30 statues and a cobbled surface makes it a magical place.
It's an intense place.
Now, I can hear the naysayers... the bridge is a hassle, it's overrun with tourists! Blah, blah...
I choose to ignore that noise.
Yes, the bridge can get crowded. But don't give up - its beauty isn't hidden. 
Just follow a few of my tips below to get a deeper feeling for this 14th century gem.
Whatever you do, don't listen to the naysayers! They walk the beaten path!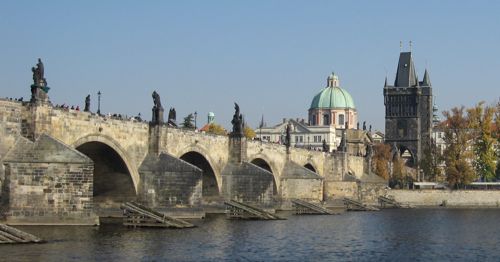 14th century Charles Bridge Prague seen from Kampa Island.
5 tips for Visiting Charles Bridge
---
1. Check your mindset

I admit this tip is not very concrete. But, hang on! I think you can apply this idea to the bridge and your broader visit to Prague.
It seems to me that most people only think about walking across Charles Bridge. That's perfectly natural, and everyone should do it. But, if your goal is to simply "walk across," then you're missing out with too much linear thinking ;-)
The bridge is much more than a footpath between two points. It's a work of art with depth and history. It's a grand structure of significant symbolic and practical importance to the Prague's history.
So why not imagine other ways you can experience it?
For me, I love the physicality of the bridge. I still marvel at its large stonework and structure that has stood the test of floods and wars. So, I find ways to get up-close and personal with the bridge (more on that below).
What about you? What if you couldn't cross the bridge, how would you experience it?
I think new experiences lie in your answers. Apply them and get more from this fantastic place (and Prague in general).
2. visit early at least once
As mentioned earlier, Charles bridge gets crowded - a lot - especially during the day from about 10 am. And, even more so on weekends.
So, take one day to get up early and visit.
If you can do this, I guarantee that your whole visit to Prague can be revolutionized. I'm dead serious here.
(This suggestion actually applies to all areas of the historical city center - but especially to Charles Bridge because it's such a narrow space.)
But here's the real value in this tip.
You don't have to get here before the sun rises. (Although a dawn visit is highly recommended.) Just come around 7-8 AM if you can. I promise, an early morning on this bridge will make all your tired efforts worth it.
And, if you can't come so early, then come by 9-10 AM at least.
The bridge is a totally different place without the crowds. You can breathe easy, relax and take many more photos without the hassle of dodging people.
3. Get off, under and around the bridge
This is my favorite tip!
Because by simply getting off the bridge, you can get a wonderful perspective of the bridge's beauty - and you can avoid 90% of the people on it.
I do this from Lesser Town (Malá Strana). Basically, before walking through the bridge tower, I turn left and go down and under the bridge. Here you can see the bridge's wonderful stonework and lots of other details that you miss from above.
Then, I walk under the bridge across the Čertovka canal and onto Kampa Island. From here there are plenty of options to just wander and get up-close and personal with the bridge
Walk south on Kampa Island and turn left after the Archibald Hotel. Behind the hotel you can try a riverside restaurant or loop back toward the bridge and pass under it again. If you go this way, there is a particularly fantastic view of the bridge looking toward Old Town.
If you continue walking under the bridge, you'll see a children's playground just ahead. Feel free to enter and walk toward the river for another interesting perspective of the bridge. Have a seat on a bench and just soak it all in.

Best of all, there really aren't any crowds at any of these points. Of course, it won't be desolate, but considering the thousands of people passing by above you, this is a quiet gem. And it will take a whole 5 minutes of your time to experience this. Awesome value!
Hey there! I'm reworking this page, so sorry for any weird, out-of-place information. I'll be back soon to finish up. I probably took a break and went to Letná beer garden. It happens! ;-)
4. Climb a Tower!
Don't roll your eyes yet.
I know you've been doing a lot of walking.
But both towers on Charles Bridge offer delightful views and unique experiences.
No, they don't have elevators. And the stairs can be a little tight, but I think it's well worth it. I particularly like the tower on the Old Town side for its spectacular rooftop view of the bridge and Prague Castle.
On the bridge
Walking across the bridge is a visual treat. But here are a few thoughts to keep in mind that might make your experience richer.
Rub the plaque. About halfway down on the north side of the bridge is a statue of St. John of Nepomuk. Legend says that if you rub the plaque you will one day return to Prague.
30 Statues. Obviously you want to see the statues, but look for the numerous hidden symbols and figures among them. These are not for glancing at quickly.
Lesser known spots. The main attractions will be obvious from the bridge but what about... Prague's metronome ticks above the river north of Charles Bridge. (The world's largest Stalin statue once stood there.) Or, catch a glimpse of the mill wheel turning on Certovka canal or the penguins lined up beside Kampa Museum of Art.

Boats of all sizes offer a unique perspective of the bridge.
Off the bridge...
It's amazing how few visitors actually get off the bridge to explore. Other than crossing it, the single best way to experience Charles Bridge is to take a river cruise.
Střelecký Ostrov (Shooter's Island). From Charles Bridge walk south along the river through Kampa Island all the way to the next bridge (Most Legii). Descend this bridge to the island. Turn back toward Charles Bridge and walk about 100 metres. At the northern end of the island you will find incredible views of Charles Bridge in Prague. It's amazing that people don't do this more often. It's really a treat!
Towers. If you can, by all means climb one of the towers that bookends Charles Bridge. It's one of our favorite things to suggest for fun, postcard-like photos and a bird's eye view. And, for a real treat, consider the hotel under the tower, Hotel Pod Věží.
Rent a pedal or row boat. These little boats are a fun, romantic and an affordable way to see Charles Bridge in Prague. Rent them by the hour (about 200 CZK) from Slovanský Island near the National Theatre or by the Old Town side of Charles Bridge Prague.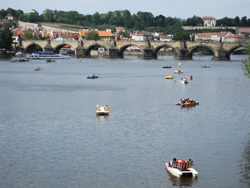 History of Charles Bridge Prague

Ok, now for a little history that isn't too boring. Promise!
Prague's famous bridge wasn't the first to span the Vltava River. After the destruction of the original Judith Bridge due to flooding, emperor Charles IV set out to have a new bridge built.
And, legend has it that the bridge's construction began precisely in 1357 on the 9th day of the 7th month at  5:31 am.
Charles IV chose this time so that when written, the date is all odd numbers: 1-3-5-7-9-7-5-3-1.
The bridge was supervised by Peter Parler and constructed with sandstone. Another legend insists that egg was used in the original mortar - which is why the bridge has survived so long.
Long been considered a tale, this theory has recently been supported by tests finding organic materials in the bridges mortar.
The first statues were added to the bridge in the 17th century. The current statues are mostly replicas since the city has chosen to preserve the originals from weather elements.
Final thoughts
It's a deep, magical place for me. A place that can transport you back in time.

---
Home > Prague attractions > Charles Bridge
---