Wenceslas Square Hotels

These recommended Wenceslas Square hotels are very close to Prague's famous square.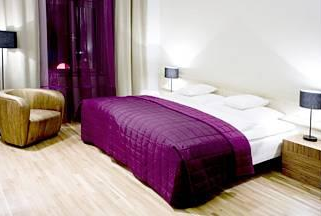 You can easily walk to Old Town and many other attractions from any of these hotels.

We've included hotels that include all budgets. From discount to luxury Prague hotels near the square, any of these will keep you central and comfortable.
Top Wenceslas Square Hotels

The Icon Hotel Prague $$$
If you want to be close to Wenceslas Square, the Icon is a perfect choice. It's one street from the square and has successfully combined the urban flair of this bustling area with modern boutique magic.
There are 20 standard double rooms, 9 deluxe rooms and 2 Superia rooms that include a living room. Each room is equipped with handmade king sized beds, minibar, phone line and air conditioning. The rooms also include big 26" LCD TVs and DVD players. We have to mention the bathrooms too - all are very sleek and modern without being cold and unfriendly.
We really like the helpfulness of the staff. They can give you lots of alternative sights and shopping ideas that you won't uncover on a usual visit to Prague. And, don't forget to spend some time in their restaurant and cocktail bar.
Check rates and availability at the Icon. Or, search all compare other Wenceslas Square hotels.
Address: V Jámě 6, New Town, Prague 1.
K + K Hotel Central $$

This classic and sophisticated hotel offers everything a good hotel should - location, spot-on service and high quality rooms.

Located not far from Wenceslas Square and the path to Old Town, the rooms are central enough but removed from the tourist crowds. Each room has all the amenities you'll need including sound-proof windows and air conditioning.

Once inside the hotel you'll be amazed to explore the breadth of what's on offer here. From the Bistro Lounge and wellness center, to the incredible dining room and breakfast buffet. We imagine you'll have a hard time to actually leave the comfort of the hotel and explore the city.

The K+K is also great because of its lower priced rooms. Not many central Prague hotels can match the value and comfort like here.

Address: Hybernská 10, New Town, Prague 1.
Hotel 16 $

Many Wenceslas square hotels can be too commercial and standard. But, this small family-style hotel combines authenticity and adequate hotel services for a comfortable stay.

The Hotel 16 is perfect for people (especially couples) looking for a clean, central place that doesn't cost a fortune. The hotel is well staffed with helpful and friendly people that seem to understand what guests are after - something that's Prague and not a franchise.

There are only 14 rooms at the Hotel 16, but all are very comfortable with quality beds, modern bathrooms and enough amenities to make you feel at home. Some rooms also have city views or a touch of garden out the window.

The Hotel 16 is a bit further from the main sights than some other Wenceslas Square hotels, but the small quiet atmosphere makes for a pleasant stay without worry.

Address: Kateřinská 16, New Town, Prague 2.
Check rates and availability at Hotel 16
Design Hotel Yasmin $$

A four-star design hotel, the Yasmin has seven floors of sleek rooms located just one street from Wenceslas Square and a short walk from Old Town. This is the place to stay if you want to combine chic and comfort with sightseeing, business travel or whatever.

The Yasmin has 196 rooms of complete comfort and stylish furniture (of which 120 are non-smoking). Each room has air-conditioning, minibar, luxurious bathroom, LCD TV, internet access and other top amenities.

There's a lot to like here without a doubt. We particularly fancied the relaxing summer garden, the on-site fitness center and of course the delicious Noodles restaurant - pasta from Italian to Thai.

Address: Politickych veznu 12, New Town, Prague 1.
Check rates and availability at Design Yasmin.
Chopin Hotel Prague $$

The Chopin comes well reviewed across the web. It's also inexpensive compared to many other Prague hotels.

We like the location especially if you'll be using the main train station. It's also just a short walk to Old Town, the metro, Wenceslas Square, the State Opera House, great shopping, lots of restaurants and plenty of night life. That about covers it all!

Aside from location, the rooms of course are perfectly suitable for travelers of all kinds. Their rates will save you money (especially if you book early) and their conference services are perfect for business meetings, etc.

The one drawback might be the flow of tourists outside. There are comparable Prague hotels that will offer the same inside with less noise outside.

Address: Opletalova 33, New Town, Prague 1.
Hotel Palace Prague $$$$

A luxury Prague hotel with a 5 star rating - the Palace will certainly pamper you. We consider it the best of all other Wenceslas Square hotels.

The hotel provides a top-notch staff, sophisticated services and a subtle yet beautiful ambiance. To say the least, it's a fabulous hotel.

The Palace has a variety of rooms and suites. Each has a king sized bed, marble bathroom, air conditioning and more fully modern amenities. You can also reserve connecting rooms for families or choose from their lovely suites - some with views.

The Palace is actually a member of the "Leading Hotels in the World". So, It offers a full line of extras for guests including: suana, fitness center, spa and wellness services, gourmet restaurant that's mentioned in the Michelin Guide and on and on.

There's not much to dislike here, that's for sure. We love the Art Nouveau atmosphere, the cool lounge and bar and superb concierge services.

Address: Panská 12, New Town, Prague 1.
Check rates and availability at the Palace and other Wenceslas Square hotels.
Search for more hotels in Prague

If these Prague hotels don't fit your budget or requirements, feel free to compare prices by using this list of Prague hotels.
Back from Wenceslas Square Hotels to Prague Hotels