Old Town Prague Hotels

Our 12 Old Town Prague hotels are just steps from the main square. Try any of these for a comfortable stay in the center of everything.
The streets around these hotels are chock full of little restaurants, cafes, galleries and of course lots of sightseeing destinations.
Here's our list of 12 excellent hotels in Old Town...
---
Residence Retezova $$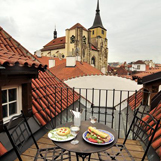 This is absolutely one of our most favorite hotels. It's better described as a hotel and home since it blends apartments and suites with the luxury and services of a top hotel.

Apartments vary in size and ambiance including two with fireplaces, one with a private terrace and all with king size beds.

The hotel is set a perfect distance from the square. You won't get noise and crowds here as it's a bit off the beaten path.
Address: Retezova 9, Old Town, Prague 1.
---
Barcelo Hotel $$

A quaint boutique hotel that's actually pretty inexpensive - imagine that! The Barcelo lives up to its great reviews with a balance of the modern world and old Prague.

We love the outdoor deck for dining and use of light and space throughout the hotel.
The rooms are all very comfortable including friendly, family rooms and cool attic spaces - all of which come highly recommended across the web. And, don't miss the hotel's Mediterranean fusion restaurant, very tasty.

Address: Celetna 29, Old Town, Prague 1.
---
Hotel Rott $$


The Rott combines an incredible location with superb services, comfy rooms and other amenities. It's highly recommended for all kinds of travelers too.

If you want to be in Old Town, then there is no better location. It's what Old Town Prague hotels are all about.

Address: Malé náměstí 138/ 4, 110 00 Prague 1. This is just a few steps from Old Town Square.
Read more about the hotel or get reviews and rates.
---
Leonardo Hotel $$$


The Leonardo is a very nice romantic hotel in Prague. It offers spacious rooms with lots of character, antiques and elegance. It has a relaxing garden as well.

We wouldn't think twice about staying at this often overlooked hotel.

And, don't miss one of our favorite restaurants nearby, Stoleti.

Address: Karoliny Světlé 27, Old Town, Prague 1.
Read reviews Trip Advisor and other Old Town Prague hotels.
---
Černá Liška Hotel (Black Fox) $$


Good value for your money and right on Old Town Square. You can't find a better located hotel in Prague. Superb services, spotless rooms and rave reviews from prior guests.

We love the painted wooden ceilings, and who can argue with its UNESCO heritage site label?

Address: Mikulasska 2, Old Town, Prague 1.
Check rates and availability and search for other central hotels.
---
Unitas Hotel $$

Of all the Old Town Prague hotels, you'll be hard pressed to find one as original and interesting as the Unitas. It has heaps of history and stories to tell. Through the centuries, it's gone from convent to Communist prison where former president Vaclav Havel was even held.

But, stay here for more than the stories. This is a very nice, comfortable and budget conscious hotel. The rooms are big and the staff won't shy away from helping. To say the least, this isn't your average hotel in Prague!
Address: Bartolomejska 9, Old Town, Prague 1.
Check rates and availability for the Unitas and other Old Town Prague hotels.
---
Savic Hotel Prague $$$


This is classic Prague ambiance with modern appeal and an excellent location. Original painted ceilings, air conditioning, four-poster beds, two lobbies with comfy sofas and a small interior garden. It's absolutely a splendid getaway from the bustle of Old Town.

The Savic can be a little pricey, but it's well worth it if you consider the ambience, decor and location. Very, very nice!

Address: Jilska 7, Old Town, Prague 1.
Check rates and availability at the Savic and other central Prague hotels.
---
Residence Hotel Ungelt $$

Perfectly located on a little street just behind Old Town Square. The Ungelt offers large suites (apartments) suitable for self-catering. We've written more about the Hotel Ungelt Prague here.
Address: Stupartská 7, Old Town, Prague 1.
---
Iron Gate Hotel Prague $$$

The Iron Gate is a beautiful 5 star hotel with incredible architecture and attention to detail. From the arched reception area to the open air dining courtyard, this hotel has always been one of our favorites.

Get rates and check availability or read more about the Iron Gate Hotel Prague.

Address: Michalská 19, Old Town, Prague 1.
---
U Zlate Studny (At the Golden Well) $$$


If you're looking for the best location with some authentic appeal, this might be the place for you. The building is under the patronage of UNESCO and is basically right on Old Town Square. The building and old charm of the Golden Well are unmistakable.

We particularly like the small hotel feel and the cool cellar dining. All rooms are air conditioned which will keep out any noise outside. The furniture is very stylish with a few very real and impressive antiques along with original wooden ceilings and other fixtures. This hotel is very authentic so there's no corporate feeling here whatsoever!

Address: Karlová 3, Old Town, Prague 1.
Get reviews and rates for the Golden Well and other Old Town Prague hotels.
---
Hotel Hastal Prague $$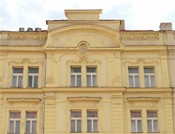 This cute little hotel is located just a short walk from Old Town Square and has remarkable prices for such a perfect location.

This area is actually very peaceful considering its proximity to the square and we love the little church on the square across from the Hastal.

This 3 star hotel in Prague is especially good for families and couples trying to save a little money while still being in central Prague. And, we appreciate the fact that the hotel gives a portion of proceeds from each reservation to UNICEF.
We've covered more about the Hotel Hastal here.

Address: Hastalska 16, Old Town, Prague 1.
---
Residence Karolina $$

There are good reasons why Residence Karolina receives traveler choice awards.
They offer ultra-modern apartments and  impressive hotel services.

We like the fully equipped kitchens, LCD-TVs, and bright bathrooms. And, their daily maid service shows how much they care about guests and their apartments.

The only missing item is breakfast at Residence Karolina. However, the staff is happy to recommend some very good restaurants in the area.
Read reviews and check prices.

Address: Karoliny Svetle 4, Old Town, Prague 1.
More Old Town Prague Hotels

Need more choices? Check out Trip Advisor's list of Prague hotels and take advantage of user reviews.
You can even book straight through to the best of Prague hotels. It's really a comprehensive list with honest feedback from real guests.
And many businesses list their email and web site information on their hotel page.