Hotel Rott Prague
The Hotel Rott Prague is excellent for any visit to Prague. It offers great rates, comfy rooms and a perfect location in Old Town.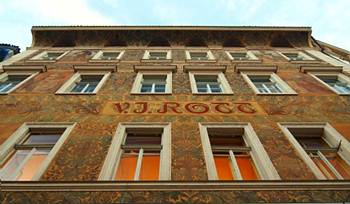 The building which houses the hotel is well known to locals. It's one of most beautiful buildings in Old Town.

It's so gorgeous from the outside, that we don't even think of it as a hotel.

Take a look at the exterior and you'll see what we mean. Isn't that fabulous?

But in the end, the outside doesn't determine your comfort. So here's our peek inside and what we discovered about the Hotel Rott Prague.

Why Stay Here?
The hotel is maybe fifteen seconds from Old Town Square, so it doesn't get much better than that. What's almost just as impressive is that besides the prime location, the hotel Rott sits quietly on a little square behind the main square. There's a lot of foot traffic outside, but it doesn't affect the peacfulness inside.

So, if you want to book a hotel room in Prague that is "central," then stop right here. The Hotel Rott Prague is ideally located.

Furthermore, the hotel is on the Charles Bridge side of Old Town. By that we mean it's closer to the bridge and Prague Castle than other hotels in Old Town. Some other hotels add another 10 minutes walk to the bridge, but the Rott is about 5 minutes from the bridge.
There's a metro station nearby the hotel and a tram stop as well. So you can access many parts of the city from here.
Now, for the record, Old Town is one of the busiest Prague sites. So, if you don't want to be near crowds of tourists, then please consider some of our other central Prague hotels. But, we haven't read or heard about noise being a problem at the hotel.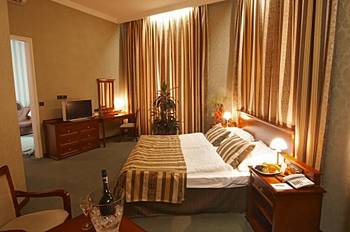 Hotel Rott Prague - info and details

The Rott has a variety of rooms, small and large. Some of tremendous views of Prague's rooftops and Old Town.

The hotel also provides plenty of other services and dining options. Here's a look at a few highlights that caught our attention: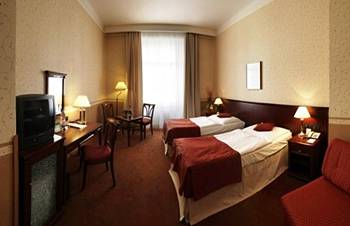 Rooms. The hotel offers lots of room options including rooms for single travelers, twin, double and triple rooms as well as five suites for more space or larger groups.
Dining. Rates at Hotel Rott Prague include a hearty breakfast. The hotel also has fine dining options in its French restaurant on the ground floor where there is also a pleasant cafe for sipping coffee or a drink.
Services. For a small hotel in Prague, the Rott seems to go above and beyond with their helpful services. Need tickets, car rental, restaurant reservations or even babysitting? Let them help.
Fitness. Keep up with your routine with the hotel's fitness room. Both weights and training machines available. Fees apply.

Amenities. All rooms include internet, safe deposit box, air conditioning, mini bar, telephone and hair dryer. You can order a baby cot for an extra charge.

Parking. If you're driving, you will find on-site secure parking. This is a big plus especially since parking is limited in Old Town. Fees apply of course.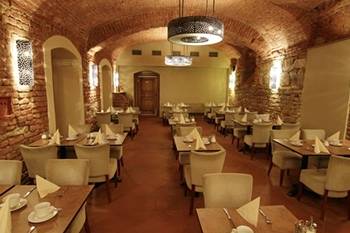 Cellar dining at the Rott Hotel
Our Thoughts

Essentially, you can't go wrong with choosing Hotel Rott Prague. There's plenty here to like.

We particularly appreciate the level of service and different room choices. Each room is tastefully decorated and fairly spacious. A select few rooms are a bit small, so we recommend booking a double room and larger.
But, if your budget dictates, then go for a twin room. We were shocked at how low the prices for select rooms were. So, look for a deal.

Again, the location is ideal for sightseeing or short breaks to Prague when your time is limited. The restaurant downstairs adds to the appeal of the Rott as well.

Our one small criticism concerns the added costs for some amenities. This is a minor point, but many central hotels offer complimentary extras which the Hotel Rott does not.
Granted, their rates are fairly low for a 4 star hotel in Prague, but we wish they would eliminate some fees.

The parking fees are understandable, but paying extra for using the fitness room or for having a baby cot seems a bit strange.

If you stay at the Hotel Rott Prague, please get back to us with your thoughts.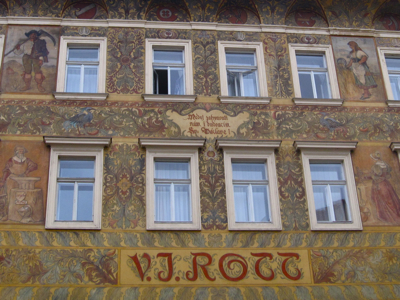 Nearby...
Not far from the hotel are some great shops for gifts. Celetna street has a few stores with Czech crystal, amber and garnets for example.

Don't miss the chance to see the view atop Old Town tower and other Prague attractions...

Charles Bridge

Astronomical Prague Clock

Jewish Quarter

Wenceslas Square

For elegant dining, book a table at Bellevue on the river. For authentic Czech food visit U Pinksasu.
---
Hotel contact details
Address: Malé náměstí 138/ 4, Old Town, Prague 1
Tel: +420 224 190 901
Web: www.hotelrott.cz

---
Back to Prague Hotels from Hastal Hotel Prague