Prague Updates
The latest news from this web site can be found here.
You can also find us on Facebook and Twitter.
Here are latest additions to PragueWise...
Mar 13, 2019
Where to Stay in Prague? Find Your Place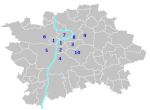 Don't know where to stay in Prague? My guide looks at 10 districts to choose from with pros and cons for each one. Plan your stay with confidence.