Mala Strana Hotels
These Mala Strana hotels will convince you that Old Town is overrated.
It's less crowded, more romantic and quieter. It's easily our favorite area of Prague.
Malá Strana is just as historic and central too. Easy walking distance to just about everywhere.
So don't let the talk of Old Town get in the way of choosing a lovely hotel in Mala Strana.
Here we suggest 10 Mala Strana hotels. Get in touch if you have any questions!
---
Hotel Kampa Garden $

A fantastic quiet location on Kampa Island, just below Charles Bridge.
And, of all the Mala Strana hotels this might be the cheapest. The rooms are still very comfortable. Some have views of the bridge and all have internet access, phone, mini bar and TV.
Rates and reviews on TripAdvisor.

Address: U Sovových mlýnů 9, Mala Strana, Prague 1
---
Appia Residence Prague $
Another place with great low rates. The Appia was once a convent and sits quietly hidden along a little street.
The Appia isn't a hotel by definition - but that doesn't matter much. Inside you'll find 21 suites ranging in size from double room to apartment. Each includes breakfast, plasma TV, marble bathrooms and minibar.
The residence also has a sauna, underground parking and bar in the lobby. We love the outdoor terrace.
Address: Sporkova 9, Mala Strana, Prague 1
---
Archibald Hotel at Charles Bridge $$

The Archibald is another affordable hotel on Kampa Island. It has a number of interesting and unique rooms and it's a stone's throw from Charles Bridge.
Check out their cool attic rooms, big bathrooms, and little garden courtyard. We recommend booking a room with a river view. Try also to book in advance for special rates.
Address: Na Kampě 15, Mala Strana, Prague 1
---
Roma Hotel Prague $$
The Roma offers large suites and double rooms in a tasteful Italian style. The hotel's restaurant and lobby bar are also recommended. Also worth noting: air-conditioning for those few hot days in summer and a useful garage.
We especially like the location, just a short walk from the back side of Kampa Island. And, Petřin park is just across the street.
There are some great inexpensive, local restaurants in the area too.
Address: Újezd 24, Mala Strana, Prague 1.
Read more about Hotel Roma Prague.
---
Domus Henrici Hotel Prague $$

This hotel is a nice surprise on our list of Mala Strana hotels. It's very close to the castle, but it's very unassuming, easy to walk right past.
The hotel embraces simple design and subtle touches of luxury.
Rooms are comfortable and first class. Some have views and everyone can experience the view from their remarkable terrace.
Management has outdone other hotels with their exceptional prices. For example, choose their Good Luck Room (very nice double room) and get a free upgrade to a wonderful suite if it's available when you arrive.
Address: Loretanska 11, Mala Strana, Prague 1
---
Golden Star Hotel
This is a quintessential Malá Strana hotel. Small, charming, affordable not too over-the-top... and wonderfully located.
The Golden Star is right on Nerudova, one of Prague's more famous streets.
Just a few steps from the castle, there is a lot of foot traffic during the day, but evenings and mornings are quiet and humble.
We particularly like the rooms with views - but who doesn't?
Address: Nerudova 48, Mala Strana, Prague 1
---
Santini Residence

The renovation of this cute building seemed to take years to us. But, once you see the rooms and attention to detail you'll understand the work that was involved.
The Santini is a formidable luxury Prague hotel right on the Royal Route - the old coronation route of kings. It offers all the pampering you'll need and is super convenient to all attractions.
The hotel itself is quite small giving each room its own charm. All have maintained a historic presence with great detail from painted wooden ceilings, gothic arches and period furniture.
Thankfully the Santini also include lots of perks like LCD televisions, internet and great big beds. We also like the surprising atrium that is hidden in the hotel's interior.
Check prices and availability.
Address: Nerudova 14, Mala Strana, Prague 1
---
Design Sax Hotel $$$

This boutique four-star hotel is just up the street from the U.S. embassy in a quiet spot not far from Charles Bridge. Inside it offers a completely different setting that's atypical of the more historic Mala Strana hotels nearby. This concept along with its location make it worth a good look.
The Sax offers cool retro rooms designed with the 1950's-1970's in mind. You'll find plenty of funky patterns and stylish furniture in all parts of the hotel.
Fortunately, the services don't end with the impressive decor. The hotel has a multitude of stuff to offer you: DVD library, spa and massage services, afternoon tea and even a coffee room. If that's not enough, there's even a laptop in every room. Basically, the hotel will see to whatever your whim.. haircut anyone?
Address: Jánský vršek 3, Mala Strana, Prague 1
---
Golden Well - U Zlate Studne $$$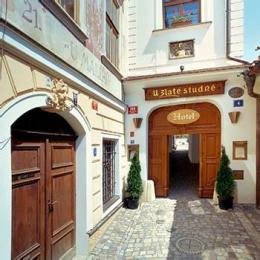 If I made a top 10 list of all Prague hotels, this would be near the top. Maybe even top 3.
The Golden Well is known for its top-notch service and attention to detail. A luxury hotel that seems to get only excellent reviews. There's not much more to say than that.
See for yourself on TripAdvisor.
Address: U Zlate Studne 4, Mala Strana, Prague 1
---

Alchymist Residence Nosticova $$$
The Alchymist is a 5 star Prague hotel with too many lovely features to mention.

I especially recommend a stay here if you're looking to be pampered and treated like royalty - like many celebrities before you.
Rates here are standard for luxury hotels in Prague, but they offer a few package deals and options to make things more affordable. You'll find a variety of rooms and suites and some have kitchens and sitting rooms for lots of extra room.
Don't miss dining beneath the gaudy arched ceilings of the hotel's restaurant too. It's a perfect place for a memorable birthday, honeymoon or any special occasion.
Address: Nosticova 1, Mala Strana, Prague 1
---
More Mala Strana Hotels
If this list wasn't enough, please try a broader search with a tool like HotelsCombined. It will bring back more options with comparison prices for various websites.
To make full use of this powerful tool, try applying different filters to dig down according to your preferences.
Of course, I'm a big advocate for booking your Mala Strana hotels directly. You can get more bang for your buck and booking direct supports local businesses avoid the commissions that online portals charge.
If you need any help or have any questions, please feel free to contact me.