Things to do in Prague
I love making lists of things to do in Prague. Because, it reminds me of how easy and fun the city is to explore. There is something to see and do whenever you visit.

First, just a brief introduction so you get the most out of this page.
I've created this page to serve as your starting point. From here you can get quick information and then find links to go further and deeper into Prague.
You'll find lots of...
sightseeing ideas
places to visit
alternative things to do
things to see off-the-beaten path
As always, if you have any questions (or suggestions) please let me know.
Please note. This content on this page is in the process of being updated and expanded. Please excuse any odd bits of info or displaced ideas. I should have it up and "running" very soon. Thanks for your patience!
Fun Tours and Alternative Ideas
A fun combination of stuff here... ranging from border line touristy to quirky.
Rent a bike - Prague is slowly becoming more bike friendly. The good people at Praha Bike can help with tours and rentals. Or, try a pay-as-you-go electric bike.

Prague Pub Crawl is a fun way to spend a night with new friends and a few drinks.
Paddle Boat Rentals - if the weather is right rent a paddle boat - you won't regret it. This is one of our favorite things to do in Prague. We suggest renting from the tip of Žofin Island. You can cruise around Střelecký Ostrov (Island) with great views. Take tram 9, 18 or 22 to Národní Divadlo - you'll see the boats down on the river just across the street. 
Tram Ride - not all things to do in Prague involve walking. Jump on any number of trams for a real look at Prague. The historical center isn't necessarily the real Prague - you've got to see the outer parts too. Take the 9 tram to gritty Žižkov or cross the city from end to end on the 22.
Or, try the Nostalgia Tram from April-October for a public transit flashback. Take tram 1, 2, or 18 to Vozovna Střešovice - the starting point and Transit Museum.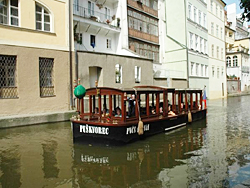 River Cruises - One of the best things to do in Prague is to take a river cruise. There are a number of boats offering views, dinner, jazz, drinks and even accommodation from the Vltava River. More info here.

Beer Tasting - Book a beer tour and discover why the Czech Republic has the highest per-capita beer consumption in the world. We can book either a Beer Tasting or an adventurous Pub Crawl for you - just contact us.
Towers - Prague is called the City of Hundred Spires and what better way to see them than by visiting a few? In particular, try Petřín Tower, the towers on Charles Bridge or the strange Žižkov TV Tower (metro Jiřiho z Podrebrad).
Horse Racing - You can bet all your money on unknown horses in the suburbs of Prague. Hop on the train at Smíchovské nadraží to Velká Chuchle. Trains depart every 30 minutes. Races are on Sundays April-October.
Prague Zoo - The local zoo combines natural environs with walking paths and interesting animals. It's a perfect place to explore with children.
Combine the trip with its impressive neighbor Trójský Zamek (Chateau). This Baroque chateau has a beautiful garden and extensive gallery with ongoing exhibitions. Take bus 112 from Nadraží Holešovice to the last stop. The Zoo and Chateau are side by side. Or, walk there by following the signs in Stromovka Park (see below).
Cemeteries - You may find this morbid, but Prague has a number of interesting cemeteries that combine history and subtle beauty. Visit the huge tree filled cemetery in Žižkov (metro Želivského) or the cemetery at Vyšehrad Castle (metro Vyšehrad). Here you'll find ornate graves of famous Czechs including Antonin Dvořak.
Sport Things to Do in Prague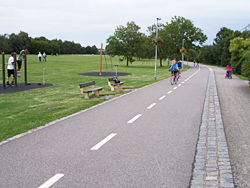 Here's a quick list of sporty things to do in Prague.
Prague Football - Prague has four local football teams that participate in the Gambrinus Liga - the Czech Republic's top league. It includes SK Slavia Praha and AC Sparta Praha who are common participants in the Champions League. FK Viktoria Žižkov and Bohemians 1905 have small venues and with great atmospheres, fun crowds and cheap tickets. The season runs August-June with a winter break from November to February.
Fun Island has a wide assortment of outdoor stuff to do on the Vltava River. Activities include: archery, paintball, beach volleyball, ropes course, shooting range and more. Take tram 12, 14 or 20 to Lihovar. (south from Anděl metro)
Rollerblading in Ladronka Park. You can rent skates for all ages and cruise the long smooth paths. Or, stay inside for a game of bowling. From here walk to Hvězda Summer Palace for a relaxing walk amongst the trees. Take tram 22 to Vypich and walk diagonally through open field. Or take bus 191 to U Ladronky.
Swimming - take a swim at Podolí, Prague's main pool complex. It includes an Olympic sized indoor pool, two outdoor pools and a small pool for children. Open all year. Take trams 3, 16, 17 or 21 to Kublov.
Tennis - Czech Lawn Tennis Club is the largest and oldest tennis club in Prague. It offers many outdoor and indoor courts. Take metro to Vltavska or Florenc. The club is on Štvanice Island.
Ice Skating - Rent skates at Na Františku, not far from Old Town Square. It's a small rink but easy to access and worth an hour's fun.
Related articles
---
Home > Things to do in Prague
---