Hooray! Free Things to Do in Prague

Put your money away. This one's on me. It's your awesome list of free things to do in Prague. In fact, I've got 25 things on my list, just for you.
And by "free," I don't mean walking down the street and looking at architecture.
That's not free, that's a cheap answer.
These free things include sights, destinations, and general stuff you might overlook.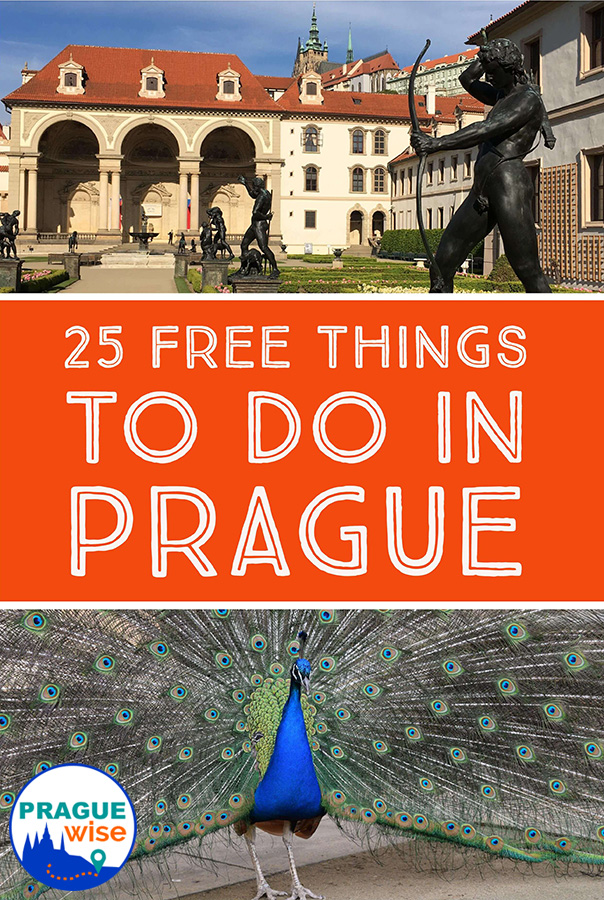 Please note... I've listed these by area or attraction so you can plan your time accordingly.
For example, if you're near the castle, I've got things to do in its vicinity. The same for Malá Strana, Old Town and outside the historical center.
And, wait!
Don't miss the Honorable Mentions at the bottom of this page ;-)
Free Things to Do in Prague Near the Castle

1. Changing of the guards

You don't need a ticket to see the changing of the guards at the castle.
In fact, you don't even have to go through security.
The best moment to see them change is at 12:00 (noon) in the first courtyard, near Hradčanské náměstí. This highlight of the day includes fanfare and flag ceremony (see video below).
Can't get there for 12:00?
Then you can catch the guards do smaller rotations on the hour, every hour.
2-4. You don't need no stinkin' ticket
Let's put an end to some misleading information.
You DO NOT need a ticket to get into Prague Castle.
Actually, the castle is a big collection of buildings. To "get in" you just have to go through security like everyone else. That's free.
If you want to enter all the buildings within the castle grounds, then you need to buy a ticket.

Absolutely free areas of the castle...
Golden Lane

(Nov-Mar after 16:00; Apr-Oct, after 17:00).

St. Vitus Cathedral (a ticket gives you full access.)

Royal Gardens
5. You're in for a treat
I admit, your window of time is limited for this one. But, the Lobkowicz Palace is absolutely wonderful.
Actually, it's consistently rated on TripAdvisor as one of the top things to do in Prague.
Unfortunately you can only visit for free on the first Wednesday of the month, 16:00-18:00.
If you can't make it during these hours, plan a trip there anyways. It's well worth it.
Lobkowicz Palace is within the castle grounds and includes a lovely cafe, awesome views and lots more.
6. A quiet place is a rewarding place
I would guess that most locals don't know about this quiet spot.
That's probably because the Černín Palace Gardens were closed to the public until 2014. And the palace is home to the Ministry of Foreign Affairs which is generally closed.
Thankfully you can visit this quiet English garden for free during the tourist season of May-September.
The palace is a short walk from the castle and this area has lots more to see...
Free Things to Do in Beautiful Malá Strana


7. An absolute must-see
I feel like I've recommended Wallenstein Garden a gazillion times. 
Maybe that's because I've been there so often - it's one of my all-time favorite places in Prague. And, I used to walk through the garden twice a day, to and from work. Lucky me!
Anyway, this gorgeous Baroque garden is free to enter from April to October.
Reasons to visit...
peacocks, owls and cool statues
awesome photo ops with the castle in the background
lots of benches
that weird mud dripping wall
free concerts on Thursday afternoons
8. Infant Jesus of Prague
For many, the Infant of Prague can be the sole reason to visit Prague.
It's one of Prague's holy pilgrimage sites. People come from all over the world to see this encased and clothed doll of Jesus which is said to have powers to heal and answer prayers.
The Infant of Prague is located on a side altar inside the Church of Our Lady Victorious. It's free to enter the church and visit its corresponding museum in the front near the main altar. There is also a gift shop.
Read more about the Infant of Prague
9. Yes, the John Lennon Wall.
I know adding this one to the list is kind of cheating. But not everyone is clear on the situation.
You would be surprised how many times I've been asked... "Is the John Lennon Wall open?"
So, to clarify, the John Lennon Wall is outside on a public street. It's free to see any time of the day or night, for free.
10. Overlooked museum gem
In the grind of visiting Prague, places like the Czech Museum of Music are extremely refreshing - for two awesome reasons.
1. The museum is super easy to connect to other sightseeing destinations. For example, Kampa Island, Charles Bridge and the Infant of Prague are just a couple minutes walk from here.
2. All the hordes of tourists are too occupied to visit. That means inside you can relax and enjoy this unique building and exhibition.
Oh, and admission is free the first Thursday of the month (14:00-18:00).
11. Visit the American Center of the U.S. Embassy
Wait. What the heck is the American Center?
Glad you asked. The American Center is a place for cultural connection between America and Czechia. They offer a broad program of U.S. related topics - from lectures and seminars to art and concerts.
Most of their events are free and open to the public.
And, every Tuesday at 18:00 they have free movie screenings.
12. Skinny street and peeing statues
Ok, file these under fun and kinda weird.
There's a spot near the Kafka Museum where you can "experience" two of Prague's odd attractions.
First, there is a super narrow street that is fun to walk down, if you're not claustrophobic. It's for pedestrians only and even has a traffic light. It will take you all of 2 minutes to try it. Whatever you do, avoid the restaurant at the bottom of the street. It's a tourist trap.
Now for the second part.
Next to the narrow street is a sculpture by Czech artist and provocateur, David Černý. It's basically of two men facing each other and peeing into a pool of water that is shaped as Czechia.
For additional fun, you can send a text to the sculpture and the men will write out each letter via their urine streams.

In Old Town...


Free Tours - very good city tours with guides paid by tips only, so it's up to you how "free" you want the tour to be. Reviews and info.
Old Town Tower: Hall of Architects - unique exhibitions covering a range of architecture and city based themes.

Astronomical clock - you must visit Prague's famous clock at the top of the hour for its show. It's must see!
Czech Republic Visitor Centre - the friendly staff will answer all your questions and there are loads of free brochures, maps and information about Czech Republic.
Jewish Cemetery - it's a must-see attraction. But if time is short you can a peek through the door on the back side to get an impression of this unique place. Yes, that's cheeky, but free.

Church of Our Lady Before Tyn - this is the incredible church on Old Town Square with black spires. Free to enter (or 1 EUR suggested voluntary fee).

Globe Bookstore - free movie night! They've got a great collection of books and cheap events too. Check out their calendar.
Kino Evropský Dum - free movie night, every 2nd Wednesday, 19:00.
Galerie Lapidarium - this is the kind of cool historical place you find by getting off the beaten path - but it's still just a stone's throw from Old Town Square.

Reward Yourself by Going Local!

This group of free things to do in Prague is outside of the typical tourist zone. This means you'll be enriched by local sights and a different vibe. Yeah!

Vyšehrad - is it a castle or fortress? Either way it's a fantastic place - very relaxing and highly recommended. Read more.
Botanical Gardens - Charles University has a lovely garden in Prague 2. It's free to enter the gardens and there's a small fee for greenhouses.
Cemeteries in Žižkov - walking a cemetery may be creepy to some, but there are a few in Prague that are beautiful and interesting. There are 3 in this cool Žižkov that we recommend (see map).
See something out of date? Are these things to do in Prague no longer free? Please let us know!

Hunt Kastner Gallery - cool contemporary art also in Žižkov (see map).
Nová Galerie - variety of fine art exhibitions. Take the effort to find the gallery and then wander around for a meal or stroll in the park.
Your Prague Map to Free Stuff!


So, What About Museums?

Good question!
The answer is yes, many museums in Prague have free admission times.
But, there is no universal day or time when museums are free. It's best to contact individual museums and galleries to ask about their schedule.
We know it's not the best answer! Check out the National Gallery for specific information.
---
Free Things to Do in Prague...
Honorable Mentions

There are loads of other things to see and do. These sights are also worth mentioning...
metronome - free to get up close to this giant contraption and the view from here is awesome
parks + gardens - there are too many to mention but we love the castle's Stag Moat, Kampa and Střelecký Island
riverbanks are perfect for walking
farmer's markets are booming these days in Prague
churches galore!
---
Home > Things to Do in Prague > Free Things to Do
---