Getting and Using Czech Currency

The subject of Czech currency seems to be a mystery to many travelers. That's completely understandable. The Czech Republic is a small country and our currency is not well-known like euros for example.
This short guide will help answer some of the basic questions that we hear from visitors. Questions like...
Can I use euros in Prague?

Where can I exchange money in Prague?
What money does Czech Republic use?
Should I get Czech currency before leaving home?

Just Give me the Facts

Here are some basic facts about Czech currency to know before arriving...
1. Czech currency is called koruna česká (Czech crown). In English you can refer to money simply as Czech crowns.
2. Euros are NOT the official currency of Czech Republic. Some shops and restaurants will accept euros, but not all of them. It's easier, and cheaper, to use crowns.
3. Crowns come in 6 coins (1, 2, 5, 10, 20 and 50) and 6 banknotes (100, 200, 500, 1000, 2000 and 5000). Each gets larger as it increases in value.
4. 1 CZK is equal to 100 haléřů. Think of them like cents, although they have been removed from circulation. However, you will see prices in stores listed with haléřů. For example, a price might be 24,90 Kč. But this simply means 25 Kč. Amounts above .50 are rounded up to the nearest crown.
Exchanging money in Prague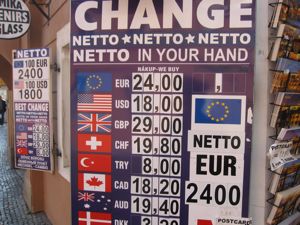 Don't get confused by these places
You don't need to get Czech currency before arriving in Prague. But if you prefer to carry some cash, then euros, US dollars and British pounds are the next best options. They are the easiest to exchange and euros can be used in some shops, which is helpful at the airport and main train station.
Before exchanging money, please read these points...
Exchange offices in Prague are notorious for their tricks, confusion and poor customer service.
Remember, their prime intention is to make money off of tourists. So, please be aware of the rate you are offered and check the transaction before leaving. I always ask for the rate and total if I exchange 'X' amount. Then I review the rate and fee before I agree to the exchange.
Exchange offices love to advertise 0% commission. This means there are no fees, but their rates will likely be terrible. It's just a game to get your money. And, with so many tourists in Prague, they make lots of money.
So, for these reasons I generally suggest avoiding exchange offices.  I recommend using a cash machine instead.
Where to exchange money in Prague?
If you really need to exchange money, I know from experience that these two places are honest and clear about their rates.
Exchange - this is arguably the best exchange office in Prague. It has a good reputation, excellent rates and it's very close to Old Town Square. Address: Kaprova 13, Old Town, Prague 1.

Abrahám Exchange Office - this one is right on the square across from the tram stop in Malá Strana (Lesser Town). They charge a commission, but they are fair and up-front about their rates, etc. Address: Malostranské nám. 22, Prague 1.
NOTE: Exchange rates are often better when you exchange larger sums. So it's smart to exchange a lump sum instead of multiple single transactions.
For official exchange rates, try the Czech National Bank.
NEVER EXCHANGE MONEY ON THE STREET! ALWAYS USE A BANK OR EXCHANGE OFFICE.
Using Credit cards in Prague
Credit cards are widely accepted in Prague. But not everywhere. Ask before making a payment or ordering a meal. If a business accepts cards, it's often posted on their entrance door.
Tips for using credit/debit cards
Before you travel, check with your bank regarding any international fees.
Make sure your card is active for international purchases and cash withdrawls. Many cards are blocked for these transactions for security purposes.
Often fees for machine withdrawls are per transaction. So it might be better to take a larger sum instead of smaller numerous transactions.
Some shops and restaurants in Prague will charge a fee for credit card purchases - it's not common, but it does exist.
Cards are accepted less in small towns and villages.

Cash machines (ATM) are everywhere in the city. And you can find machines in each terminal at the airport and at the bus and train stations.
Getting Czech currency this way is often the best option. It's safe and can be cheap compared to exchange offices. It's also cheaper than exchanging money inside a bank. Bank machines also do not charge local fees and their exchange rates are usually very fair.
No Euros!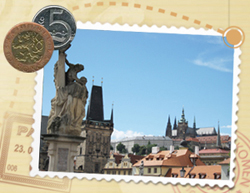 Sorry, we don't officially use euros in Prague.
It's true that some restaurants and stores may accept euros, but it's hard to know who does and who doesn't.
If you do use euros in a store or restaurant, you risk getting a terrible exchange rate. I have spoken to many visitors who pay 10-20% more for a meal just because they paid in euros.
So, keep it simple. Just use Czech currency.

One specific instance you might use euros is to pay for your accommodation. Many hotels and apartments will gladly accept euros and some other currencies to make your travel easier.
When will euros be used in prague?
This is the magic question. No one knows when we will switch to using euros as our primary currency. Right now, most citizens are opposed to changing currencies and the Czech government is slow to start any change.
The last currency adoption date that I heard was 2020. But who really knows?
Tips for Using Czech currency
Here are few friendly tips for spending and saving money while in Prague...
• Tip modestly. Czechs are not big tippers. They like to keep things modest and simple. For example, if the bill is 280 Kč, we would round up to 300 Kč. Some people might even tip less. Basically, a 10% tip is plenty. This goes for restaurants and taxi drivers.
• Watch for pickpockets! Crowded areas are a good spot to lose your money. Carry only the cash you need.
• Traveler's checks, bank checks and money orders are absolutely NOT acceptable in stores, etc. You might find a rare place that exchanges traveler's checks, but they don't have the benefit like years ago.
• Save on lots of things by visiting Prague in the winter. Deals are everywhere (aside from the holidays). Hotels are largely empty in November and February and offer plenty of Last Minute deals.
Final Thoughts
I hope this information helps you feel confident about using money in Prague and Czech Republic.
I imagine using crowns is not easy at first. It might even feel like "play money" sometimes - especially with its large banknotes.
The last piece of advice I would give is this... be aware of your money and your surroundings when using it. Slow down and take your time. Sometimes there is no better guide than your own common sense and awareness.
If you have any questions, please feel free to get in touch!
---
Home > Guide to Prague > Czech Currency
---