Prague Travel Basics

Practical Information on Traveling to Prague

Our Prague travel basics, the little elements to make your visit much smoother. After all, the fewer unpleasant surprises while traveling the better.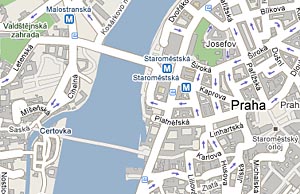 This page covers the bare-bones essentials for planning a visit to Prague. And, here's a street map of Prague to help even more.
Czech Currency, Language and Time

The currency of the Czech Republic is the Czech crown (koruna). Euros are NOT widely accepted. You may find a few retail chains and larger stores that accept euros, albeit with poor exchange rates. Of course, many hotels will accept euros.
Cash is the best form of payment. Credit cards are welcome - just not everywhere. Read  more about using Czech currency.

Czech is the official language of the Czech Republic, but many people speak English - especially younger people, waiters and accommodation staff.

Older people often speak German. Regardless, Prague citizens are very familiar with typical tourist questions. However learning a few Czech phrases can be very helpful.
Prague is on Central European Time (CET). That means we're generally 1 hour ahead of London and 6 hours ahead of New York. Compare your time with Prague's.
Traveling to Prague

Fly to Prague:  the Vaclav Havel International Airport (PRG) is relatively small and delays are fairly rare. Most major airlines fly to Prague including many "cheap air" carriers.
Train:  Prague has two major train stations: Hlavní Nadraží (Main Station) and Nadraží Holešovice. Most international trains come and go from Holešovice. There are a few other smaller stations that service the suburbs and outlying areas.
Bus:  there are plenty of cheap bus routes to and from Prague. The main bus station can be found near Florenc metro station.
All the train and bus schedules you'll need.
Car:  Prague really isn't a place for cars. The tiny streets weren't built with cars in mind so parking and congestion can be a problem - not to mention the awful pollution that hangs over Prague.
So, I don't advise driving to or in Prague. If you're planning trips out of Prague, then a car can be very useful. There are a few notable car rental agencies with offices around the city and at the airport.
Getting Around

We have to include the city's transport in our Prague travel basics. It's the lifeline for most locals, especially since driving in the city center can be a real hassle.
Prague's trams, metro and local buses are affordable, safe and very reliable. I can't stress this enough. Buy tickets at any newsstand or Tabák. Always validate your ticket when using the system. And, please watch for pickpockets on crowded trams and metros.
Tram 22 will take you across the city to most tourist attractions. Read more about how to travel in Prague.
Taxis:  Avoid taxis if you can. Otherwise, the AAA Taxi company seems the most reliable. But, make sure all drivers use the meter. Taxi drivers in Prague have been known to take advantage of visitors.
Electrical Power, Phone and Internet

We get a lot of questions about these Prague travel basics:
Electrical Power:  Prague uses 230 Volts like the rest of Europe. Many devices work on power 110-240V. If this applies to you, then you only need an adapter (pictured below) for your plug. If your device cannot use 230V then you will need a transformer or converter. Transformers are not fun to travel around with - a bit heavy. Most people simply need an all-in-one travel adapter.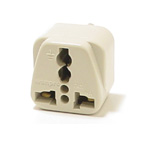 Phone:  For short stays, buy a SmartCall phone card from a newsstand, tobacco shop (Tabák) or exchange office. These are the cheapest and you can use it from any phone. Don't waste your time using the coin operated payphones - they often don't work.

For longer stays in Prague, either buy or rent a phone from: T-Mobile, Vodafone or O2 Telefonica. Their shops are everywhere in the city center.

Internet:  WiFi is everywhere too - so if you have a phone, no worries. Otherwise there are a number of internet cafes in Prague.
Accommodation in Prague

Prague is packed with hotels and a slew of hotel booking agencies. They all try their best to fill rooms for a paid commission. So, it's a small risk booking through an agency. It's best to contact the hotel or owner directly.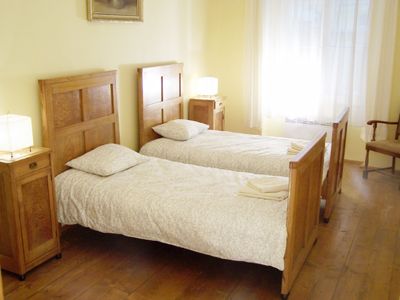 Apartments are actually cheaper and more flexible than hotels. And renting a private apartment provides a real sense of living in the city. These apartment rentals are fully verified by me since I know the owner of each. Actually, my friends and family often book one of these when they visit Prague. Locations and Districts:  There are two main areas that are closest to all tourist attractions: Old Town (Staré Město) and the Little Quarter (Malá Strana). These have the best accommodation and are within walking distance of everything important.
The next best locations would be either New Town (Nové Město), Vinohrady or Smíchov. If you're on a tighter budget you can save money by finding something in Žižkov or Holešovice - but be prepared to get lower quality in return. Regardless, all areas have great public transporation connections to sightseeing.
Safety and other Prague travel basics
Crime:  Prague is generally a safe city with a low crime rate. Most problems for visitors come at the hands of sneaky pickpockets. So watch your things in crowded areas. Otherwise, you might consider avoiding Wenceslas Square and the train stations late at night.
Traveling alone? Don't worry. I've met many single travelers who have felt very comfortable in Prague. This goes for women too.
Common Courtesy: Czechs value manners and are keenly aware of greetings. It's considered polite to say hello (dobrý den) and goodbye (na shledanou) when coming and going from any business. These Czech phrases will help you even more.
And, it's common practice to give up your seat on public transportation for elderly, small children and pregnant women. And if you don't, you're likely to get a mean glance or a word or two of advice from a fellow passenger.
Food:  Czech food is on the salty side of things - especially if you're eating on the cheap. In general, meals tend to include a meat and starch - usually potatoes.
Vegetarians will have to work a bit harder to find appropriate food outside of fried cheese and pasta. This is especially true for vegans.
Weather: The pure basics for weather go like this... early Spring can be cold but May is beautiful. Summer is generally warm with a few hot days sprinkled in. Autumn can be very pleasant with cold days starting in November. Winter can be bitterly cold with some snowy days mixed in.
Need more on Prague travel basics?

So, you can see there aren't many surprises when it comes to Prague travel basics.
But, we hope these cover enough to make your trip comfortable. If you have any questions or concerns please feel free to contact us.
Been to Prague? What would you consider your Prague travel basics?
Back from Prague Travel Basics to Guide to Prague