Prague Airport
Prague Airport is small and easy to use. Compared to other European capitals, flying here couldn't be better.

This page will help you with all the basics related to Prague's airport.
From things to do to ground transportation, there's a bit for everyone.
Prague Airport... the basics
Prague Airport (PRG) is small with just two passenger terminals. They are Terminal 1 and Terminal 2. They are connected by one main hallway making arriving and departing very easy. So, you can't get lost here.
If you don't know which terminal you will use, don't worry. You can access either from any entrance. You can walk between both terminals in a few short minutes. See this map of the airport.
You'll need to be at the airport 1.5 - 2 hours before your flight. You really don't need more than this. And, the airport is close to the city center so no need to stress.
Customs and baggage handling is also very simple. Wait times are never too long and even shorter for EU citizens. Citizens from other countries will have longer lines at the passport check, but it's still relatively harmless.
The arrivals hall in each terminal has lots of helpful information. You can find accommodation agencies, exchange offices, cash machines, info desks and a public transportation help desk.
Airport Transportation
The easiest way to get into the city is to book an airport transfer in advance. It might be a little extra money - but it's worth it especially after long flights.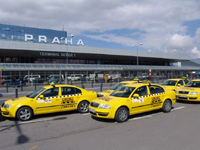 Need a transfer? Our good friend David's shuttle service, provides friendly and punctual drivers who speak English.
See our airport transfers for more information. 

Many visitors prefer to use the Prague metro system. But, it's one thing to plan NOW to take the bus and metro, but another thing to actually do it LATER.

Any route from the airport by public transportation will take at least 40 minutes regardless of your destination. Plus, you'll have to exchange money, buy tickets and navigate the whole trip. So it's better to save time and energy by taking a pre-arranged transfer.
If you want to catch a taxi from the airport then use AAA Taxi. They are the yellow taxis swarming outside. They offer the most reliable service. But please be aware, some taxi drivers are known to overcharge tourists. Always make sure they use the meter.
There's a shuttle bus service from the airport too. It takes multiple guests at a time but really isn't much cheaper than a standard taxi.
Things to do at the Airport
There are other things to do at Prague Airport - not just standing in security lines and waiting around. For starters, visit the airport's museum exhibition. It has a few photos and details about the history of the airport and a documentary film. There's also a historical replica of an Avia BH25 that you can sit in.
You can also watch aircraft arriving and departing from the airport's lookout terrace. The terrace has a cafe too so you can sit, sip and watch. The terrace is located at the connecting point between Terminal 1 and 2.
If you have more time, take a tour of the airport. Tours last about 2 hours and are great for people of all ages. It takes you behind the scenes of the airport, up close to aircraft and tours the fire station and cargo zones.
Tickets are 150 CZK for adults, 70 CZK for children 3-15, students and seniors. A family ticket is 330 CZK for 2 adults and 2 children. You can book tours directly through the Prague Airport website.
Car Rentals at the Airport
You can find offices for car rental companies on the ground floor of Parking C across from Teriminal 1. Here you'll find major companies such as: Hertz, Budget and Avis.
Remember, you won't need a car in Prague. I suggest only renting a car if you plan to drive through Europe or Czech Republic.
Shopping
There are 85 shops at the airport. Most are open 7 am to 9 pm. You'll find all the standard airport-style shops here.
They sell clothing, toys, books, etc. Of course, there are a number of duty free shops as well.
They sell alcohol, huge bars of chocolate, cosmetics and more. These are located in both terminals.

Back from Prague Airport to Traveling to Prague