Travel in Prague is Easy, Here's how

The best way to travel in Prague is by public transportation. The Prague metro, trams and buses are cheap, easy to use and very reliable.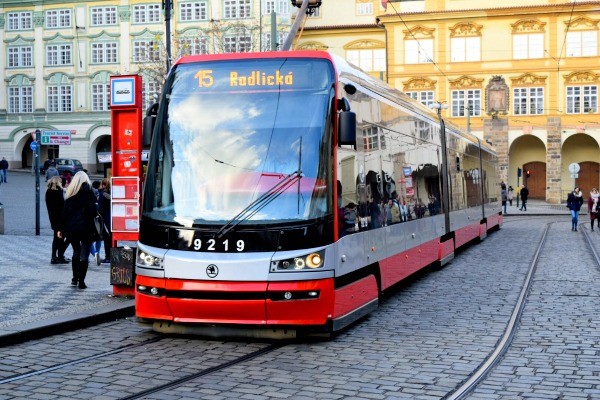 Just the basics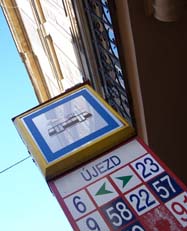 There are 3 basic ways to get around: metro, tram and bus. Each part is very reliable and punctual.
Buy tickets first.

 You can buy tickets in metro stations, where newspapers are sold and in some hotels.



Tickets are time sensitive.

 Put the ticket into a little yellow machine located on a tram and bus. Machines for the metro are often located right before the escalators. The machine will stamp a time on your ticket. This ticket is valid from this time, until the period determined by the ticket (i.e. 90 mins)
All tickets are valid on all parts of the metro system, tram - metro - bus and funicular. You can transfer for free between all modes of transport - just stay within the validation time. Tickets for the Nostalgia Tram are unique and sold onboard that tram.

Ticket inspectors may approach you and ask to see your ticket. If you don't have a ticket or if you didn't get it stamped properly, they will fine you on the spot.
TIP:

Mind your things as you travel in Prague. Pickpockets like crowded areas like trams and metros. And, always buy a ticket. It's tempting to cheat the system, but the last thing you want is a problem with ticket inspectors. They aren't always friendly.
Public Transit Tickets

Inside each metro station you will find coin operated machines that dispense individual tickets. You may also find new machines that accept credit cards.
The ticket system is easy to navigate and use. Here are a few examples of tickets you might use on a short stay in Prague.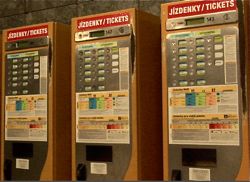 Short Term Ticket:  24 CZK, 30 minutes. These are for short journeys, but can be very useful since you might only need to go one direction before returning later in the day. They are valid 30 minutes from the time you stamp the ticket.

Basic Ticket:  32 CZK, 90 minutes. These tickets are the most common choices. If you go to a shop and ask for tickets, these are the standard ones. You can use them up to 90 minutes which makes them very flexible. But, if you're going just one way to the castle, for example, you might consider the cheaper short term ticket above.
1 Day Ticket:  110 CZK, 24 hours. These are great if you know you're going to use the metro system extensively over one day. But, it's often just better to buy single basic tickets.

3 Day Ticket:  310 CZK, 72 hours. These are perfect for a weekend stay, etc. Buy these and you don't have to worry about tickets for awhile. These allow the free accompaniment of one child (6 - 15 years).
Both 1-day and 3-day tickets are time sensitive, just like the shorter tickets. Stamp them in the yellow machines just the same.
Tickets for Children

To be honest, many young children and seniors are often overlooked by ticket controllers. But technically they need tickets too. Children means someone between 6 and 15 years and Senior is anyone over 60.
Rates for Children and Seniors:
Short Term Ticket -  12 CZK, 30 minutes
Basic Ticket -  16 CZK, 90 minutes
1 Day Ticket -  55 CZK, 24 hours
3 Day Ticket -  310 CZK, 72 hours (no discount available)
SMS Tickets

You can now buy single tickets via SMS on most mobile phones, making travel in Prague even easier. Send the corresponding codes to the number 902 06 and you will receive an SMS with your ticket details.
DPT24 for 24 CZK, 30 minutes
DPT32 for 32 CZK, 90 minutes
PLEASE NOTE: not all foreign mobile phones will work with the SMS system.
Prague Metro (Underground)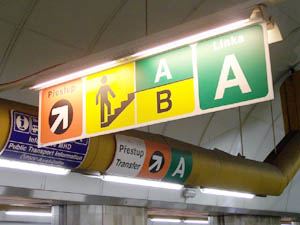 There are three metro lines in Prague: A (green line), B (yellow line), C (red line). The metro operates from 5:00 AM to midnight. They are highly efficient with stations near most points of interest.
The metro stations in the center of Prague are quite deep underground. They have long escalators and sometimes stairs going down to the platforms. Only some have elevators.
Most stations have an attendant in a booth upstairs. You can buy tickets here or try to get information. But, I have noticed that they likely won't speak English.
Read more about using the Prague metro. 

Prague trams

There are numerous trams that cross the city. For me, trams give travel in Prague its soul and character. To ride a tram and daydream is a treat.
Here are some important notes to keep in mind when enjoying riding the trams.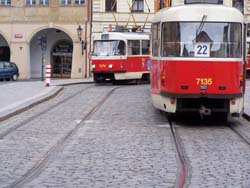 Trams generally run till midnight and then night trams service the city. Night trams have different numbers and consolidated lines. So, they aren't identical to the standard day-time lines.
If you plan to use night trams, be prepared to wait longer. You might consider checking their schedule beforehand if you plan to have a late night.
Strollers and prams go in the back of trams. And dogs generally go in the front.
Schedules for each tram are posted at each stop.
Generally younger people stand up and let older people sit down on public transportation. It's common courtesy here.
TIP:
Trams are ideal for shorter rides or for a cheap tour of Prague. We particularly like riding the 22. It crosses the city providing lots to see. And, it goes directly to Prague Castle and a few steps from Charles Bridge.
Travel in Prague by Nostalgia Tram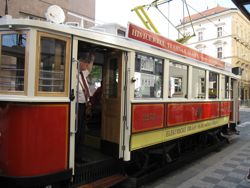 The Nostalgia Tram No. 41 crosses the city on weekends from April - October. It starts at the Public Transport Museum and ends in the beautiful Stromovka Park. It's a unique throwback experience and definitely worth taking. And, it's especially enjoyable if you are traveling with kids.
The tram passes various attractions as well including Prague Castle and Wenceslas Square. Tickets are unique to this tram only. They are purchased directly on the tram from the conductor. Standard tickets are not valid on this tram.
Buses in Prague

Buses are another reliable way travel in Prague. But, generally you won't use them much in the city centre.
They usually are used to access other residential, suburban areas and harder to reach places outside of the city. But this means they can be great for day trips from Prague. Many villages, castle ruins and chateaus can be found quite readily by bus.
It's easiest to have a ticket ready and use it like you would for a tram or metro ride. But you can buy them directly from the driver for 40 CZK. If you are traveling outside of Prague, check the fare schedules to verify which ticket is appropriate.
Lastly... it's customary to stand up for very small children and older people in Prague - especially on the bus. It's harder for these people to stand and hold firmly while the bus is moving.
Funicular (Cable Car)

Prague's funicular is a great way to access Petřín. The route has three stops and is perfect if you don't want to walk up the hill. Standard tickets apply. The nearest tram stop is Ujezd which is located at the base of the hill in Mala Strana.
At the top you'll find a couple of great stops for kids and adults alike. There's a fun House of Mirrors (Bludiště), Prague's version of the Eiffel Tower and Stefanik's Planetary Observatory.
Petřín Park has a number of trails to stroll along and gorgeous views of Prague Castle. and Malá Strana. You can stop in the middle and lounge at the outdoor cafe or grab an ice cream or beer in the garden at the top.

Warning: the funicular is very popular especially when the weather is good in high-tourist season. So expect a good line if you show up during the day. Mornings and evenings are ideal.
Travel in Prague. No risk. All reward.
Are you unsure about using public transportation in Prague? Here are a few points to win you over ;-)

The metro system provides an unmatched, local experience. Culture, language and social life is streaming through these parts of Prague everyday. Being a passenger will quickly magnify your travel experience many times. All you have to do is be aware and enjoy the experience.
Obviously, the trams and metro will bring you to places your feet won't. But more importantly, a quick ride will get you out of the tourist zone. Go into real neighborhoods, because all the historical stuff isn't exactly what Prague is really about.
Forget the Hop-on-Hop-off buses. Trams are excellent tour options. Grab a window seat on a tram and head across the city. It's the cheapest tour in Prague. 
This page outlines the basic information you need to travel in Prague hassle free.
You will soon find out that it's all about buying tickets, stamping the tickets and following your route - very simple indeed.
Official Transport Info

Public transport in Prague is operated by DPP (Dopravní podnik). Their web site for more information is very useful and has English pages here.
To plan a specific trip in Prague try their journey planner or download their app.
There are a number of transport info centres at various metro stations. These are particularly helpful if you have specific questions or need other help. You can find English speaking assistance at some, specifically at the airport and main train station.
DPP Infoline.: +420 296 19 18 17
---
Home > Guide to Prague > Travel in Prague
---