Guide To Prague Attractions

These main Prague attractions are the key points to the city. Consider them to be sort of a Top 10 list of the main Prague sights and interesting places to see.
These are of the MUST SEE variety. Of course there are countless other sights, but these are the main tourist attractions.
Below you'll find brief notes on each attraction, some sightseeing tips and our Prague attractions map. Remember though... the key to Prague is to explore. Don't let any list of "main" attractions stop you from getting off the beaten path.
Main Prague Attractions
These first five attractions are the most popular destinations. Thankfully, they seemingly connect to each other in Prague's city center. If you get a grasp of where these are, then you'll have a clear blueprint to the city.
For a more comprehensive look at Prague, try our fat list of 50 tourist attractions. You may want to add an extra day to your trip. Like, right now!
More Prague Attractions
Map of Attractions
This is our map of some of the main attractions in Prague. Most are walking distance from each other. Most people consider this to be the "city center."
So, if your hotel or apartment is in this picture then you will feel very central. Of course, this map only highlights a few of Prague's attractions - just the tip of the iceberg!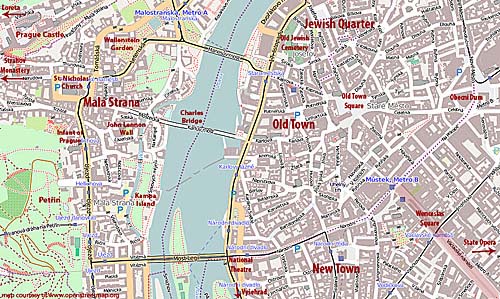 Click to download map of Prague attractions
How much time do you need?
If you don't have much time, it's possible to see most Prague attractions in one or two days. But, you will feel stressed with such a short stay.
We generally suggest visiting Prague for at least 3 or 4 days. Most people we've talked to tend to think 4 days is ideal and of course, 5 is even better.
---
Home > Prague attractions
---