10 Beautiful Prague Parks
These ten Prague parks are simply awesome. They offer a nature escape while without needing a day-trip to leave the city. 
But, there is more to each than just their natural  atmosphere. Each one is truly a sightseeing destination.
Whether it's a local experience you're after or a stunning view,  each of these Prague parks has a reason to visit. And, some are right in the middle of the city.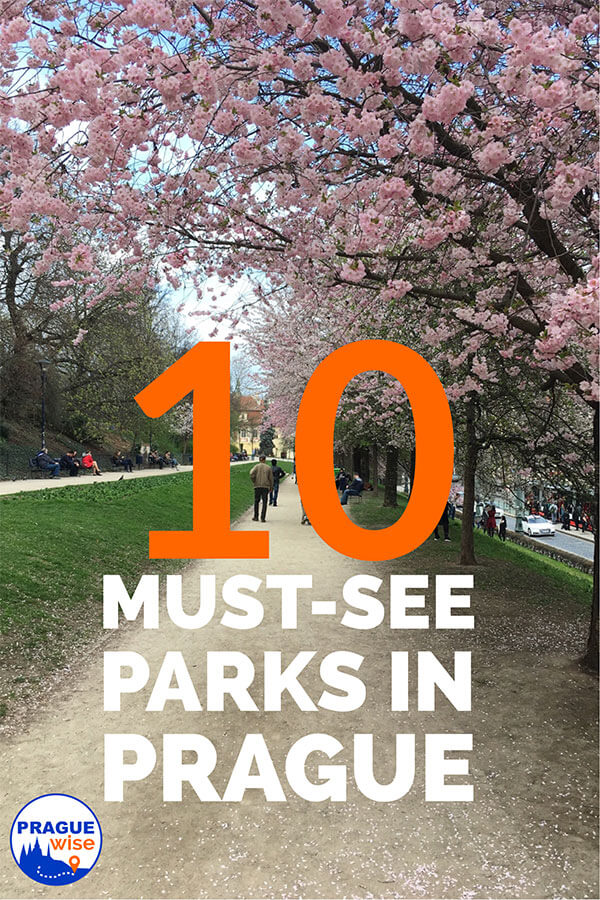 Before we get to the list, I need to note a couple of things...
This list does not include any of the wonderful gardens in Prague. These parks are free, larger and open to the public.
Parks are open year-round. While many gardens have limited hours, especially during the tourist season of April-October.
10 Prague parks
1. Petřín
This is the most obvious park in Prague. Its hill rises from Malá Strana (Lesser Town) and can be seen from many places in the city. It's filled with all kinds of things to do and offers some of the best views of the city.
What to see and do in Petřín...
climb Petřín Tower for one of the best views of Prague
see sunspots or the night sky in Štefánik Observatory
visit the House of Mirrors (Bludiště)
enjoy refreshments at different points or a meal at Petřín Terraces restaurant which has excellent views
follow the Hunger Wall through the park for a unique experience in the park
How to get there:
Take trams 9, 12, 15, 22 or 23 to Újezd. From Újezd you can walk up through the park or take the funicular (same ticket as the tram). You can also take the 22, 23 or 25 to stop Pohořelec and walk from there. I like to walk up the street Uvoz from Malá Strana and enter the park to the left below Strahov Monastery.
For more information you please read more about Petřín.
---
2. Letná (letenské sady)
This park is an obvious sight perched above the Vltava River - but somehow it goes unexplored by most visitors.
Letná offers a classic view of the river, winding its way through the city. And, it also has one of the best beer gardens in Prague. And if that's not enough to tempt you, what about a giant metronome? Yes, it's here too. Read more and see the view from Letna park Prague.
How to get there:
Take the trams 2, 12, 18 or 20 to Chotkovy sady. Then cross the street to your right. Or, take the 22 or 23 trams to Královský Létohrádek, then cross the street and turn left walking through the garden and crossing over the footbridge. You can also walk from Hradčanská or Malostranská metro stations (A line). 
---
3. Shooter's island (Střelecký ostrov)
This island was once used just for target practice, centuries ago. Now, it's one of the best Prague parks to relax while sitting in the heart of the city. It's impossible not to like this place.
Come along for the views, or just sit by the river's edge. Your perspective of the city will change forever, especially when you stand on the tiny beach at the north end of the island.
When the weather warms, Shooter's Island is a place of festivals and big leafy trees. Oh, and the floating dock serving drinks and snacks is a laid-back haven.
How to get there:
Very easy to find. Take the 9, 12, 15, 20, 22 or 23 to Újezd and walk about 3 minutes. Or, take the 2, 9, 17, 18, 20, 22, 23 to Národní divadlo. You can also walk from metro stations Staroměstká (A line) or Národní třída (B line).
---
4. Stromovka
Stromovka is an expansive park in the neighborhood of Holešovice. It's a popular destination for its paths are perfect for running, biking and skating.
And the fields and ponds in the park make for a dog's paradise. You might even see a horse rider here and there too.
Of course wherever there's a park in Prague, there is a place for beer. The two go hand-in-hand. So, there are a couple of small refreshment stands in the park. For meals try the Restaurant Depot (Vozovna Stromovka) next to a popular playground. It has indoor and outdoor seating.
The park also includes Prague's planetarium and Matěj fairgrounds with a few games and rides. And just next to the park is the entrance to the Výstavišě exhibition hall and grounds.
How to get there:
Take trams 6, 12 or 17 to Výstaviště Holešovice.
---
5. Riegrovy Sady
Of all ten Prague parks on this list, I often think of Riegrovy as the ideal spring and summer city park. It has a different neighborhood vibe to it. Friends will meet here after work, visit the beer garden and take in a sunset view.
If anything, coming here will get you out of the typical tourist zone and into Prague's Vinohrady district. This residential area also includes some of the best restaurants in Prague.
How to get there:

Take trams 11 or 13 to Italská. Or, walk 10 minutes from the metro station Náměstí míru (A line). You can also walk from the metro station Muzeum (A+C lines), and get a cool view of the main train station on the way.
6. Grébovka (Havličkovy sady)
Another reason to visit Vinohrady, yeah! This gem in Prague 2 has a long history of winemaking and local gatherings. You'll want to visit for many reasons. But, you might be reluctant to leave.
see the unique grotto
try the wine bar at the gazebo
see the view over the vineyard
How to get there: 

Take trams 4, 13 or 22  or bus 135 to Krymská. Then walk south about 5 minutes. You can also take trams 6, 7 or 24 to Nádraží Vršovice (lower end of the park).
---
7. Divoká Šárka
The first word in the name of this park translates as Wild. And that's a pretty good description for the biggest park in Prague.
It's rocky cliffs and long wooded trails look like something you would find in the mountains. Yet, it's only a short tram ride from the city center. So, forget your day trip idea and come here instead.
My family and I love to come to Šárka and hike to the top of the cliffs for the views over the valley. Or, in the summer we also enjoy the swimming pools - although they are very cold. Apparently they are spring fed.
How to get there:
Trams 20 and 26 to the end stop Divoká Šárka. Or, take buses 108, 119, 191 to same stop.
---
8. Star Hunting Reserve (Obora Hvězda)
This old game reserve was built for hunting parties in the 16th century. And, the palace that sits in the center of its forest was built in the shape of a star.
This park is worth visiting just to stroll down the three long, beautiful paths that lead to the palace.
And if you are looking for a place to go running in Prague, well this might be your answer. The long paths are flat and there is a quiet wooded path that circles the entire grounds.
How to get there:
Take trams 22 or 25 to Vypich. Then walk across the road on your right and continue until you see the large field. The main gate is next to the field. You can also take buses 174, 180, 184 and 191.
---
9. Ladronka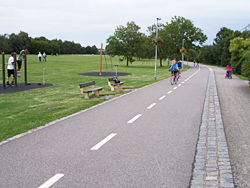 Like Divoká Šárka and the Star Hunting Reserve, this is another treat located in Prague 6. But this park is focused more on sports and recreation. Although it does have a few walking trails too.
Ladronka has a 4.2 km (2.5 mi) paved trail perfect for inline skating, biking and running. If you prefer to run or walk on natural ground, there is a comfortable rocky path next to the paved one. And the park is filled with open grassy areas.
Don't worry about bringing your own skates, etc - there is a great rental shop at Ladronka. They offer skates, helmuts, skateboards, frisbees for disc golf and other items.
And, of course, like all good sporting venues there is a restaurant in Ladronka serving Czech food and beer.
How to get there:
Take trams 22 or 25 to Vypich. Or, take buses 174, 180, 184 and 191. Ladronka is just adjacent to the main road. Walk up and toward your left to find the restaurant and rental shop.

---
10. Kinský Gardens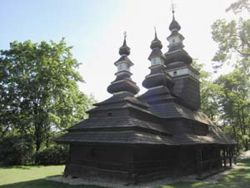 Hidden church in Kinský garden
Don't let the name fool you. This wooded oasis could easily be named Kinský Park.
Remarkably, it's one of the least visited Prague parks on this list - even though it's right in the city. Maybe that's because it shares the a hill with the more popular Petřín (above).
Regardless, Kinský is a lovely place to enjoy a walk, sit on the grass or find the hidden Church of St. Michael. And kids will really enjoy the different ponds and waterways along the hillside.
The park also includes the Kinský Summerhouse which is a branch of the National Museum an exhibition of ethnography.
How to get there:
Take trams 9, 12, 15 or 20 to Švandovo divadlo. Cross the street and walk back to the main crossing. The entrance is on the opposite side. You can also access the park from different parts of Petřín as they both share the Hunger Wall that goes up the hill.
Map of Prague parks