Map of Prague

Sooner or later, you'll need a map of Prague. It's a travel basic. And you know what? Prague's little streets might still confuse you.
Heck, we still get turned around sometimes. But, that's all part of the Prague traveling experience.
This page provides a few map options including our own homemade rough guide. The street map was pieced together with Google's help. It's free and printable! It includes the main attractions and I've noted a few places that I think are overlooked.
Using a Map in Prague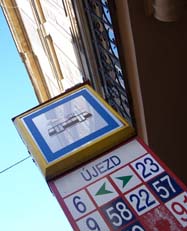 When browsing a Prague map, consider a few things:
• The location of your accommodation can really make or break your holiday. Is it on a noisy street? Is there a pub next door? Where's the nearest bank machine?
• Is your accommodation near public transportation? You want trams to be close but not too close. Their streets can be a bit noisy.
• Are there restaurants nearby? The Google Map below includes various businesses like restaurants and banks.
• Many hotels say they are in the "center", but what does that mean? Will you be on a busy street? Can you walk to some attractions?
For a broader perspective, click here for a map of Czech Republic.

Maps of Prague - Oh the many options!

Here are a few Prague maps that might interest you - including our printable map. If you have a specific question about a location, please contact us. We can give you advice about which streets to avoid for hotels, etc.
• Prefer to buy a street map of Prague? We suggest getting the Streetwise Prague Map. It's a folding travel map with metro map included.
• Download our free map - it's in PDF form.

• This Google Map is great for directions and user content. I like the Wikipedia and Transit options.
• This castle map has lots of ideas for day trips from Prague. Czech Republic is filled with great castles, chateaus and ruins. Get out and explore them if you have time - you won't regret it. This map is a good starting point. It's in Czech, but it's easy to use.
Free Map of Prague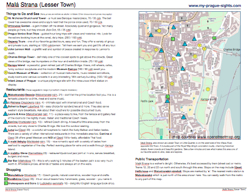 Try our Mala Strana download too!
You can download a free map here.
And, many hotels and apartments will supply you with a free map. These maps will cover all the basic sights and historical parts of Prague.
Or, you can find a free map in all sorts of different cafes and information centers.
Information centers usually have a free map of Prague. You can also get concert tickets or book a tour here.
They also have lots of information about other destinations in Czech Republic. Look for the green signs with the little "i" in the middle.
They have numerous brochures and lots of event information too. There's one near Old Town Square and one at the foot of Charles Bridge on the Malá Strana side.
For printable maps of Prague you might try out OpenStreetMaps.org.
You can focus in on certain areas and even export selections that you make. It's great for pinpointing the area around your hotel or within a determined district.