10 Exciting
Boutique Hotels in Prague
These 10 boutique hotels in Prague will all tempt you with their design and flair for unique accommodation.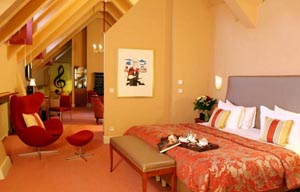 Chosen for their look and prime locations, each hotel here offers a tempting mix of design, top services and good access to sightseeing.

Best of all, you don't always have to break the bank to experience their individuality.
Ok, drumroll please...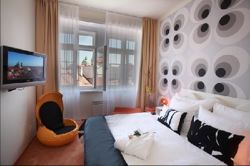 The hidden location of the Sax is already a strong positive point. This is one of our favorite parts of Malá Strana which most people never visit.
So not only does the Sax have fun and surprising elements inside, the location is fantastic.

You might want to ask for a room with a view over the nearby rooftops. And, don't miss all the extras at the hotel including spa, sauna and DVD library.
Address: Jánský vršek 328/3, Malá Strana. Tel: +420 257 531 268
---

2. Hotel Maximilian
3. Hotel Josef Prague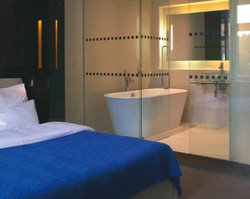 These two sister hotels in Old Town will probably make your decision all the more complex. That's because each one is so very well located and both exemplify superb services and beautiful design accents.
We like the use of light throughout both hotels. The spacious lobby of the Josef Hotel and bar is always tempting. And, of course the Hotel Maximilian has its own Zen Wellness Center which is pretty cool too.
Both hotels are well located, just a short walk from Old Town Square.

Hotel Maximilian - Haštalská 14, Old Town, Prague 1. +420 225 303 118
Hotel Josef -  Rybna 20, Old Town, Prague 1. +420 221 700 111
---

4. Moods Boutique Hotel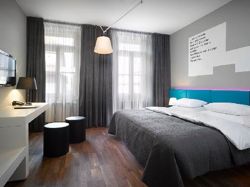 Moods Boutique Hotel
Moods is one of the newer boutique hotels in Prague. It's decked out in concept designs, tech wares and a variety of extras meant to spoil you. And, according to Moods' website they have "invested in the best beds in the world."
The hotel isn't too far from Old Town, so getting around from here is pretty easy. Supplement your sightseeing with a meal in their restaurant or end your day with a massage in their Spa Center.

Address: Klimentska 28, New Town, Prague 1. Tel: +420 222 330 100
---

5. Red and Blue Design Hotel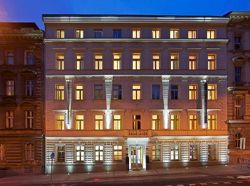 Reviews for Red and Blue Design Hotel
Just outside of Prague's bustling historic center is this delightful little hotel. It's close enough to the main attractions but far enough away to give you a local authentic feeling.

The Red and Blue is a pleasant mix of elegant design, comfort and good services. It's quiet at night and there are a number of good restaurants nearby worth investigating. Another perk is the lovely park just across the street. Walk it's trails to find some fantastic views of the castle and city.
Address: Holečkova 18, Smíchov, Prague 5. Tel: +420 22 992 513
What is a boutique hotel? And, how did we choose these?
Well, Wikipedia describes them as... "intimate, usually luxurious or quirky hotel environments."

So, we've chosen these boutique hotels in Prague based on this concept. We also wanted to highlight some places with unique styles that might otherwise be overlooked.


6. Mosaic House Prague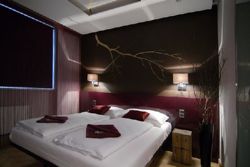 Mosaic House Prague
Go green by staying at Mosaic, Prague's first hotel to use 100% of its electricity from renewable resources.
Of course, the hotel gets wonderful reviews for much more than their green efforts. Maybe guests are won over by the inviting restaurant or the terrace... or maybe it's the funky lounge room.
Whatever your take, you are likely to find a room here that "saves the planet" and meets higher expectations for a comfortable stay in Prague's city center. 
Address:  Odborů 4, New Town, Prague 2. Tel: +420 246 008 324
---

7. Buddha Bar Hotel Prague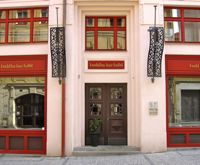 Reviews of Buddha Bar Hotel
The Buddha Bar isn't your average hotel by any means. It's more of a whole-body, luxurious experience.
From deep color accents of its interiors to the Asian decor, this 5 star hotel in Prague's Old Town is a world to itself.
Outside of course, the Buddha Bar is super close to Old Town Square and lots of other historical and cultural sites. But, we won't bore you with all the meditative details. The Buddha Bar is simply one of the best boutique hotels in Prague, period.

Address: Jakubska 8, Old Town, Prague 1.  Tel: +420 221 776 300
---

8. Domus Henrici Boutique
9. Domus Balthasar Design Hotel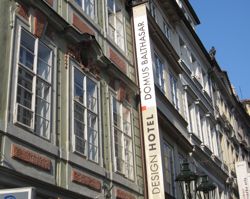 Domus Balthasar Hotel
Here come another pair of sister boutique hotels in Prague that will make your decision all the more fun (or frustrating).
Located near Prague Castle, they both offer a subtle elegance. This type of elegance can add an inner feeling of calmness as opposed to other hotels with harsher design and contrasts.

If you prefer to get away from the crowds and have a nice view, choose Domus Henrici near the castle.
To be really close to everything, choose Domus Balthasar, a few steps from Charles Bridge.
Domus Henrici Boutique Hotel: Lorentanská 11, Hradčany, Prague 1. Tel: +420 220 511 369
Domus Balthasar Design Hotel: Mostecká 5, Mala Strana. Tel: +420 257 199 499
---

10. Andel's Hotel Prague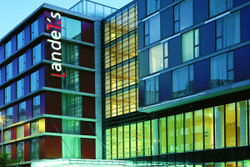 Andels Hotel Prague
Andel's leaves the old charm of Prague for a modern stay in one of Prague's up-and-coming neighborhoods - Smíchov.
There's an entirely different vibe to this area. It's local and packed with shopping and dining options. Look for outdoor markets too near the metro station.
The hotel is quite large for a boutique, 239 rooms. So it caters to all kinds of visitors and business travelers.
Inside there are tons of amenities including a fitness room, high speed internet, parking garage and conference space to name just a few.
Check rates at Andel's Hotel Prague.
Address: Stroupežnického 21, Smíchov, Prague 5. Tel: +420 296 889 998
Boutiques by Map

More Boutique Hotels in Prague?
Prague is blessed with all kinds of hotels that don't always fit a label.
Some fit into multiple categories, often crossing over into luxury hotels.
For example, the lovely Aria Hotel is hard to describe... boutique, luxurious, theme-based (music!), etc.
Of course, if you have any questions along your path of hotel hunting and Prague sightseeing preparation... please feel free to contact us.
Return to Prague Hotels from Boutique Hotels in Prague