Mini Guide to Prague

This mini Guide to Prague covers 10 things to know when traveling to Prague. Don't worry, they're easy! This is just a friendly blueprint of what to expect.

This page also gives you a chance to ask us, the locals, a question. The interactive forum below is a real Q & A. You ask. We answer.

By asking your question, you will also build a page on My Prague Sights.com so other readers can benefit too.
So, don't be shy!
From sightseeing in Prague to tours and apartments, we'll do our best to share our experiences with you.

Guide to Prague - pick a starting point
10 Ideas to Help You Get to Know Prague
1. You can walk everywhere - well, almost!
Prague's city center is very compact, so plan to walk most everywhere if you can. That means finding accommodation that is central. Ideally you will be able to walk from your hotel or apartment to all or some of the key historical monuments.

Once you reach one attraction, the next will seemingly be just down the street. So, imagine walking from one to the next across the city center. So, it definitely pays to find a central hotel. And, of course, bring your walking shoes!
2. Sights and Attractions - Keep it Simple!
Let's simplify your sightseeing. There's lots to see, but you can boil it down to 5 main Prague attractions or areas:

1. Prague Castle
2. Charles Bridge
3. Old Town Square
4. Jewish Quarter
5. Wenceslas Square

Find these five areas on your map of Prague and all else will fall into place. These will be your structure or blueprint to the city. All other tourist and hidden sights will be found near one of these areas.

For example, let's say your hotel is near Republic Square (Naměstí republiky), you can head outside and see Wenceslas Square in a couple of minutes. Then, continue into Old Town without even knowing it. Here you'll see Old Town Square the famous astronomical clock and then Charles Bridge (or the Jewish Quarter) is just a short walk away.
There's a lot to see. Plan how many days in Prague carefully.
3. You don't have to plan everything
There are lots of things to do in Prague, but you probably don't have to plan everything before arriving. Use all your resources once you're here. Prague has a few helpful Info Centres that can give you up-to-date event ideas, concert suggestions, etc. There's one on the ground floor of Old Town Hall (on the square). Official Prague tourism site.

Also, pick your the staff at your hotel's brain. We recommend using their local knowledge to answer your questions and plan your trip - don't worry they are expecting it! They've probably heard all your concerns and questions before, so allow them to be like your guide to Prague. Remember, the best restaurant suggestions come from locals.
Need a taxi instead? 
Taxis are useful, but please read through our Prague taxi tips first. Some drivers are known to overcharge visitors.
4. Public transport is fun, reliable and cheap
Learning to travel in Prague is easy. Prague's whole metro system in fact is straightforward, reliable and fairly accessible to everyone.

If you don't want to walk, use the metro or trams. The underground metro is better for longer distances while the trams are more flexible and cover the city in more detail.
For example you might want to take the #22 tram to Prague Castle instead of walking up the hill. Tickets are time sensitive so punch them when you get on the tram or before going into the metro.
5. You aren't the only one visiting
Yes, the crowds in Prague can be overwhelming. But you don't need to stick to those popular areas. See them in the morning or late afternoon if you can.
Then get off the beaten path, even a little detour can bring you to quiet destinations.
Most people seem to stay on a path that goes back and forth - Old Town to Lesser Town back to Old Town. But there are numerous other ways to see the sights.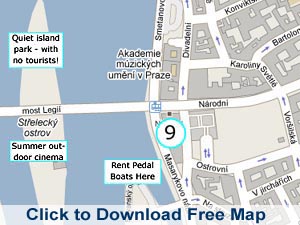 6. Let your map be your guide to Prague
There are so many things to see and do in Prague - so get a good map be your personal guide to Prague.

A map with details and street names is recommended.
Prague is concentrated, and wasn't meant for cars. So, there are lots of wonderful hidden places and streets to explore by foot. For example, aren't you eager to uncover places like New World Street or Wallenstein Gardens?

So grab a good map of Prague. You won't regret it.
7. Czech currency, not euros in Prague
This is a big point of confusion for a lot of people. The short answer is, we don't use euros.

We use Czech koruna (crowns). You might find a few places to accept euros, but we don't recommend that you try to figure who takes euros and who doesn't. It's just a waste of time.

Instead, plan to get crowns from a bank machine. This assures the best rate, lowest fee and easiest method. Check with your home bank for fees, but usually this is the best method for getting cash.
8. Weather in Prague
Any good guide to Prague has to mention the weather. But, the reality is that it's totally unpredictable.

We can't say for sure if it will rain when you're here, but we do have we have 4 very real, distinct seasons.
Spring brings flowers and mild temps. Summer is warm and green. Autumn can be crisp, cool and sometimes cloudy. Winter can be quite cold with occasional snow.
Our weather guide to Prague offers more in-depth info here.
9. Czech Food
When the national dish is roast pork, dumplings and sauerkraut you know you're not traveling to Prague for diet food.

Traditional meals can be a bit salty and sometimes heavy - but always tasty. Of course, Prague has a taste for all kinds of food - so no worries if you don't take to pork knee, etc. Read more about traditional Czech food.
10. Czech Language
Many people in Prague speak English. And, many older Czechs speak German.

Czech is the national language, but it's nice to hear visitors learn at least the main greeting - Dobrý den.

This is the first thing we say to anyone we don't know very well - i.e. entering a store, greeting a cashier, waiter, etc.
Learn a few Czech phrases before you arrive :-)
---
Have a Question About Prague?
Submit your question and we'll answer usually within 24 hours.
Previous Questions About Prague
Click below to see questions from other readers and our answers...