Weather in Prague
What to expect, season by season

Our weather in Prague follows four clear seasons. Each one is distinct and pretty easy to plan for.
But, it's weather! Things can get a bit sideways from time to time.
This page is meant to offer you a few guidelines to help you plan for your trip.
If you are you arriving soon we suggest using a reliable 3 to 5 day weather forecast for Prague. We suggest avoiding long term forecasts because they tend to change after a few days.

Best Time to Visit Prague
The weather can be absolutely stunning in the spring and autumn. These seasons offer mild temperatures and Prague's gardens and parks are open.
May and September are particularly good months to visit and explore the city.
The good weather brings plenty of tourists too. So, the popular paths and streets become jammed during spring and autumn.
If you want to avoid the crowds (and save money), then consider coming in the winter.
February and November are ideal months to visit to avoid crowds and save money. And when it snows, Prague is very romantic.
Spring Weather in Prague
March, April and May

Prague awakens in Spring. New events and rising temperatures make it a great time to visit. Although, March can be a bit cold with occasional snow showers as winter hangs on.
April and May are the best months to come. They usually offer warmer temperatures and more sunshine. A few rainy days will be mixed in but nothing to scare you away.
Consider bringing... a jacket (or warm raincoat), gloves in March, umbrella, hat and sunglasses. Or, skip the umbrella and buy a cheap one while you're out.
Average Low / High Temps: March 0/8 C (33/47 F), April 3/13 C (39/57 F), May 8/19 C (47/67 F)
Summer Weather in Prague
June, July and August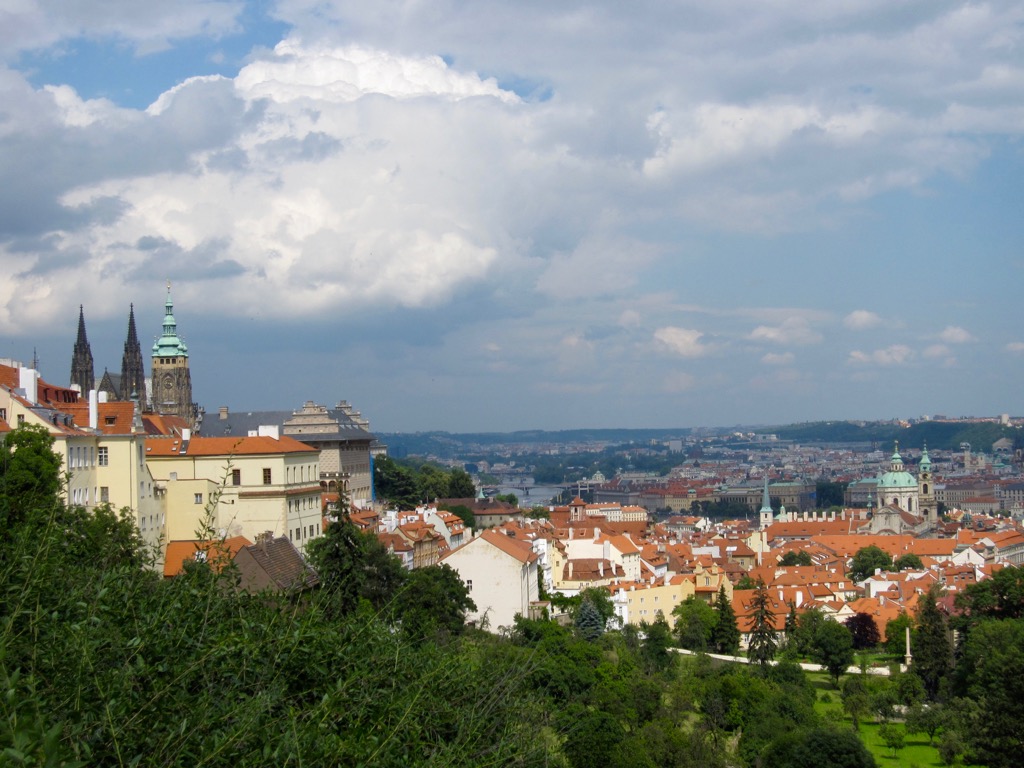 Summer in Prague can be absolutely beautiful. The city parks turn green and the restaurants open their garden terraces. July and August are definitely warmer since summer has been known to arrive very slowly.
Summer days are quite long and temperatures warm up considerably for July and August. Late July and early August can even be hot and humid. Many locals head for their country cottages and the streets become less crowded.
Planning your trip? Visit our events calendar for a monthly look at things to do and see in Prague.
The summer can be rainy at times - especially in June. But often the rain comes as afternoon summer showers.
If you can, plan a day trip out of Prague to see the countryside in summer. There are plenty of chateaus, castles and fun places not far from Prague. Day trips are a summer must for me and my family.
Consider bringing... a light jacket (definitely), umbrella, hat, sunglasses, sunscreen. And some trousers - don't pack only shorts!
Average Low / High Temps: June 11/21 C (52/74 F), July 13/23 C (56/75 F), August 12/24 C (55/76 F) (These are just averages and temperatures can be considerably warmer.)
Autumn Weather Prague
September, October and November

Early autumn in Prague can be absolutely beautiful. Some of the bluest skies are in September and October. Count on romantic walks and a perfect time to snuggle.
Visit in the autumn and you will avoid the heat of the summer and take advantage of the changing leaves and open gardens and parks. Consider visiting either Stromovka Park or Hvězda Summer Palace while the leaves are changing.
Read more about weather in September and October.
Late autumn can be a mixed bag. We can get have very cloudy, foggy days too - especially in November.
And sometimes winter comes early, making November cold and gray seemingly without end. But, that means fewer tourists and cheaper hotel deals.
Consider bringing... a jacket (warm jacket and gloves for November), hat, warm socks, sturdy walking shoes. Don't expect to wear shorts. You'll be very lucky to get an Indian summer day!
Average Low / High Temps: September 9/18 C (49/65 F), October 5/13 C (42/56 F), November 0/6 C (33/43 F) (These are averages. We've been known to get a little snow in November.)
Winter in Prague
December, January and February

The sun seems to hide most days and the skies are often gray. On the other hand, there are far fewer tourists during the winter - aside from the holidays.
Prague gets its share of snow, but it's not as regular as the children wish. Most snow comes in January and February and a white Christmas is rare.
Many locals hit the ski slopes and cross country trails in the winter. You can find plenty of cheap skiing in the higher elevations. The skies are often clearer in the mountains as well.
Consider bringing... a very warm jacket, gloves, winter hat, warm socks and very warm winter shoes - especially for walking and sightseeing.
Average Low / High Temps: December -2/2 C (27/36 F), January -3/1 C (26/35 F), February -1/5 C (29/41 F) (These are just averages. It's quite possible it will be colder.)
---
Prague Webcams
For a peek at our current weather in Prague, check out these Prague webcams. These offer a look at Charles Bridge from either side of the Vltava River.