Prague Weather in October
Prague Weather in October is usually quite good. Just think of classic fall temperatures, beautiful leaves and color throughout the city. It's a fantastic month to visit and experience the city's atmosphere, cafes and more.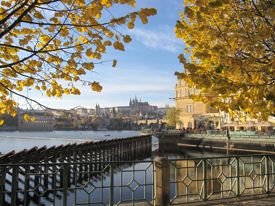 Personally, we think the October is delightful - usually it's not too cold and not too warm. There is usually a kind of a happy medium. And, we like to think there's a certain added gravity to the city in October that you won't get in other months.
The cooler weather and the low angle of the sun seems to add just a bit of extra magic. The buildings and river takes on a completely different tone compared to the summer months.
Average Temperatures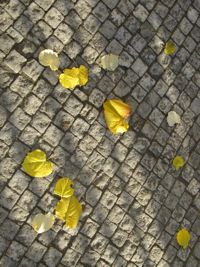 Prague weather in October is fairly consistent. Average highs are in the 40's to 50's and lows are in the upper 30's to low 40's (5 - 8 C / 10 - 13 C).
A typical day has very cool mornings and evenings, so you'll definitely need some warmer clothing.
October is also known to start mildly and end rather cold. Occasionaly we have an Indian Summer day in the first week and we're wearing just a light shirt and pants. But, generally speaking, October for us is a jacket month and by the end of the month, our jacket might have turned into a coat and a hat.
It just depends on your luck! One thing is certain, it will be cool to cold in October. Rarely is it very warm.
There's nothing like a bright cool October day for sightseeing. Period. This video we shot of the foliage in and around Prague will attest to that.
Rain or Snow?
We get this question a lot. And the answer, no matter the month, is... maybe!
We know it's not the best answer, but it's the truth. You might get rained on any month of the year in Prague.
October of course can have some dreary and wet days, with some fog thrown in here and there. But the weather in October is always mild without extremes, so your sightseeing plans shouldn't be bothered too much.
That said, if the sun is out - and often it is - you are in for a real treat.
The beauty of October sunlight is unmatched because the angle of the autumn sun makes for a very different vision of Prague.
When the sun is out, your pictures and memories will be infused with a touch of golden light. So, we wouldn't fear the possible rain.
Although, if you're debating whether or not to bring an umbrella, well... it can't hurt. Something light and foldable is great, but you can also find very cheap umbrellas at various shops and stands in the main tourist areas.
Snow on the other hand is highly unlikely. There's a remote chance of some snow, but generally speaking, we don't get snow in October.
More Prague Weather in October
Overall, our weather in October is perfectly acceptable for getting out, seeing the sights and enjoying the city. We would never consider the weather in October to be an obastacle to making plans or doing stuff. It's generally pretty easy going.

There's one minor limitation that arises in October and especially November in Prague. It's the fog. The second half of October and all of November can be gray and foggy at times, even if the forecast calls for sunny weather.

Without being to scientific, the fog (or is it smog) is due to a problem called inversion that is exacerbated by Prague's geography. So, instead of sunny days that most websites might call for, we get foggy ugly skies that may or may not break in the afternoon.

Funny enough, on these same days in the mountains north of the city, you'll likely find partly to fully sunny skies.

So, when you check the weather forecast for Prague for days in autumn, be aware that those expected sunny days may not turn out to be so sunny.
If you're curious about the current weather in Prague, check out a live Prague webcam.
Return from Prague Weather in October to Weather Prague