Weather Forecast Prague

This weather forecast Prague will help you prepare for your visit. It's up-to-date with today's weather and fairly accurate.
We don't recommend the longer 7 and 10 day forecasts because it seems they are always changing.
Below you will also find a few ideas on what to bring based on Prague's weather and seasons.
What to bring by season...
What to Bring by Season

This weather forecast for Prague is generally fairly accurate. We don't like the longer forecasts of 10 days, because they inevitably change after the first 5 days.

The packing tips below for each season and month will also help you plan ahead.

Of course, the key to packing and the weather is flexibility. No matter what the weather forecast for Prague says, things are known to change. With the exception of winter, it's possible to have unseasonable weather in any season.

For example, Prague's weather is known for a few tricks like cool days in July or warmer days in September. So, be as flexible as when you can!
Spring Weather in Prague - March, April and May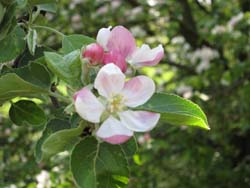 Spring is a great time to visit Prague. However, it's a very tough season to prepare for because the weather swings from sunny to wintry depending on the day.

If you're coming in March, it's likely to be cold. So bring winter accessories like a hat, scarf and coat. April is usually more mild and May is often the best month of the year, in our opinion.

May is usually just warm enough but not too hot for sightseeing - a nice balance.
We wouldn't pack shorts unless you are coming for the traditional summer months. The mornings and evenings will always be much cooler in the spring months. Dress in light layers with a jacket, long sleeves and always bring good walking shoes.
Summer Weather in Prague - June, July and August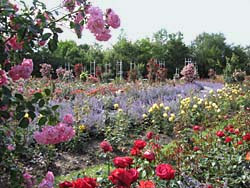 The summer weather forecast for Prague is inevitably warmer than spring. But first, June can be a little tricky.

Spring sometimes likes to hang on all the way to July. So check the forecast above for details. June can also be a little on the wet side.
July and August are the warmest months with temperatures sometimes reaching 32 C / 90 F. So, summer is the easiest to pack for - bring shorts, light shirts, trousers (pants) and always a light jacket or sweatshirt just in case.
And, don't forget your sunglasses. Evenings can still get cool sometimes especially if an afternoon shower has come through.
Autumn Weather Forecast Prague
September, October and November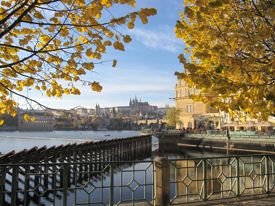 Autumn in Prague can be gorgeous and many people think it's the best time to visit as the temperatures start to cool.
September is usually warm but the mornings and evenings are always cooler. So, bring a light jacket or something you can take on and off and carry throughout the day.
October is cooler but still a great time to visit. You might find less crowds too. The nights are even colder, so you might bring a warmer jacket and a hat to be safe. October can also be a bit wet, so consider bringing appropriate shoes and even a small umbrella.
November, unfortunately, has the least amount of sunny weather. It could even be considered winter for many people. It's not uncommon to have a snow flurry or two during this month. So pack warm clothes. Even if it turns out to be a mild month, it will be quite cold at night with a lot less daylight than warmer months.
Please note: Prague's weather in November and even parts of October can be quite foggy. This weather pattern is actually more like smog, and is technically referred to as inversion.

Unfortunately, most online weather forecasts for Prague don't take inversion into consideration - thus they will often call for sunny skies, when in fact, we have smoggy and foggy conditions on the ground. This contrast is most startling when you compare the weather in the mountains and Prague on the same day. Higher elevations often have beautiful days when we are mired in gray skies.
Winter Weather Forecast Prague
December, January and February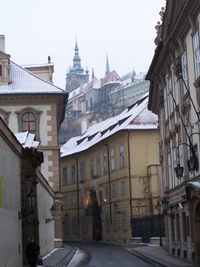 Winter in Prague is usually cold - there's no getting around it.

It can be the cheapest time to visit, but that doesn't keep you warm outside.

Pack warm items: gloves, hat, scarf, coat, warm socks and shoes. Snow is more common in January and February, but the city center of Prague gets cleared pretty quickly.

The best advice for sightseeing and winter weather we can give... treat your hands and feet very well! Once these are cold, sightseeing in Prague can be miserable.

Thankfully there are plenty of places to stop and warm up along the way.
Weather Forecast for Prague

The forecast for Prague will vary according to the source you use. For example, there are a few Czech websites who aren't specific enough or overstate the weather with general terms.
Some US based sites and phone apps are known to also mistaken actual temps and weather patterns. This can be especially true in spring and fall.
I like to use the Norwegian meteorological site Yr.com. In general I think they offer a fair judgment of current conditions, as well as those for the 2-3 days in the future.