Best of Prague Hotels

There are hundreds of Prague hotels to choose from. Let's take a look at some of the best hotels in Prague according to a few categories.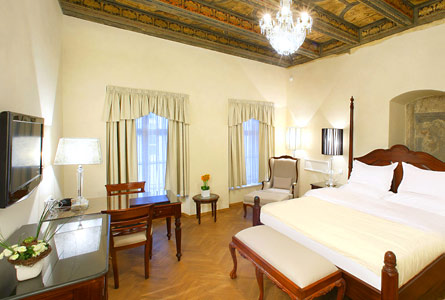 Boutique Hotels in Prague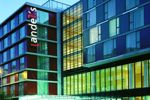 Sharp modern design makes these boutique hotels in Prague very interesting indeed. They offer luxury comfort and elements of surprise that you just won't find at other hotels.
If you've never stayed in a design or boutique hotel, Prague is a great place to start. A few examples include... Andel's Hotel Prague, Hotel Maxmillian, Three Storks Hotel, Hotel Ungelt Prague and Vintage Design Hotel Sax.
---
Luxury Hotels in Prague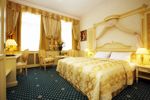 There's nothing like one of Prague's 5 star hotels. Central and incredibly comfortable, a luxury Prague hotel can't be beat.

And, you might just be surprised how affordable some of the best suites in Prague can be. We suggest the following luxury hotels in Prague... Four Seasons Prague, Aria Hotel and the Savoy Hotel.
---
Old Town Hotels
Old Town is the hub of the city. We know it sounds cliche, but if you want to be in the heart of the city and then these hotels in Old Town are ideal. Close to all the atmosphere, events and culture.
Some of the best hotels in Prague's Old Town include...
Iron Gate Hotel Prague, Imperial Hotel, Hotel Rott Prague, Hotel Antik, Hotel Astoria, Ungelt Hotel Prague, Intercontinental Hotel Prague, Hastal Hotel, Hotel Pav Prague.
Mala Strana Hotels (Lesser Town)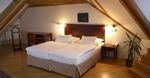 Old Town gets all the hype, but Mala Strana (Lesser Town) is actually our favorite area. There's more solitude here and fewer crowds.

Of course, any of these Mala Strana hotels will keep you a short walk from all the main attractions - so you don't sacrifice anything by choosing this charming area. Hotel Roma Prague, Lokal Inn, Aria Hotel Prague, Hunger Wall Residence, Domus Henrici and Hotel Kampa Garden, Hotel u Raka (Hradčany).
Driving to Prague? Try these alternative hotels near Prague that offer parking and unique hospitality. 
Cheap Hotels in Prague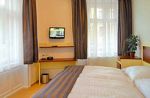 Budget hotels in Prague don't always get the attention they deserve. But, actually, there are a number of discount and cheap hotels in Prague.

Frugal travel has never been easier and you don't have to stay in a hostel to save money. These discount Prague hotels are a great place to start... Aparthotel City 5, Duo Hotel Prague, Denisa Hotel Prague, Hotel Chopin. 
---
Wenceslas Square Hotels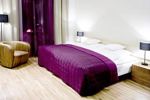 This upbeat area of Prague is known as the city's commercial center and it's highlighted by lots of shopping, dining and plenty of nightlife.
Close to Old Town these Wenceslas Square hotels offer wonderful suites and rooms close to everything. Hotel DaVinci Prague, Radisson Blu Alcron, Hotel Palace Prague, Hotel Liberty, K + K Central Prague.

---
B & B's / Pensions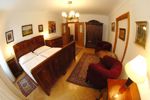 A pension can be thought of like a bed and breakfast (B&B) or an inn. They are generally small, unique places that offer accommodation that's a bit more homey and local.

So, if you don't need the typcial hotel feeling, then by all means consider a Prague pension. Our favorite pension is House at the Boot (Dum u Velke Boty).
Did you get your Prague hotel discount yet? Save money and support small hotels. Read the back story and get more info here.
Airport Hotels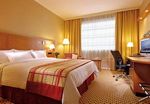 Despite the airport's proximity to the main sights, we understand that an airport hotel in Prague might be ideal for many visitors.

Just a short ride to the airport, these Prague hotels provide are perfect for short stays, business meetings and conferences.
---
Tips for Choosing Prague Hotels

Consider these simple tips when searching for a Prague hotel. They may seem obvious, but they will always help you narrow your search.

Look for hotels in these areas: Old Town, Mala Strana (Lesser Town), Josefov (Jewish Quarter) and some parts of New Town. Most hotels in these areas will be in walking distance to all the main attractions. And, they will have good access to public transportation. Read more about central hotels in Prague.



Always check a hotel's location on a map. We can't stress this point enough! The last thing you want are tourist crowds outside your window. Our hotel map will give you more perspective regarding what we recommend. Or, if you need a second opinion, please contact us.
Read hotel reviews - your fellow travelers always give great insights. They've stayed there - so, their reviews are invaluable.
Seasonal rates. Hotels in Prague set their rates according to demand. And the highest demand is generally from April - October and for the major holidays.
Book early (or even late). Like cheap flights to Prague, hotels offer discounts for those who book far in advance. Many hotels offer a 30 day advance price that will save you money. That said, if you book or even arrive at the "last minute" you'll likely find tremendous deals. Such deals are usually found in off-season and away from the main holidays. For example, we wouldn't hesitate to arrive in March without a booking and get an excellent deal in the city center.
Be open-minded and flexible. This goes for picking a hotel as well as cultural awareness when traveling to Prague. Things here might not always fit your expectations.

For example, Prague has never been known for excellent "customer service." And, some hotels in Prague are still catching up to meet Western standards and expectations. So, a bit of patience will go a long way on your visit.
Hotel Alternatives
Booking a hotel is not the only way to stay in Prague. In fact, Prague has many other businesses that offer hotel services with a twist of their own.

Our overview of Prague accommodation provides a more in-depth view of hotel alternatives. Some are small family owned places with real ambience and great service. It's certainly nice, when a family member or even an owner checks you into your room personally.

For starters you might consider a Prague Pension, Bed and Breakfast, Guesthouse, Residence or an Inn. Or, for that matter, you might consider a private vacation rental?

We're just suggesting that Prague is more than hotels.

Of course, we love the diverse selection of Prague hotels, but it's a shame when visitors overlook everything else. It's just like the main attractions. Why wear out the beaten path when there's so much more just around the corner?
Before You Book Something
I have 10 tips to help you make the most of your booking. These are simple, actionable ideas that I have gathered from working in Prague's accommodation services. Read more about hotel reservations in Prague. 
---
Home > Prague Hotels
---