Hotel Antik Prague
The Hotel Antik Prague is a very stylish boutique, cheap hotel in Prague. It's one of the best small hotels in Old Town Prague, close to everything.
Just so you know... antik means antique in Czech.
But, there's nothing old and stuffy about this hotel in Old Town. It's a subtle and elegant hotel in Prague.
So throw out those ideas of an attic filled with dusty antiques. And check out this charming hotel.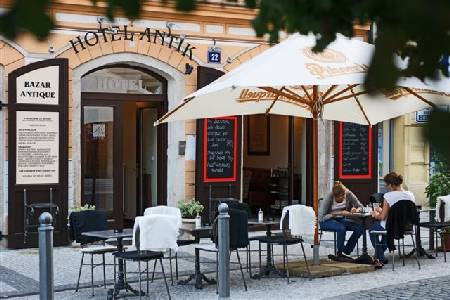 About Hotel Antik Prague
The Antik is one of those special hotels that deserves a lot more attention, but often gets lost on the very long list of Prague hotels. It's a small hotel with only 30 rooms and is just perfect for romantics, families and all sorts of short breaks to Prague.
AND, the location is absolutely perfect, very close to Old Town Square.
But, what we liked about the hotel the most are its numerous surprises behind its quiet facade.
Check rates, location and availability.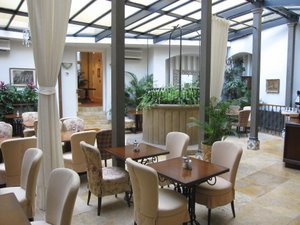 The hotel's atrium was a nice surprise inside.
When we arrived, there was no way of telling that the hotel offered so much. We just assumed it would be another hotel with all the standard stuff inside.

But no! Consider the following bonuses that we found and liked very much!
Hotel Antik Prague has a very nice cafe on the ground floor that is great for taking a tea, coffee or beer after a long day's walk. Or grab a pen and some postcards!
Garden terrace! This was the biggest surprise. From the entrance, you don't imagine an atrium oasis inside. Nice touch.
4 star comfort; 3 star prices. The Antik is a 4 star hotel, but its prices don't reflect that fact. Okay, this isn't a visual surprise, but if you consider the ideal location here, the prices could easily be a lot steeper. But, we won't tell management. 
Special offers for early birds, last minute breaks and off-season visitors.
Unique rooms. The hotel has a nice collection of rooms with subtle differences in each. They don't mirror each other, and that's a good thing for us. Ask about the upstairs rooms with wooden beams if you don't believe us.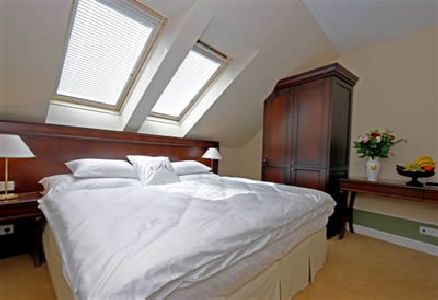 The rooms seem very clean and comfortable.
In the Neighborhood
If you want to be central and close to everything, then you won't find a better located hotel.
The hotel is very close to all the main sightseeing points.
But it also doesn't turn you off with huge crowds outside the window. Here's a look at some of the main attractions nearby.
---
Hotel Antik Prague
Address: Dlouhá 22, Old Town
Tel: +420 222 322 288
Web site: www.antikhotels.com
---
Back to Prague Hotels from Hotel Antik Prague