What Are the Best Hotels in Prague?
What are the best hotels in Prague? Great question, but probably impossible to answer!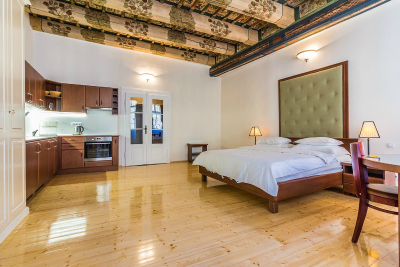 There are so many fantastic places to stay in Prague, a complete list would be massive. But let's start with a few of my favorites.
Of course the word "best" is entirely subjective, so I'm going to cover a variety of hotels  here -- from a little romantic inn snuggled behind Prague Castle to the hip design hotels in Old Town.
These are places I would love to stay at! Like a personal list of the best hotels in Prague.
Best Hotels in Prague by category...
Disclaimer: This page contains affiliate links which will help you find the best hotel. We may receive a commission for purchases made through these links.

Romantic Hotels in Prague
The best hotels in Prague can also be the most romantic, quiet and hidden places. That's my take on this category.
I like romance that isn't associated with the big crowds of Old Town or the typical hotel choices. Instead, I prefer the delicate, serene areas that warm hearts with atmosphere.
The authentic and quiet Hotel U Raka
For example, the picture here is of the rustic and authentic Hotel U Raka.
It's like a lost cottage not far from Prague Castle.
To say it's charming would be a huge understatement. Inside you'll find fireplaces, warm wooden tones and a tranquil little garden.
Another hidden gem is the Residence Monastery, not far from sights like Loreto, Strahov Monastery and Prague Castle. It offers wonderful views and an isolated green garden area inside.
The hotel could be closer to Old Town, but given the hidden nature of it, I think it's well worth a look. And, an evening walk through nearby Petřín will certainly enhance any romance.
Of course, any discussion about romance and the best hotels in Prague has to include the Golden Well Luxury Hotel Prague. This is one of the best in Prague hands down.
The highly awarded Golden Well is also located near the castle hidden away on a little street where almost no one goes. Still, it sits only a few minutes walk from the castle and Charles Bridge.
The Golden Well, or Hotel U Zlate Studne as it's called in Czech, is the epitome of romantic and luxury together.
Now, let's break from the charm of Lesser Town for the more active Old Town.
With Prague's Old Town comes romantic hotels that have a taste for design and modernity as opposed to charm.
For example, let's look at the Buddha Bar Hotel. It's a luxury Prague hotel with entirely original rooms a certain VIP feel - and the decor is absolutely impressive with rich tones and sensual splashes of color here and there.
Another Old Town spot to consider is the Ventana Hotel. Its practical comfort and location are an ideal combination. It also comes highly recommended and the immediacy of Old Town is right outside. The main square of Old Town is literally about is 50 steps from the hotel.
---
Small Hotels
It almost goes without saying... some of the best hotels in Prague are some of the smallest.
These are the ones that don't bother with large branding and advertising. Instead they rely more on word of mouth, simple hospitality and down-to-earth comfort.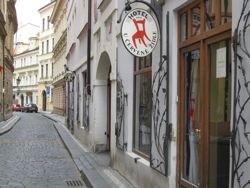 Red Chair Hotel Prague
And some of the best small hotels in Prague are family owned and operated. And...you won't have to give up location or service to have something unique.
For example, you can choose from the heart of Prague with the Old Town Square Hotel which has only 10 rooms.
Or, consider the cute and well received Red Chair Hotel Prague.
Not only is this a fabulously quiet spot, with only 15 rooms and reputable service, it comes highly recommended on TripAdvisor and elsewhere.
If you want the small hotel charm to fit a tighter budget, then we suggest taking a look at Hotel 16 Prague.
It's a bit further from the main attractions, but you're almost guaranteed a good night's sleep while saving money. There's good reason it's often known often on the web as, "a great find."

---
Design Hotels in Prague
This is one of my favorite categories.
As much as I love the old charm of Prague, I equally enjoy its exciting boutique and design hotels. There is something remarkable about adding modern value while maintaining sensitivity to history.
Maximilian Hotel Prague
Let's start, by looking at the Hotel Maximilian Prague.
The Maximilian combines so many good things at once. It occupies a quiet location (2 min walk from Old Town Square) and fits into the immediate area with great subtlety. It's absolutely NOT a modern eye sore. 

From the Maximilian let's jet over the river to Malá Strana and find the fun Vintage Design Hotel Sax. Yes, that's a long name for a hotel but it's thankfully long on vintage and design. Plus, its clever style never outweighs the services you'll receive.
If the Sax is too eye-popping for you, then head to a slightly removed area just south of Malá Strana and consider the Red and Blue Design Hotel Prague.
The Red and Blue is known for its quiet rooms, stylish elements and comfort. They also have a sister hotel near Wenceslas Square, but we like this area a bit more.
Read more about boutique hotels in Prague.

---
Discount Hotels in Prague

Just because Prague is a gorgeous and thriving capital doesn't mean you can't find a good deal. We like to look around the areas just outside the historic center to find a few budget and local hotels.
For example, check out areas that aren't in Prague 1. Hotels located in the rings outside this main district are likely to offer cheaper rates.
Nusle (Prague 4) near Vyšehrad Castle

Žižkov (Prague 3) just west of Wenceslas Square

Smíchov near the metro station Anděl

Basically, the farther you go from the city center, the lower the prices become.

For example, a place like Aparthotel City 5 Hotel Prague in Prague 5 (Smíchov) might convince you to never stay in the historical center again.
Hotels like this add a local value to your stay. And are still close enough to all the sights.
Remember... Prague's metro system is excellent. The metro, combined with a variety of trams, allows you to broaden your hotel search considerably.

The search engine Hotels Combined is a fantastic tool that can help you choose specific hotels by district. 
Check out their maps too for specific locations relative to Prague 1.  We recommend areas such as Prague 2, 3, 4, 5, 6, 7 and 10. Of these, Prague 2 has become a popular choice for many visitors with easy access to the city and plenty of good dining options. Within these districts you should consider neighborhoods like, Břevnov (Prague 6), Dejvice (Prague 6), Holešovice (Prague 7), Karlin, Vinohrady (Prague 2) and Vršovice (Prague 10) to name just a few. If you find a gem in one of these spots or just need help searching for something, please let us know. The best hotels in Prague don't always have to be expensive and central.
Read more here about cheap hotels in Prague.
Hotel Disclaimer
My suggestions for the best hotels in Prague are based solely on my opinions and personal research. I visit each hotel that I recommend and attempt to find out as much as possible about what you can expect when staying there. But, unfortunately, I'm not able to stay at each one.
I have more than 10 years experience working in Prague's accommodation industry. So I believe that my insights can be valuable to you as a visitor to Prague.
Please note, various links on this page may go to outside sites to provide you with further valuable information and an opportunity to make a reservation.
Sometimes I make a small commission when you book a room through these links. This benefit allows me to continue to bring you more free and useful content here on PragueWise. 
---
Home > Prague Hotels > Best Hotels in Prague
---