Get Ready to fall in love
 with Mala Strana

Mala Strana is known as Prague's Lesser Town. But don't let the English translation fool you. This beautiful part of Prague is just as exciting as Old Town.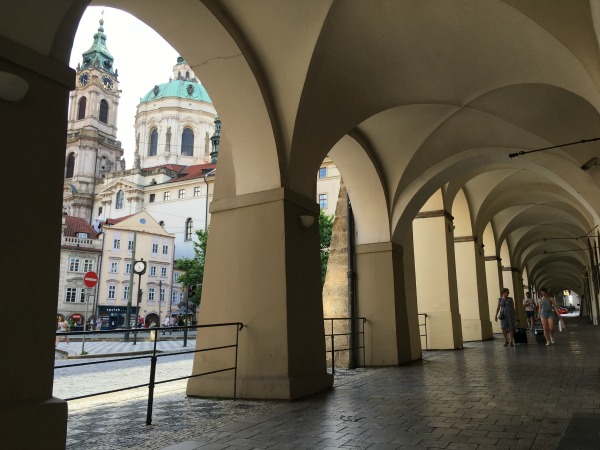 Snuggled between Prague Castle and Charles Bridge this quarter is ideal for dining, exploring and escaping the crowds. I would even argue that it's more charming and romantic than Old Town.
Sadly, most visitors miss all that Mala Strana has to offer. I guess it's understandable because most people are walking through - either on their way to, or from the castle. 
But I'm here to stop everyone! Wait, don't follow that beaten path!
Don't risk missing so much history and beauty! From tiny streets to incredible gardens, you could spend a day here exploring, and eating!

Places to visit in Mala Strana

Here is a brief list of a few things to see in Lesser Town. I think the most important thing to do is... just go explore. Walk the back streets. Walk under Charles Bridge, just wander around filling up on all the details and sights.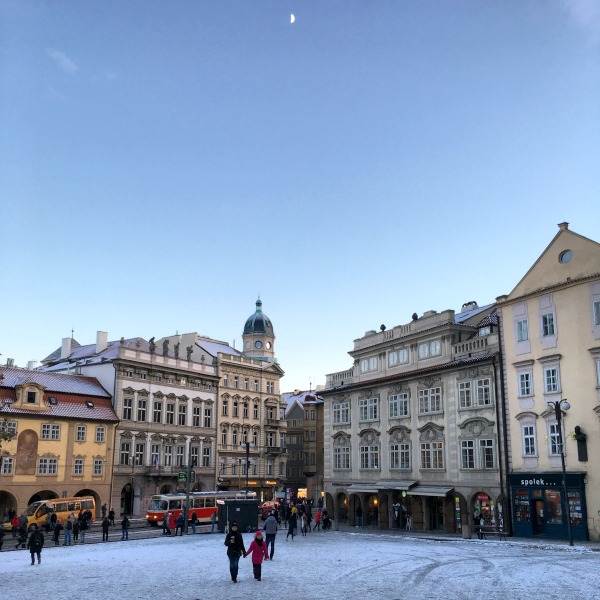 Church of St. Nicholas - This magnificent church is the most notable building below the castle. You can spot its green dome from all over the city. It's worth a visit, although there is a small admission fee (70/50 Kč).
Bell Tower of St. Nicholas' Church - Climb the church's tower for a  prime view of the area. The tower has been both a spy's outpost during the Cold War and a fire watchtower (exhibition inside). (100/70 Kč)
John Lennon Wall - A wall of grafitti art dedicated to the memory of John Lennon and his message of peace and love. Bring your spray paint and share in the vision.
Kampa Island - In the heart of Mala Strana is one of the best places to have a picnic. Or, come to see the giant baby statues or visit the Modern Art Museum Kampa. All are worthy attractions. Read more about Kampa
There are fabulous hotels in Mala Strana. Personally, this is where I would stay. It's quieter and more relaxing. Here are a few suggested hotels in this area.
Narrowest street in Prague - It's more of a passageway between two buildings, but it has its own traffic light to control who walks first. Kids will love it. And, it's just a few steps from the statue of two men peeing. Ah, now I've got your attention!
Kafka Museum - Also around the corner from the narrowest street is this museum dedicated to the life and work of Franz Kafka.
Infant Jesus of Prague - People come from around the world to receive blessings and submit prayers to this little wooden statue of Jesus. This UNESCO World Heritage Site is also a pilgrimage site for many Catholics. Read more
Charles Bridge Tower - This old tower at the foot of Prague's famous bridge is the perfect distraction and excuse to get better photos. The view from atop is well worth the admission fee. Inside there is a decent exhibition too.
Nerudova Street - Probably one of the most famous streets in Prague, which is notable for its old address signs and being part of the coronation Royal Way. Unfortunately, it's also right on the beaten path to the castle. Walk it in the morning or evening when the crowds are lighter.
Vltava River embankment - The river's edge is the ideal place to get a unique view of Old Town and Charles Bridge. I love it here in the morning before the river wakes up with boats and tourists. The swans and ducks will be happy to see you anytime.
Shooter's Island (Střelecký ostrov) - One of the best outdoor spots in Prague. If the weather is nice, it's even better! Come for the views, or rent a pedal boat nearby and cruise around it.
Petřín Hill - This is the most obvious green space in Lesser Town. I think a lot of people skip it simply because it may look like just another park - but it's not! Read more
Gardens you must see
Mala Strana has a bounty of incredible gardens and green spaces. I can't recommend these enough!
And some of the best ones are hidden away.
That means less crowds for you and me. (I won't complain about that, but I will about their hours. Some gardens are only open April-October.)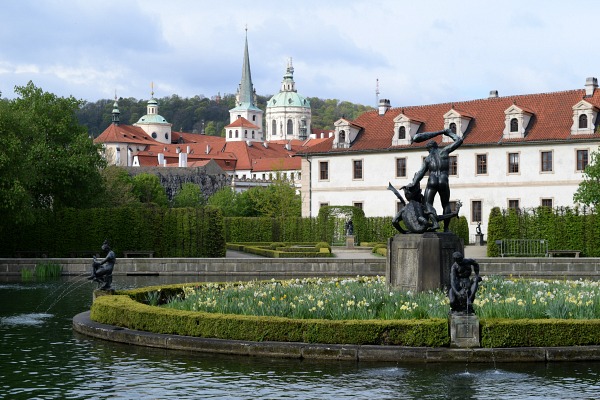 Wallenstein Garden - Hidden between the Czech Senate and Malostranská metro station, you won't want to miss this garden. Free to enter, only Apr-Oct. Read more 
Vrtbovská Garden - This classic Baroque garden is also hidden from the beaten path. Just off the main square, it's worth every crown to visit. Just sit here and take it all in. (Apr-Oct, 65/55 Kč, more info)
Vojonavy Sady - This old orchard is another classic hidden sight full of little surprises, benches and peacefulness. Open year round and free to enter. Read more
Palace Gardens under Prague Castle - This hidden and romantic, terraced garden on the slopes of the castle is the perfect experience that most people skip. Actually, I think most people don't know it's even accessible. ( Apr-Oct, 100/70 Kč)
Take this page with you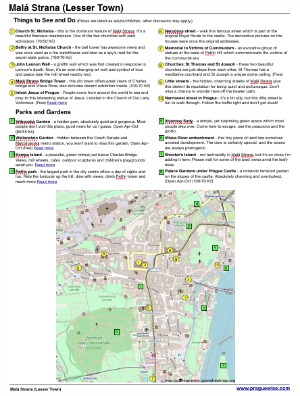 I've put together a short one page overview of Lesser Town.
It includes most of this page and a map for more detail.
Take time to visit some of these places or roam through this district.
Not only will you escape some of the crowds, but you will likely see something unusual and memorable.
Download here (PDF)