Infant of Prague
The Infant of Prague is a popular pilgrimage site in the city. This little wax statuette in the Church of Our Lady Victorious has an interesting history and, of course, legends of miracles.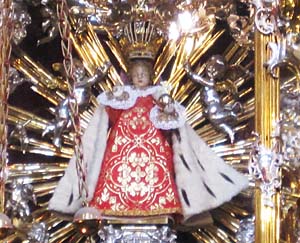 It is said to have saved Prague from the ravages of war and
the plague.
We recommend visiting this little church regardless of your faith. The Infant of Prague is absolutely unique to Prague and takes only a short time to visit.
It's free to enter the church and there's a small museum in the rear of the church dedicated to the infant. Plus, the church is in a lovely area of Prague, Mala Strana.
The church can be quite busy during the day, but it also has standard services and some are in other languages. To avoid the crowds and have some quiet time near the Infant of Prague, we suggest visiting earlier in the morning.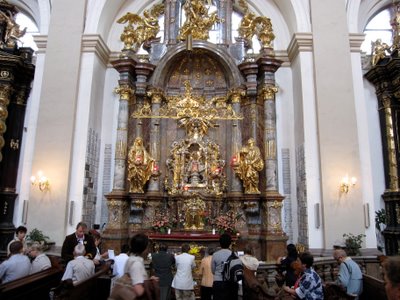 This is the side altar where the Infant Jesus stands behind glass. It's an incredibly ornate scene with lots of smaller figures made from silver and gold.
The wax statuette itself dates back to at least the 16th century when Dona Maria Manrique de Lara of Spain gave it to her daughter the Princess Polyxena of Lobkowicz.

In 1628 the princess, the wife of the Grand Chancellor of Bohemia, donated it to its current owner - the Church of Our Lady Victorious.

The Empress Maria Theresa even had gold clothing made for the statuette in 1742 marking the end of the French occupation of Prague. The moat itself has lots to see as well.

Today the baby Jesus is cared for meticulously and has over 60 costumes. They take great steps to keep the statuette in top shape and provide a change of clothing to commemorate church holidays.
Aside from the statuette, the Church of Our Lady Victorious is quite interesting on its own. It was built in 1613 and was originally a Protestant church. Shortly after its founding it was handed over to the Catholic order of Spanish Discalced Carmelites. Under their direction the church was renovated in the 1640's becoming the first Baroque church in Prague.
Where is the Infant of Prague?

It's very easy to find the Church of Our Lady Victorious. The address is Karmelitská 9, Mala Strana. The nearest tram stop is Helichova.

Generally either tram 12, 20 or 22 stops here. The tram going away from the castle stops directly in front of the church and the opposite stop is a short walk away.

You don't have to take the tram of course. You can easily walk here from a variety of other Prague attractions like Charles Bridge,  Malostranske namesti, Kampa Island, Petrin and the National Theatre.
More info can be found on the official site of the Baby Jesus of Prague.