Hastal Hotel Prague
The Hastal Hotel Prague is a very nice three star Prague hotel in a great location. It's just a stone's throw from both Old Town Square and Josefov (Jewish Quarter).
Best of all, the rooms are affordable and comfortable.

The hotel itself offers plenty of everything from history, service and even tasty Czech food in its restaurant.
We recommend the Hastal for most people -- couples, business travelers and families alike.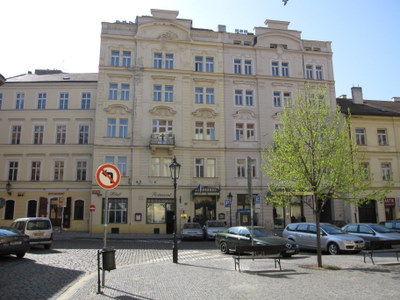 Hastal Hotel Prague sits on a peaceful little square.
Why Stay Here?
Thankfully, the Hastal is not a faceless hotel cut from a standard hotel form. Here is what makes it worth considering:
Location: we can't stress this one enough. If you're keen on staying in central Prague, then the Hastal should be high on your list. It's a three minute walk from Old Town Square and many other sights.
History: The hotel was founded in 1850 as a brewery and turned hotel/restaurant a few years later. In the early 20th century it was frequented by well known Praguers like Alfons Mucha. The hotel itself has nice art nouveau details throughout including interesting doorways and casual relaxing restaurant decor.
Relax: the Hastal takes the effort to provide a place to relax, not just a room with a bed. This detail sets it apart. Check out the summer garden with high chestnut trees, fitness center and Zen Wellness center. You will be delighted to return after a day of sightseeing.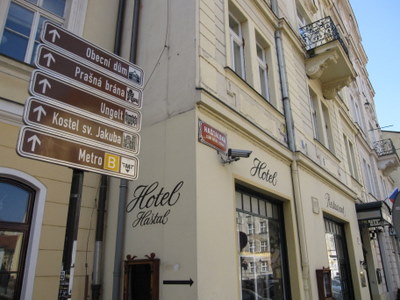 In the Neighborhood
The immediate neighborhood is filled with plenty to see and do. In fact, this whole area is listed under UNESCO because of its historical monuments.
The hotel itself faces the impressive 14th century St. Hastal Church and some of the oldest buildings in Old Town. You'll note their small size compared to the newer buildings and the old cobble stones on the street outside.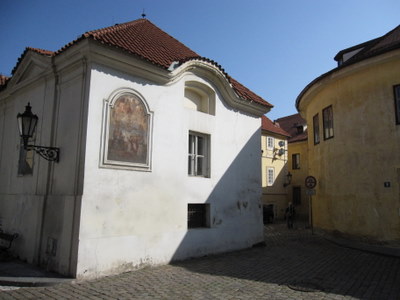 Very old, very romantic little streets near the Hastal Hotel.
The nearby Pařížská street offers plenty of shopping while nearly every nearby street offers a different restaurant to try. There are also plenty of cafes and nightlife a short walk away.
Among the many attractions near the Hastal Hotel Prague you will find... the Powder Tower, Municipal House, Church of St. Jakub and the Vltava River. Take a stroll along the riverbanks in the late afternoon for a lovely view of Prague Castle as the sun goes down. It's well worth it.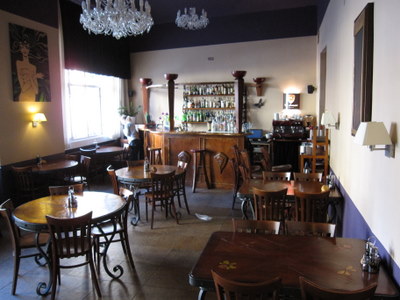 The hotel's restaurant offers Czech and international cuisine.
Hastal Hotel Prague - Services
The price of a room includes breakfast and use of the fitness center. Of course, the staff is friendly and can help with a variety of requests.
Rooms include: shower or bath-tub, bidet, WC, satellite TV, Wi-Fi, phone, minibar, air conditioning, central heating (of course!) and hair dryer. There's a fitness center free for hotel guests in the hotel as well.
There's a summer garden in the courtyard, classic restaurant and bar on the ground floor and parking lot nearby as well.
The hotel has a 24 hour helpful reception desk with concierge services to help you with a variety of things... tickets anyone? They can book something for you, suggest a hidden sight, call a taxi and even help with car rentals. The hotel also offers laundry services and room service too.
Zen Asian Wellness Center in the building. Go ahead, treat yourself!
Other amenities: VIP room facilities, fax and copy machine available, money exchange, baby sitting, bike rental, luggage storage and wheelchair access.

Some rooms have a balcony and face a quiet courtyard.
The rooms at the Hastal Hotel Prague are luxurious. But, you probably aren't coming to Prague to spend enormous amounts of time at your hotel.
Instead, the Hastal offers you a cheap hotel in Prague while being very central.
And, you won't find the crowds of tourists outside the hotel like many other Prague hotels.
---
Hotel contact details
Address: Hastalská 16, Old Town.
Tel: 228 881 258.
Web: www.hotelhastalprague.com

---
Back to Prague Hotels from Hastal Hotel Prague