Hotel Ungelt Prague
This overview of Hotel Ungelt Prague offers a firsthand look at the area around the hotel and its details inside.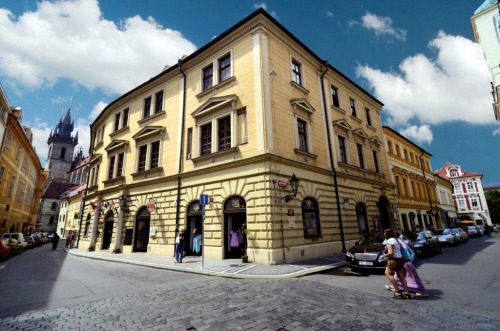 But we found out that describing the Ungelt is an interesting endeavor. It doesn't naturally fit the standard label of hotel.
Even on TripAdvisor it's categorized as a B&B / Inn. And, sometimes goes by the name Royal Residence Ungelt.

This may not seem like a big difference, but in Prague a residence will not always offer the same standards and services as a hotel.

Regardless, let's look at why the Ungelt is one of the best in the center of Prague?
5 Star Old Town Location

First of all, the Ungelt can always count on good reviews just based on its location.
It's location is easy to describe... fantastic!
The Ungelt sits just beyond Old Town Square, in the shadows of St Tyn Church.
This means it's a few steps from most everything including the astronomical clock, Jewish Quarter, Wenceslas Square and other must-see places.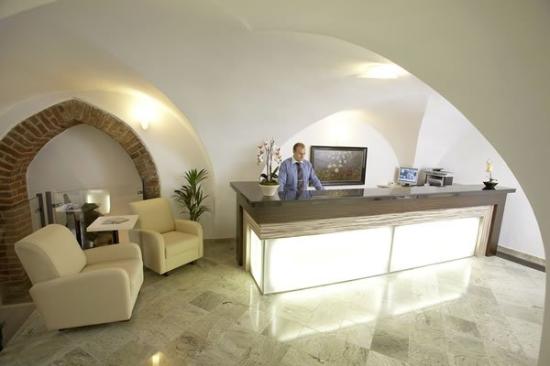 We love the arched reception area
About the Rooms

The Ungelt has just a few rooms. Actually these are more than your average double room. These are enormous suites - or apartments to be more exact.

The hotel offers both two and three bedroom "hotel rooms," each with self-catering options. Meaning you can cook for yourself if the mood hits you.
Each room is self-contained so you are likely to feel like you have rented a nice place rather than having booked a room per se. We like it because there's more independence this way. But you also get the benefit of a hotel reception, helpful staff and a breakfast option - combining some hotel services with the at-home feeling of an apartment. (Only the deluxe suite has only a kitchenette.)

Of course, if you are specifically concerned about hotel perks and lots of amenities, you should browse through our list of recommended central Prague hotels.

But, if you value a large room and aren't too concerned about getting a proper hotel, then we highly recommend giving the Hotel Ungelt Prague a chance. The sheer size of the rooms and level of comfort won't be matched at similar 4 star hotels in Prague.
Our Thoughts

Hotel Ungelt Prague is a unique hotel with large apartment suites. It's not a luxury hotel with all the fancy amenities.
So it's not for everyone. But, if you're looking for a quality, large room in Old Town then it will be suitable.
Honestly, we would like to see the rooms get an update. Some areas could use a new coat of paint and some renovation. But there is always a balance to find when booking a room in Prague, especially when you get below luxury standards.

For more thoughts and guest reviews, visit Ungelt Hotel on TripAdvisor.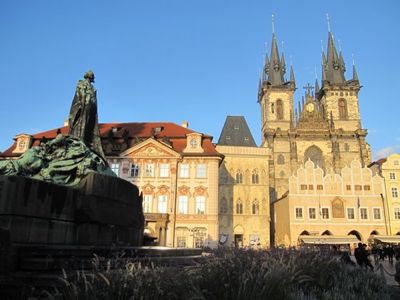 Old Town Square is just around the corner.
---
Hotel Ungelt Prague
Address: Stupartska 646/7, Old Town, Prague 1

Tel.: +420 221 771 011
Web site: www.ungelt.cz
---
Back from Hotel Ungelt Prague to Prague Hotels