Hotel Pav Prague
3 Star Hotel with Great Neighborhood Vibe
The Hotel Pav Prague is a Best Western hotel that combines a very good location with reasonable prices and lots of comfort.
It's very close to all Prague attractions and the famous U Fleku brewery is right next door.
We showed up at the Hotel Pav Prague unannounced to see if we could get a quick tour and the staff was more than happy to help.
But before we went inside, we had this chat with a guest outside...
This particular guest was from Italy and was standing outside the hotel smoking a cigarette. We told him about our website and asked if we could ask him a few questions.
His English wasn't  perfect so we don't think he could expand his answers very much. But, here goes...

Interview with Guest
Hi, are you staying at the Hotel Pav Prague? What do you think about it?

Yes. Oh, it's quite nice. It's very clean.
What do you think about the area, is it close enough to everything for you?
Yes, it's really close. The Old Town is just over that way (pointing toward Old Town) and you can just walk to the places you need.
Why did you choose this hotel?
It was on the internet and it looked nice. The location was good and we read the reviews so it seemed nice.
You are smoking outside, can you smoke inside the hotel?
Oh, I just wanted to come outside. You can smoke in some places in the hotel but not in the rooms.
So, that's about it. It was a brief conversation, but still very informative. His opinion was pretty firm and we didn't get the sense that he was holding anything back. Usually people will just tell you how they feel about a hotel especially since they've paid for it.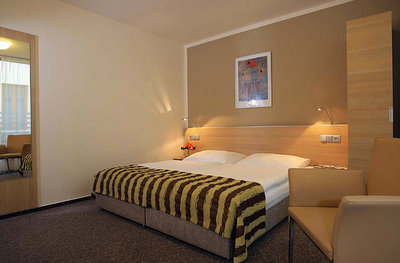 Check availability and read reviews.

Our Impression of Hotel Pav Prague
It won't come as a surprise that we liked the Hotel Pav. The combination of meeting the guest outside, meeting with the reservation manager and taking a tour of the hotel gave us all the more reason to recommend it. (And, we already loved the neighborhood.)
The hotel is indeed very clean and there's a feeling of harmony inside. Some hotels in Prague mix too many elements, making a busy atmosphere.
But, the Hotel Pav Prague is straightforward and uncluttered - all without feeling cold and neglected.

We had a look at a very nice triple room with comfortable beds, the light and spacious breakfast room, the hotel's bar and its lovely garden terrace - each place was very inviting. We didn't see anything that was out of the ordinary or at odds with the great reviews we've read online either.
In general, the designers have kept much of the building's original elements from 1806 - including some fun, brick, arched ceilings in the bar.
We were also surpised to learn that this seemingly small hotel actually has 89 rooms and the buidling was once called At the Three Blackbirds, as noted from the original sign outside.
Funny enough, the hotel's name today translates as, Hotel Peacock (pav).
Nevertheless, the rooms inside are well equipped and comfortable considering the relatively reasonable prices. The hotel, of course, offers all the standard amenities too with a helpful reception desk there when you need personal help. And, for you summer guests, all the rooms are air-conditioned!
Frankly, for a 3 star hotel in Prague, we were pleasantly surprised by all the hotel has to offer. Other 3 star hotels simply aren't as inviting or helpful for that matter.
Read reviews, get rates and compare to other Prague hotels.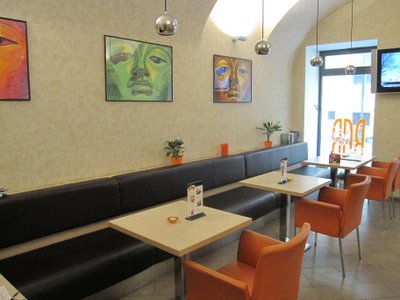 Inside the hotel is a cute bar/restaurant.
Location of Pav Hotel
We can't say enough about the neighborhood of the hotel.
The hotel is just south of the National Theatre and a short walk to Charles Bridge. And the metro is very close too.
And, you can easily reach Old Town in about 10 minutes.

For another perspective, walk down to the Vltava River from here for fantastic views or a paddle boat rental. Highly recommended!
The immediate streets near the hotel also offer a nice combination of sights and convenience.
Outside the hotel there is a number of popular spots from shops and bars, cafes and restaurants all included. And, you will be removed from the clutter of Old Town and tourist crowds.
Personally, we like the little antique shops nearby as well as the record shop, tiny grocers and of course, the small square with Baroque church that's around the corner.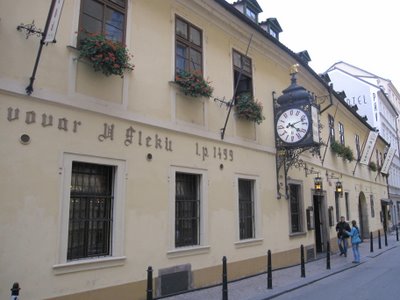 The famous U Fleku Brewery, just down from Hotel Pav.
---
Hotel Info
Address: Křemencova 13, Nové Město, Prague 1
Phone: +420 221 502 111  
Web site: www.hotel-pav.cz/en/
---
Back to Prague Hotels from Hotel Pav Prague