Hotel Astoria Prague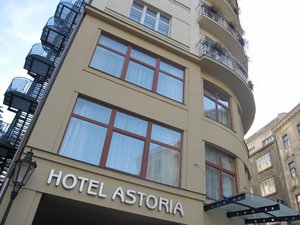 We knew the Hotel Astoria Prague is one of the top hotels in Prague for its discount prices and excellent location in Old Town.
And, we've read that it offers clean and comfortable rooms for all kinds of travelers - from business and short breaks to Prague to group travel.
But for us, we were curious to know how a large hotel like the Astoria fits into Prague's most central location - Old Town.
So our question was...
Can a large hotel fit into this charming area without taking away from the nature of Prague?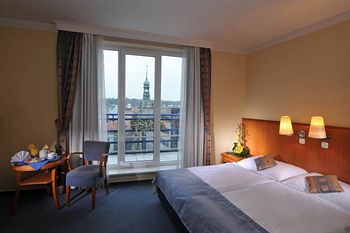 About Hotel Astoria Prague
The most surprising element about the Astoria was our first impression before entering the hotel. The hotel is extremely central, but it's also quiet. It's hidden on a back street behind the big department store Kotva and is seemingly on an island to itself even though there are at least two other hotels on this street.
Once you're inside the hotel, there is an immediate typical, clean "hotel feeling" about the Astoria. You definitely feel that you've left Prague out on the streets for a hotel-oasis inside.
We quickly realized that our expectations were maybe unfair. It's nearly impossible for a hotel like the Astoria to be completely authentic to Prague's history and culture in all it does considering its size and offerings. It's not intending to be a unique pension or B&B - it offers practical comfort straight up.
In the end, we decided to value the balance that the hotel strikes. After all there's more to like than dislike - for sure. If you consider the hotel's comfort, prices and location then the Astoria Hotel is above average.
So the size of the hotel doesn't take away from Prague's charm. It just fits quietly into the city's seams while offering good quality.
We recommend staying here, at least for the easy access to Old Town.
Check rates and see more photos.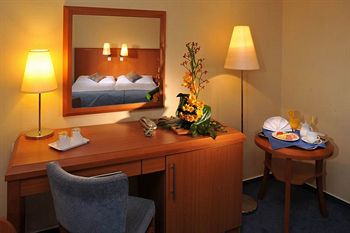 Clean, modest accommodations.
Quick Summary
Prime location
The Hotel Astoria Prague is located in Old Town. Not just that, but it's in a quiet little spot that's just a few meters from the main square - perfect for sightseeing, exploring and dining! (More on the location below.)
4 Star hotel in Prague
The Astoria doesn't lose track of its star rating offering guests lots of amenities and comfort. We wouldn't say its an elegant luxury hotel, but there's a certain hospitality here that is very welcome.
Amenities
The Astoria has lots to offer while you aren't out sightseeing. 24 hour room service, laundry services, restaurant/bar, meeting facilities, satellite TV and internet. And, some rooms have very nice balconies!
Discount prices
This is the point that surprised us the most. The Hotel Astoria offers a variety of discount rates especially in non-peak seasons. Now, we aren't ready to brand it a "discount hotel in Prague" but the current financial atmosphere around the world has affected their prices.
There's not much we didn't like about the Hotel Astoria Prague.
I guess we might expect better, more stylish furniture. But maybe that is a bit picky.
If you are looking for something more with that certain Prague charm, then try our list of central Prague hotels.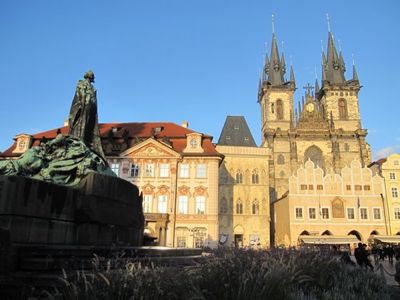 The square is one minute walk from the hotel.
In the Neighborhood
The best thing about the Hotel Astoria Prague is its prime location. This is Old Town Prague - the center of everything. Sightseeing starts from the doorstep of the hotel. Aside from sightseeing, the neighborhood is packed with shopping opportunities. It's very close the department store Kotva and the new shopping mall Palladium.
The neighborhood has lots of very nice cafes and restaurants as well. There are a few traditional Czech restaurants nearby as well as a number of international offerings.
Much of Old Town can only be accessed by walking. But the Hotel Astoria Prague has a  Prague metro stop just around the corner, so it's quite easy to get out and explore more from here.
Here's a quick look at nearby sights and attractions. This is just a starting point...
Old Town Square, is 1 minute from the hotel.
Obecni Dum, the glorious Art Nouveau palace is about two blocks away
Jewish Quarter, a wonderful area full of museums, high-style shopping and great restaurants.
Wenceslas Square, the quintessential place to start shopping in Prague
---
Hotel Astoria Prague
Address: Rybná 10 Old Town

Tel: +420 221 775 711
Web site: www.hotelastoria.cz
---
Back to Prague Hotels from Hotel Astoria Prague