Wenceslas Square

Center of Prague's Nightlife and Commercial Zone

Wenceslas Square is Prague's bustling commercial area. It's not as historical as Old Town, but essential to sightseeing in Prague.

So, what's the best way to see this part of Prague?

This page covers the basics, a few of our tips and includes a video we shot of the area.
But first, let's cover just the basics. These short descriptions give you some basic background information about this famous Prague square.
Wenceslas Square Facts

This famous Prague site has been home to various events in Czech history - from invading Russian tanks in 1968 to masses of protesters in 1989. Here are a few notes about Prague's energetic square...
The square is named after Saint Wenceslas - the patron saint of Bohemia. The square is known as Václavské náměstí in Czech.
More of a long boulevard than an actual "square." It connects Old Town with New Town and is bordered by the stunning National Museum. The northern end includes Mustek metro station and the smaller streets of Old Town.


The square is Prague's commercial and shopping hub. If you want to do any shopping while you're here this is the place to start.


The square is also considered the epicenter of Prague nightlife. It includes plenty of restaurants, dance clubs, bars, strip clubs, and cinemas. So, at night it can be a bit edgy.


This area is also the transport system's nerve center. The two busiest metro stations flank the square - Muzeum at the southern end and Mustek at the northern end.
Video
Looking for a hotel nearby?
Look for hotels just off the square, not right on it.  These hotels are a good place to start.
Or, you might find these apartment rentals to be cheaper, larger and more comfortable.
What to See

The two iconic sights of Wenceslas square are: the National Museum and the Wenceslas Monument. Both are located at the southern end of the square. The National Museum is home to displays of natural history.

The Wenceslas Monument sits just below the National Museum and is a symbol of the Czech nation with a mounted St. Wenceslas. This is a great meeting point and a superb place to people-watch and take photos of the square.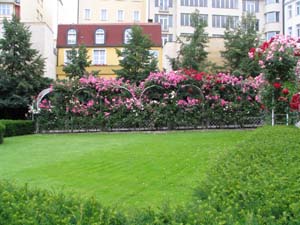 The rest of the square is bordered by shops, casinos, hotels and restaurants of various kinds. But, there are a number of notable buildings bordering the square as well. These are newer buildings, less historic than Old Town and Mala Strana yet still quite interesting.
At about the midway point, you should peek into the passagway of Lucerna Palace. It's a remarkable Art Nouveau complex that includes a cinema, cafes and restaurants. And, as seen in the video, there's a satirical take on the famous Wenceslas Monument hanging from the ceiling.
TIP:  Just north of the Lucerna Palace and just beyond Wenceslas Square you will find two splendid hidden sights. Františkánská zahrada (Franciscan Garden) This is a peaceful garden with benches and lots of roses. A great spot to relax, eat ice cream in the summer and let the children run around.
What to Do

Wenceslas Square is best known for shopping, nightlife and crowds. So, if these aren't your cup of tea try these:
Climb the steps to the National Museum. Okay, this is obvious, but it's really worth taking a couple of minutes to cross the street and actually go up to the museum to experience the view down the square. And, it's a great spot for taking photos.



Have a cup of tea. Prague has a number of wonderful tea rooms (cafes). And, one of the best is Dobrá Čajovna located just off Wenceslas Square. Address: Václavské náměstí 14.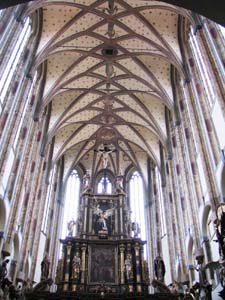 Take in a film at the art house cinema Kino Světozor. This cinema offers an eclectic variety of films from around the globe and their subterranean cafe is a nice spot for a beer, Wi-Fi or a Kofola (the Czech version of Coke) on tap.
Buy a cheap Fried Cheese sandwich from a street vendor on the northern end of the square. Fried Cheese is an essential staple in Prague's pub and street vendor scene.
Back from Wenceslas Square to Prague Attractions