Guide to Old Town Prague

Old Town Prague is the centre of it all - the heart of the city. Heck, it might be the centre of the universe! That is still up for debate.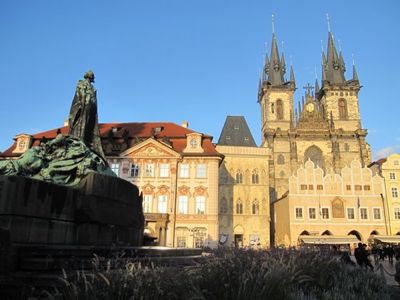 At least it can feel like it is. Especially when you stand on Old Town Square, surrounded by its incredible architecture, sights and details. I bet you can visit this spot everyday and see something different each time.
The spires... the statue... the astronomical clock...
The bounty of discovery is endless.
But, since your time is probably a bit limited, I've compiled a quick guide of essential sights.
First, as noted above, everything revolves around Old Town Square. It's probably the most talked about place in Prague. It's also can seem like the meeting point for every tourist in Prague. Oh, the crowds!
Thankfully, this square is one of the largest open public spaces in all of Europe. So there's lots of space to roam and explore. Plus, it's surrounded by stunning architecture.
---
4 Key Elements of Old Town Square
Church of Our Lady Before Tyn

The Church of Our Lady Before Tyn looms over Old Town Square with Gothic fairytale spires and beautiful vaulted ceilings inside. Find the hidden entrance to the left. Inside is only accessible by attending church service, but you can peek in during other times.
If you look closely at the church's towers, you'll notice that one is bigger than the other - suggesting one to be Adam and one Eve.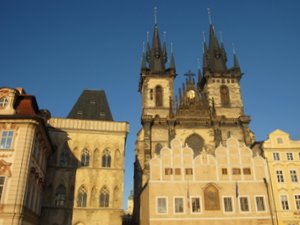 ---
Astronomical Clock

Prague's astronomical clock is one of the city's most valued sites. This remarkable 15th century clock is on the Town Hall's tower.

On each hour characters including the apostles, a rooster and skeleton mark time in their down way.

Legend has it that the creator of the mechanical parts, Master Hanus, was blinded afterward so he could not replicate it elsewhere.
---
Church of St. Nicholas

The Church of St. Nicholas occupies a corner of the square in splendid baroque style. It was created by master craftsman Kilian Dientzenhofer.
You can catch daily concerts here - some by donation only.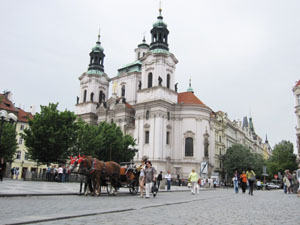 ---
Old Town Hall

Old Town Hall is a collection of small buildings including the gothic tower with astronomical clock in the corner of the square. There's a helpful info center downstairs and a gallery too.
I recommend visiting either the historical rooms upstairs or the view tower. The tower opens at 9:00 Tu-Su and at 11:00 on Monday.
Video of Old Town Square

Other Sights in Old Town Prague
Old Town Prague is chock full of other sights besides the essentials. It's difficult to list them all, but here are a few of my favorites. Or, try this big list of 50 tourist attractions.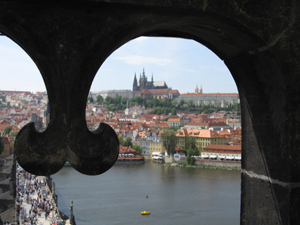 • For a different perspective of Old Town Prague, check out the Charles Bridge Tower. Hordes of tourists pass under it but only a few take advantage of its incredible views and historical exhibition. It's well worth the small entrance fee. And, your camera will thank you for the view of Prague Castle, Malá Strana and Old Town.
• Visit the Klementinum. This is a complex of buildings sandwiched between Charles Bridge and Old Town Square. It consists of some of Prague's most beautiful architecture with four wings, three churches and a few courtyards. It now houses the National Library as well. Take a few minutes and just wander around here away from the tourist crowds.

• Have a drink and soak in the wonderful view near the Bedřich Smetana Museum (see photo). It's a perfect little spot to rest and get away from the nearby crowds. This great view is just south of Charles Bridge on the Old Town side.
• Visit Prague's open air market just southwest of Old Town Square. This small market on Havelská street is smack between the walk between the square and Wenceslas Square. Here you'll find plenty of kitschy items and delicious fresh fruit and vegetables.
• Take in a concert. You don't have to be a classical music connoisseur to enjoy a concert in Old Town Prague. In fact, there are so many choices that you don't even have to book ahead. Just pop by any number of churches with concert posters outside. You can buy tickets at the door and some are free or by donation only.