50 Prague Tourist Attractions
How many Prague tourist attractions are there? I challenged myself to come up with a list, but the possibilities seem endless. 
And the lines between tourism and something local seem to fade away. Nothing here is dependent on your language or culture.
These sites are for everyone. They include some of my favorite Prague tourist attractions. And, there are a few that I need to get to know better.
50 Prague Tourist Attractions
For some structure, this list has quick, rapid-fire descriptions. And it limits the number of parks, galleries and museums. There's simply too much to list. Next time!

Castle district (Hradčany)
Prague Castle - This is arguably the crown jewel of Prague. There is no place on earth like it. But, the castle is a collection of places, not just one building. Feel free to dive into the details here.
Lobkowicz Palace - Within the castle complex, this privately owned building is easy to overlook, but you shouldn't. It has a beautiful collection of art and original works by composers like Mozart. Take the audio tour, stay for a concert and try the cafe - and the view! Beautiful.

Golden Lane - This place has turned into a tourist haven, but these little houses within the castle grounds are still impressive. I love to visit in the late afternoon, and it's free after 5 pm. 
Summer Palace of Queen Anne - The castle is nearby, so this grand Renaissance building is missed by most visitors. But, it's one of the most beautiful places in Prague.
Stag Moat and Castle Royal Gardens - from April through October you can walk through these parts of the castle while most everyone is oblivious to their existence. If you like greenery and seclusion, all the better! The Stag Moat is one of my all time favorites.
Loreta - At first glance, this unique site might not make your to-do list, especially if you're short on time. But, it has a miraculous legend and actually quick to visit. And you can combine it with your castle visit. Read more
Strahov Monastery - The famous library here is the key attraction. It's stunning. But the view from the monastery over Prague is just as incredible. Come for both! Read more
New world street - Ok, so this isn't really an attraction per se. It's a street. But, it's romantic escape, like a stroll back in time. Absolutely gorgeous. And it comes without the tourists. Read more
---
lesser town (Malá strana)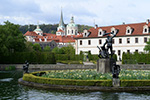 Petřín - I can't recommend visiting this park enough. Consider taking the funicular, wandering the trails and finding something you won't forget. It's here for sure. Read more

Vrtbovská Garden - Another hard-to-believe place. This garden is a quick visit and perfectly picturesque. Super photo opportunity also!
Bridge towers - The two towers that bookend Charles Bridge are awesome and accessible. Visit either for views above the crowds. I particularly like the one on the Old Town side including its exhibition. 
Church of St. Nicholas - This obvious domed landmark in Malá Strana is one of the few pay-to-enter churches in Prague. But, it's a beautiful Baroque masterpiece. You can also climb its bell tower for excellent views and fall in love with Malá Strana. That is up to you.
Střelecký (Shooter's) Island - This romantic spot on the Vltava River was once used for target practice as early as the 15th century. Today you'll find a place to relax or take in a festival - with few tourists.
---
Old town (Staré město)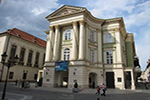 Prague's astronomical clock - Sometimes the word unique is used too easily. But it's totally appropriate when it comes to this gem. I highly suggest seeing it early in the morning, before the crowds gather.

Obecni Dum - This Art Nouveau masterpiece has so much ornate detail. Simply walk by and admire it. Or try one of its restaurants or concerts in its gorgeous hall. Read more

Josefov (Jewish Quarter) - The cultural significance of this part of Prague is undeniable, painful and always interesting. Read more

Estates Theatre - Another architectural gem in Old Town. This is where Mozart's opera Don Giovanni had its world premiere. It's still performed regularly in this magical theatre.

Old Town Square - This is the center of Prague's universe. You can't come here without being in awe. Treat yourself by visiting at least once in the early morning.

Powder Tower - This Gothic tower is the original entrance to Old Town and once stored gun powder. It also marks the start of the Royal Route to the castle, or coronation of kings. Visit simply for the old energy it evokes - well, the view is pretty awesome too.
Old Town Hall and Tower - This is the most popular tower and one of the few with an elevator. The wrap around 360 view is breathtaking. For more, get a full ticket and access more historical areas within the tower.
House of the Black Madonna - you may not be familiar with Czech Cubism, but this building is a great introduction. From the building's architecture to the Cubist cafe upstairs, this is a real treat. And, just steps from Old Town Square. 
Church of Our Lady Before Tyn - Looming over Old Town Square are the dark spires of this Gothic church - you've likely seen it in many photos! Visit for a small fee or pre-book a guided tour.
Clementinum - I think the Clementinum is one of the most underrated of all the Prague tourist attractions on this list. Most people walk right passed it without even knowing it. Visits are guided (in English) to see the gorgeous library, Mirror Chapel, and Astronomical Tower.
Rudolfinum - An iconic building on the banks of the Vltava River. It's concert hall is home to the Czech Philharmonic. But, you might also enjoy the Gallery Rudolfinum and newly opened cafe (recommended!).
St. Agnes Convent - A medieval monastery tucked away in Old Town which has multiple areas to see. The convent itself is remarkable, but also includes a gallery with permanent exhibition. You can take the self-guided tour or visit the quiet gardens for free.
Jewish Museum - The museum is actually composed of many parts including four synagogues, the Ceremonial Hall and the Old Jewish Cemetery. Visit these to fully understand the historical depth of Jewish life in Prague.
---
new town (nové město)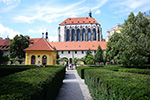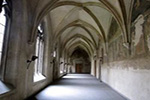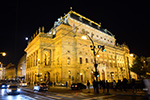 Franciscan Garden - This is one of my favorite places in Prague. It's a go-to hidden destination and perfect for kids. Bring your book and enjoy the moment.

Náplavka - In recent years this river embankment has become a hot spot for markets and festivals. And it makes for a great stroll any day of the week. Love it!

Emauzy Monastery -  Founded by Charles IV in the 14th century,  this peaceful place is full of old history, even after damages from WWII. Read more

National Theatre - Easily one of the most beautiful buildings in Prague. Come by to admire the outside or go to a concert, opera or ballet.

Wenceslas Square - This famous bustling boulevard is named after King Wenceslas. It connects Old Town and New Town, with the jaw-dropping National Museum at the far end. Come for the shopping, restaurants and night clubs - or just take a rest on the benches in the middle of it all. Read more 
Dancing House - One of the most photographed buildings in Prague, this modern landmark is on every list of Prague tourist attractions. For good reason though. Visit the Glass Bar on the top floor for grand views.

New Town Hall - Overlooked by most tourists, this Gothic tower offers nice views and various exhibitions. There's no elevator, but climbing the old stairs is part of the adventure.
Jerusalem Synagogue - A lavish, Art Nouveau building in New Town not far from Wenceslas Square. It includes an interesting permanent exhibition about the post-war Jewish community in Prague.
Jindřišská Tower - Another impressive tower, this one with an elevator! Seriously, don't overlook this gem. Aside from the views, there is a lovely restaurant inside and you can see the oldest bell in Prague, from 1518. 
National Museum - At the top of Wenceslas Square sits this mammoth museum. You can't miss it. It's under reconstruction until late 2018, but normally holds exhibitions, events and a large permanent collection.
---
outside the standard tourist Zone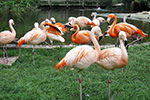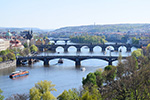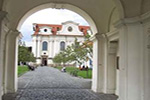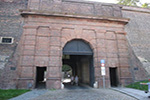 Grébovka Gardens (Havlíčkový sady) - Residents of Vinohrady in Prague 2 have a special place in their hearts for this old vineyard and park. Come for a taste of local wine, visit its grotto and just hang out.
Žižkov TV Tower - This is the strange looking tower that is always in the distance from the historical centre. Yes, go there. Not only does this tower have incredible views and one room hotel, but the neighborhood is filled with good restaurants and local flair.

National Memorial on Vítkov - I would consider coming here just to see the giant horse statue and the view. But, inside there is an interesting museum dedicated to the history of Czech Republic. And, this place use to be a mausoleum for Communist leaders. Prague has its odd wonders for sure.
Pisecká Brana - This won't make lists of typical Prague tourist attractions. But it's so unique and curious that I like to include it. It also has a cute little cafe and is just across the way from the Queen Anne Summer Palace (above).
Hvězda Hunting Reserve - This enormous park star (hvězda) shaped palace dates from the 16th century and was originally a hunting lodge and meeting place for dignitaries. Today the building is home to small exhibitions, and the park is perfect for jogging, biking, skiing.
Troja Chateau - Across the street from the zoo sits this ornate Baroque villa with expansive grounds, ideal for wandering and relaxing. Combine a visit with the zoo and a walk through Stromovka park nearby.
---
More Prague Tourist Attractions
This is not a comprehensive list of Prague tourist attractions, by any means.
Seriously, I might have to make another list of 50. Here are a few other sites and monuments that I feel guilty omitting...
Bethlehem Chapel, St. Nicholas Church in Old Town, Muller Villa, DOX Contemporary Art Centre, National Museum at Veletržní Palace, the Botanical Gardens, the Wastewater Treatment Plant in Bubeneč, Stromoka Park and the group of gardens below the castle (lovely they are). 
Whew!
Did I miss something? Sometimes the most obvious things are the easiest to miss. Let me know by getting in touch here.
Questions and Comments
What's your favorite of these Prague tourist attractions? Or, do you have suggestions for others. I'd love to hear from you.
Or, maybe you have a question about what to see and do in Prague...?