Loreta of Prague

The Loreta is one of many pilgrimage sites in Prague. It's incredibly interesting, easy to get to and doesn't take much time to enjoy.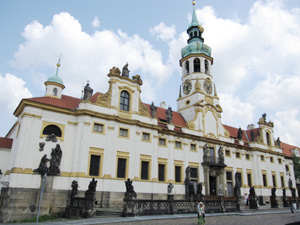 That's why it's one of my top ten sights.
So, religious or not, it's worth a visit.
And you can easily visit in conjunction with Prague Castle and Strahov Monastery.
The Loreta has a particularly interesting back story.
It's a convent that was founded in 1626 by Katerina Lobkowicz. She was part of a local aristocratic family and had access to money which she put to use in creating the convent.
Her main goal was to duplicate the original home of the Virgin Mary which is known as Santa Casa.
The actual Santa Casa was a place of Christian pilgrimages until invaders threatened it's survival.
And, legend says that the original Santa Casa was saved and taken by angels to Loreto, Italy around 1290. And Lobkowicz decided to create a life sized replica on the grounds here.

What's Here?
Much of the main building is closed to the public since it's used as a convent. But, there are four key parts to visit.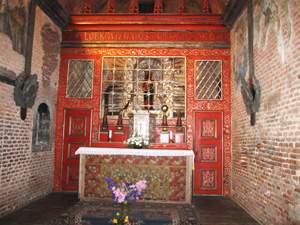 The Santa Casa is the highlight of the entire complex.
It's snuggled in the center courtyard of the main rectangular building. This building stands around the Santa Casa like a protective mother.
Inside there's a beautiful red altar, elaborate silver workings and relief paneling on the walls.
To get the most of your visit, spend a little extra and buy the little guide book at the cashier's desk. It includes lots of little details you might otherwise overlook.
Treasury
On the first floor (above the main entrance) you'll find a startling collection of invaluable objects. Over the years it's been depleted by thieves, but the treasury is still impressive. There are heavily decorated religious items here with one monstrance which includes 6,222 diamonds.
The Arcade
The interior courtyard is lined by an arcade. Basically there are four sides or open hallways. Each one is decorated with frescoes and a few individual chapels.

Don't miss the Chapel of Our Lady of Sorrows and the bearded St. Wilgefortis - the good daughter of a Portugeuse king who grew a beard overnight after being promised to the King of Sicily. Of course, the father was a bit upset and had her crucified.
Church of the Nativity of Our Lord
This very small, but incredibly ornate church was built according to the design of Krystof Dietzenhofer - a member of a famous family of architects in Prague.
Of note here are the side altars with reliquary cases for two saints - St. Felicissimus and St Marcia.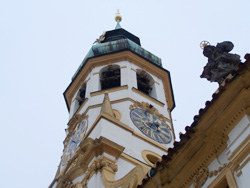 Bell Tower
The bell tower of the Loreta is yet another interesting aspect. And, if you can time your visit for the top of the hour, you'll hear all 30 bells ring.
But, the bells do more than just ring. They are part of a carillon system that links the bells to a metal cylinder.
It's sort of a player piano idea with cylinder, pegs and various melodies possible. On each hour the bells play a full tune. It's a nice moment when everyone stops in the square out front to hear something like We Greet Thee a Thousand Times.
<
Official web site, hours and more information here.
More Sights Near Loreta

In the immediate area, there are many other things to see and visit.
You might make a day of only places this side of the river (west). All of these would make great companions to a day of sightseeing...