Prague Zoo, the perfect day out

The Prague Zoo is always rated as one of the best zoos in Europe. It has a superb combination of beautiful animals, a park atmosphere and kid-friendly attractions.

It's easily one of our favorite day-long destinations. 
We love to visit the animals and learn about the zoo's conservation efforts.
But, it's not just about the animals at Prague Zoo… 
the zoo feels more like a nature reserve and park - makes for a relaxing getaway
design and layout is very easy to navigate and accessible for everyone
the zoo has a real love for its animals and mission, making it feel personal and friendly
a wonderful selection of animals, many in natural habitats
The zoo is also very easy to get to. For example, it's just 30 minutes by public transportation from the central metro station Mustek.

Super Family Friendly
Children will have a blast at the zoo. Here is a short list of things to do for kids (and their parents)…
Petting zoo - there is a small children's zoo with farm animals for kids to get up close and personal with
Pull wagons - for a small fee you can rent a spacious wagon for kids to ride around in - these are fantastic when legs get tired
Play all day - there are a few spots for kids to play. The Bororo Reserve in particular is a large open area with climbing huts, slides, swings and open sandy play area. The zoo also has a wading pool where kids can get wild on hot days.
Feeding time! The zoo has an interactive schedule which includes feeding times and shows.
Ride the mini-train

- for a small fee, children can ride a tiny train along a short route. Very popular and fun!
Inside the Zoo
To make things easy, think about the Prague zoo in two parts - lower and upper. This is how we describe the zoo, just makes things easier to communicate.
There is a hillside that naturally separates the zoo at the main entrance.
From this entrance you can choose to wander in the lower section or go uphill toward the right.
The lower area is a more compact with animals housed close together. The penguins and seals are popular spots in this area. 
Most of the lower part is flat and compact. It also includes a large restaurant, children's zoo and play areas. Sometimes we come for the day and just stay in this area.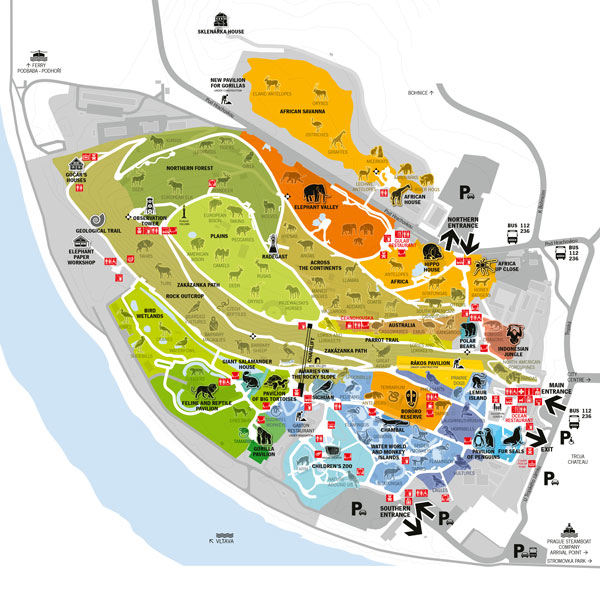 Courtesy of zoopraha.cz
The upper section of the zoo is essentially to the your right side from the main entrance. There is a hillside that starts here and the zoo stretches far and wide. It's surprising how massive this place really is.
The upper area has larger open spaces for animals to roam - from elephants and giraffes to kangaroos and hippos. 
The two areas are connected by a fun chair lift. See the Prague zoo map here or download larger PDF.
Get to Prague Zoo
There are a few ways to get to the zoo. Here are two suggestions which start at popular starting points in the city center.
From Old Town
Take the B metro (yellow line) from Mustek to Florenc. Then transfer to the C line (red) and go to Nádraží Holešovice. When you exit the metro train, follow the signs for bus 112 or Zoologická zahrada. The other direction is the train station. Upstairs walk around the corner to the left and find bus 112. Take this bus to the stop Zoologická zahrada. You will be directly at the zoo.

From Malá Strana
Take tram 15 to Čechuv most. Then take the tram 17 to Trojská. Then take the 112 bus to Zoologická zahrada (entrance to zoo).

With More Walking
For a longer walking route, we like to go through Stromovka Park, crossing the river and seeing Troja Chateau on the way. For this option, take either tram 1, 17 or 25 to Vystaviště Holešovice and walk through the park heading north. There are some helpful signs and most everyone knows the way to the zoo.

---
Opening Hours and Contact
The zoo is open everyday from 9:00 AM. Closing times vary according to the season. Hours are longer during the months of June, July and August (9:00 AM to 9:00 PM).
Address: U Trojského zámku 3/120, 171 00, Prague 7
Check their website for more details.