10 Places in Prague
Where I go and the Crowds Don't

Some of my favorite places in Prague are the quiet, laid back spots. These are the lanes and corners of the city that are NOT typical tourist destinations.

Ironically they are incredibly close to many of the main hot spots.
Sometimes, they are literally a few steps from a busy attraction with most people walking right by.
These are the kind of places in Prague that aren't highlighted in your guidebook, but I find them meaningful and peaceful ;-)
They bring me back to life - back in history - back to simplicity.
Best of all, you can add them to your main route - most are just a 5-10 minute detour away. See the map below for more details.
---
Favorite Places in Prague
1. At the Water's Edge
I joke with my kids that this spot is a beach. A guy can dream right?
We actually come here to feed the swans and look for an adorable river rat (yes, it's cute).
There is, in fact, a small shoreline here but the beauty is more likely found in the spectacular view. (It's amazing that a space like this has survived modern development in the middle of the city.)
The beach is a minute's walk from Malostranská metro/tram stop. It's a beautiful stopping point on the way to Charles Bridge.
2. Peacocks and Solace
Vojanovy sady is about 2 minute's walk from Charles Bridge. You are welcome to walk by this oasis like most everyone else. I will be chilling out on a bench or taking photos of the beautiful peacocks.
This dreamy area is one of the few gardens that is open year-round (most are open April-October). More about Vojanovy sady.
A Quick Video Preview
In this short video, I take you to a few of the places on this list. See numbers 1, 2 and 7. And one BONUS spot that is really special.
3. Unbelievable!
How in the world does this lane get overlooked?
It's crazy because everyday literally thousands of people pass by on Nerudova street, on their way to the castle. Yet, somehow not many people venture here - just a few steps away.
Start with the streets Jánská and Šporkova, and just roam from there.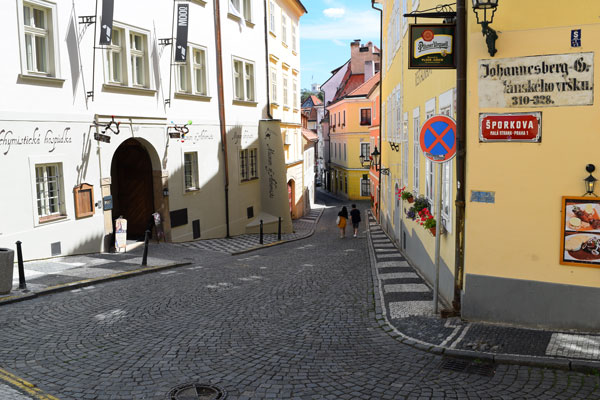 4. Kampa, I love you!
I've confessed my love for Kampa Island elsewhere. That's because it has so many beautiful spots.
But entering the island from Nosticova street is extra special for me. The streets before the park are quiet and romantic. Meanwhile, the tourist packs never make it here. They stay 2 minutes away.
5. New World Street (Nový Svět)
Of all of my favorite places in Prague, this one still surprises me. Seriously, how did this old country lane stay intact into the 21st century?
It's a small area, but worth adding to your day at the castle. And if you have time, stop in the cafe for a snack or drink. Wonderful place. Read more.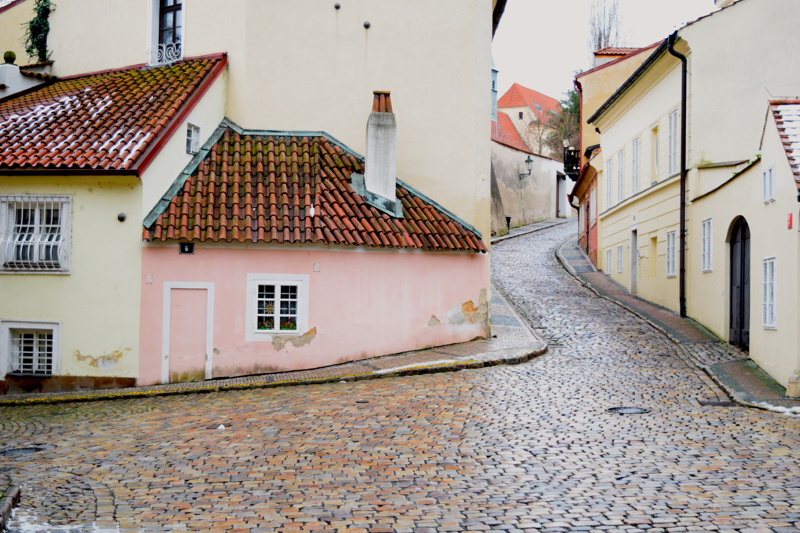 6. The View
This beautiful spot probably takes the most physical effort to get to. But the pay-off is huge with a gorgeous view that's rarely noticed. You can combine it with a visit to Strahov Monastery or a walk through Petřín.
Sit for a while on a bench and just take it all in.

Getting there... enter Petřín park from Uvoz street and follow the path for about 100 metres. Then look for the sign on the right pointing to Panny Marie z Exilu. Turn here and follow the small dirt path uphill.
7. An Oasis in the Middle of It All
Known as Shooter's Island (Střelecký ostrov), this tree filled oasis is seen by everyone from Charles Bridge. It's the obvious destination in the middle of the river.
But maybe being so obvious is what also keeps people away. Everyone seems content to stay on the bridge and miss the beauty here.
It's mind boggling!
Regardless, I love this island - especially the north tip with its sandy little beach and spectacular views.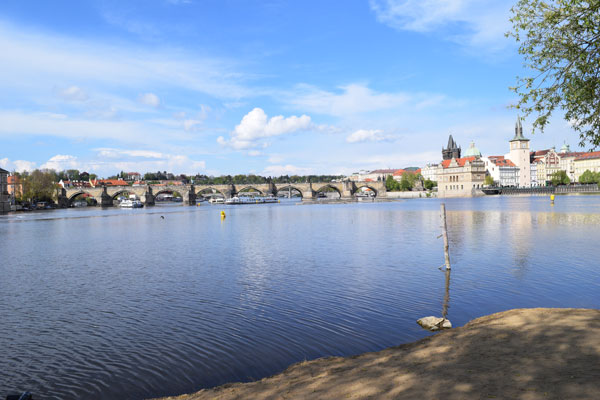 The view from Shooter's Island - OMG!
8. Franciscan Gardens
Next, my places in Prague takes us to one of the more popular destinations on this list. But it still deserves attention because it's so unique.
This calm garden with kid-friendly play space and benches galore is the perfect rest stop.
Come to gather your touring thoughts or just pass through to inhale some tranquility - escaping the reaches of nearby Wenceslas Square.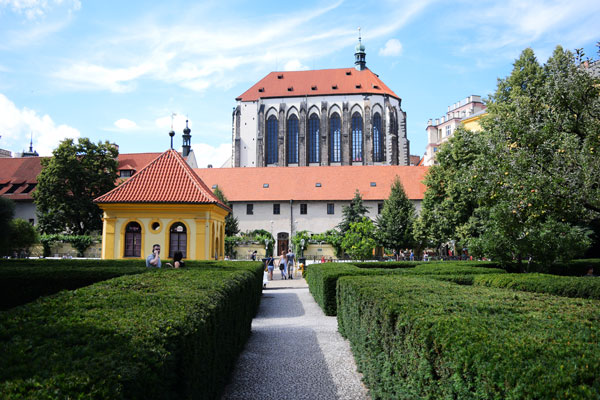 The perfect oasis away from the bustle of Wenceslas Square
9. Pure Gold
Next on my list of favorite places in Prague is Zlatá (Golden Street).
Not to be confused with the Golden Lane at Prague Castle, this street is in Old Town not far from the square.
It's actually more of an alley with two parts and runs parallel to Karlova street. That's the street everyone uses that leads to Charles Bridge. 

For some of you, this might be a boring scene since there's not much here. But, for me, there is something magical about walking over its ancient cobbles, something romantic - something golden! 
10. Romantic Evening Walk
I originally thought I would share one spot for sunsets as my final places in Prague.
But then I realized that it's better to share a short walk instead of just one single place. Anywhere along this walk is fantastic, with excellent views of the castle.
On the map below I've drawn a route from Charles Bridge that weaves northward along the river - see point A to B.
The sun sets behind the castle and this walk will give you ample photo ops and romantic atmosphere.
I particularly like the north end because the space widens and the view is just amazing. Enjoy!