10 Hotels Near Prague with parking

Looking for hotels near Prague without the crush of tourists? Maybe you are driving and want to avoid parking troubles.
Whatever your reason, I've come up with a short list of some very nice hotels near Prague's city limits. These are easily accessible by car and offer unique accommodation.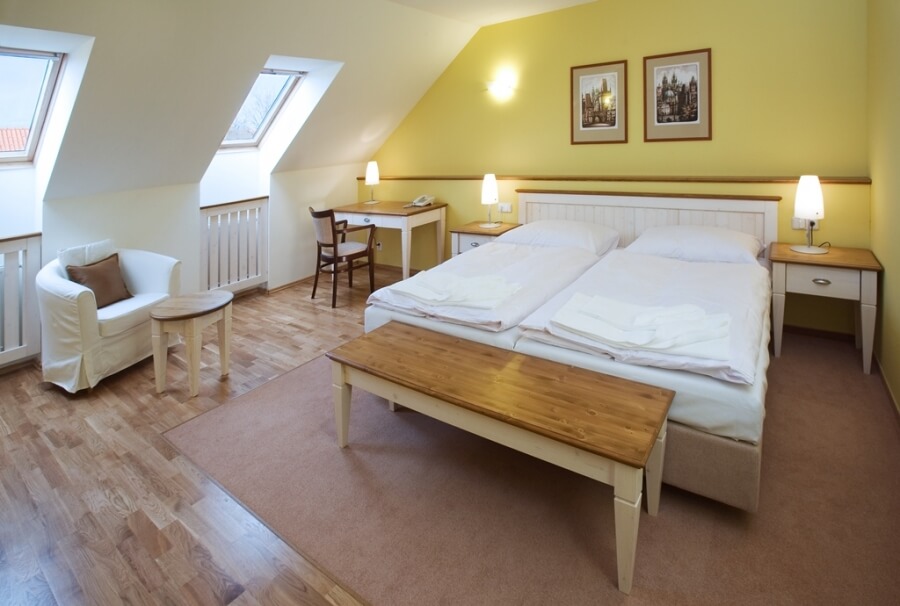 Comfy room at Dolce Villa Hotel
Dolce Villa Hotel
The Dolce Villa sits quietly just outside Prague in an area called Nebušice. This is a little village/suburb which is a few minutes drive from the city center and the airport.
This boutique hotel has lots of surprising appeal. Here just a few highlights
21 double rooms and 6 large suites
access for disabled guests
free breakfast with each booking
on-site restaurant, Burger Bar and bowling alley
free parking 
Address: Nebušická 93, Prague 6
Tel. +420 220 199 510
Web: www.dolcevilla.cz

---
Pension Vetrnik
This hidden gem is actually in Prague, but it sits on the outskirts of the city so it's removed from the bustle and easy to drive to. The Vetrnik is also on this list because it's so unique.
Where else can you stay in a converted mill built in 1722?
Address: U Vetrniku, 40/1, Praha 6, 162 00
Tel:+420 220 612 404
Web: www.vetrnik1722.cz
Aquapalace Hotel
The hotel is part of Prague's largest water park so families will find this an ideal adventure. Hotel bookings can include admission or not.
This modern, 4-star hotel is just a few kilometers southeast of Prague. And it's right off the D1 highway which is the main road you use when coming from m Brno and Vienna.
What you can expect at Aquapalace Hotel...
clean, modern rooms with WiFi and satellite TV
variety of room sizes
family rooms that sleep 4
interesting package deals
restaurants and 3 choice bars
Address: Pražská 137, Čestlice 251 01 
Tel: +420 271 104 202
Web: www.aquapalace.cz/en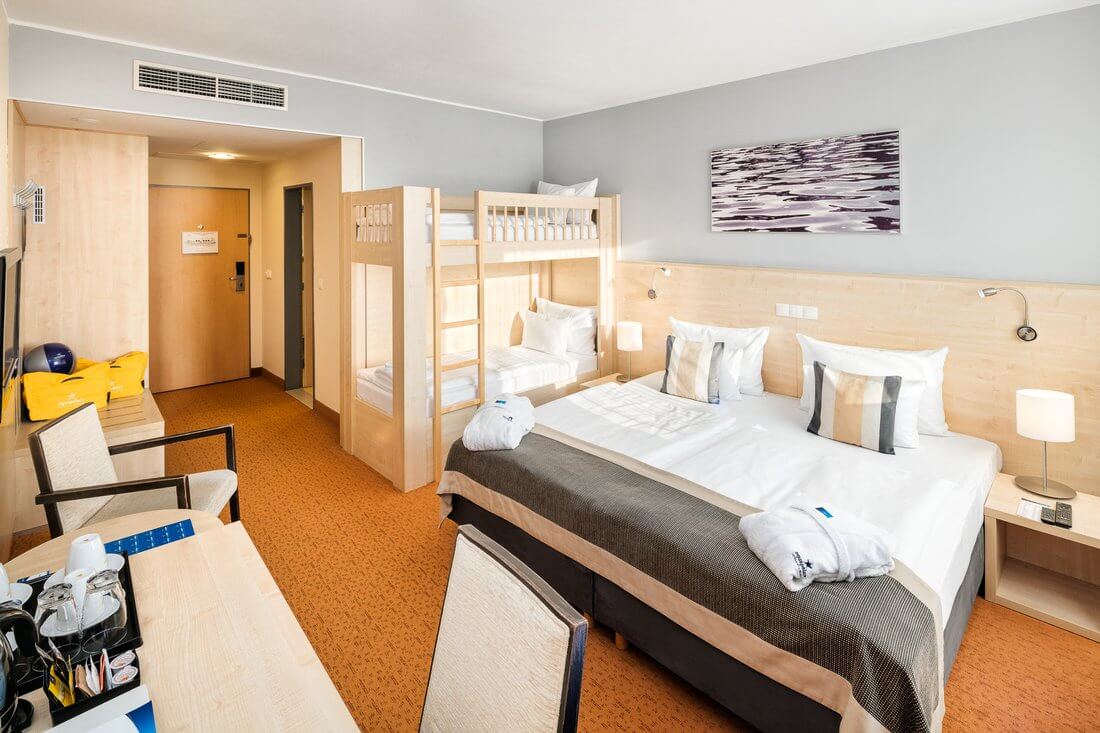 Family room at Aquapalace Hotel
---
Zámek Štiřín
Don't worry about pronouncing the name.
Zámek means chateau in Czech. And that's the key ingredient here.
This former chateau includes a variety of wonderful rooms, suites, English style park, golf opportunities, restaurant and more.
If you're looking for something unique and don't want to hit the city just yet, then this chateau is ideal. And, it's only 25 km from the center of Prague.
Address: Ringhofferova 711, Kamenice
Tel: +420 727 952 003
Web: www.stirin.cz
Map to 10 Hotels Near Prague
Hotel Duo
Hotel Duo is technically in Prague 9, a suburb just north of the city center. But I wanted to include it on this list because of it's easy access to highway and the city itself.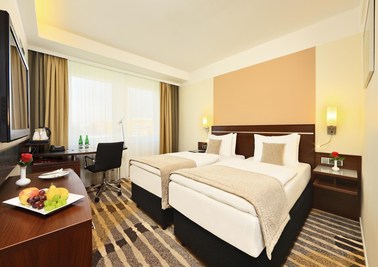 This 4 star hotel is very close to the highway that you would use from Dresden and Berlin. And they have a large parking area.

Aside from Hotel Duo's convenience it also offers quality services, highly competitive rates, a large breakfast and a sportscenter with bowling, indoor pool and fitness center.
You can also walk to the metro station Střížkov from the hotel. This will take you directly to the Muzeum station at Wenceslas Square in just a few minutes.
Address: Teplická 492, Prague 9
Tel: +420 236 311 111
Web: www.hotelduo.cz
---
Hotel Diana
Ideally located near Czech Republic's northern highway, Hotel Diana is one of the best hotels near Prague. It offers delightful friendly accommodation, free parking, breakfast and very good prices.
Owned and operated by the Kuchar family, guests receive feel-at-home service that's personal and inviting.
The rooms are spacious and clean and include WiFi and breakfast with each reservation.
Make sure you make time for a dinner in their beautiful, cozy restaurant too. Not to be missed.
Address: Slévačsk 48, Prague 9
Tel: +420 724 854 223
Web: www.hoteldiana.cz
---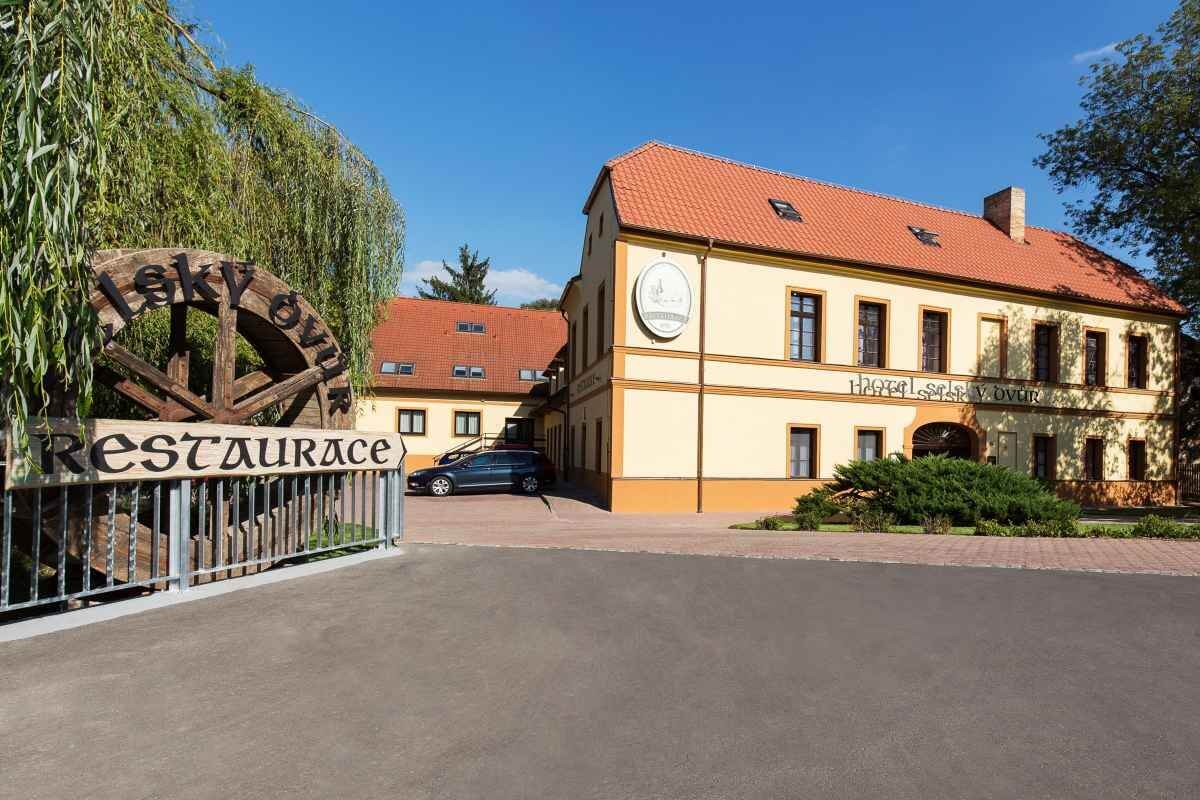 Hotel Selský Dvur
Winner of various customer satisfaction awards, this is one of the best hotels near Prague.
And, it's very close to Prague's ring road highway. So you have easy access to the city and especially the D1 highway to Brno.
The hotel itself may surprise you with its stylish decor and comfy rooms. This is certainly worth its 4 star hotel rating. On the other hand, the hotel's dining area and interiors have a fantastic old Czech vibe - it's a nice combination of atmosphere and comfort.
Address: K Horkám 56, Prague 10
Tel: +420 271 751 940
Web: www.sivekhotels.com
---
Olivuv Pivovar (Oliva's Brewery)
For centuries, beer has been an important staple of Czech culture. And at Oliva's Brewery the small brewery tradition continues on.
But, let's not overlook the wonderful attic rooms they have too. There are only 6, but this is such a unique place that they are worth a shout-out.
The brewery is located just south of Prague and has easy access to two highways, the D1 and R4.
Come for the beer, stay the night and try a beer spa. Life is good with beer.
Address: Za Radnicí 739, Dolní Břežany
Tel: +420 241 440 326
Web: www.olivuvpivovar.cz
---
Bed and Breakfast U Oty
Looking for something cheap? Something authentic?
Well, I don't know anything more original than this bed and breakfast. This fun, family owned B&B is totally relaxed and inviting. And their discounted prices are perfect if you're on a budget.
double rooms start at 31 EUR/night, including breakfast.
private apartments available
free parking and WiFi
garden seating and grilling possibilities
Located just south of the main city center, you can walk to the metro from here. No need for your car and parking is on-site.
Address: Radlicka 188, Prague 5
Tel: +420 602 602 428
Web: www.bbuoty.cz
---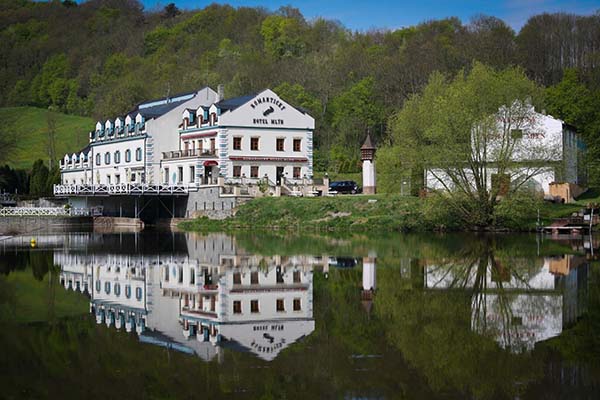 Hotel Mlyn Karlstejn
Hotel Mlyn Karlstejn
I always enjoy a good dose of nature when I travel. So I'm always delighted when I find a hotel like this.
Located on the banks of the Beroun River the Hotel Mlyn Karlstejn is in a beautiful green setting - and just 25 km from Prague.
The hotel offers a 21 rooms, banquet and wedding services, sauna, jacuzzi and even its own little zoo.
The popular Karlštejn Castle is nearby and there are many nature trails to explore as well.
Address: Karlstejn 329, Karlstejn, Czech Republic, 267 18
Tel: +420 311 744 411
Web: www.hotelmlynkarlstejn.cz