Intercontinental Hotel Prague
The Intercontinental Hotel Prague is a central hotel very close to Old Town Square.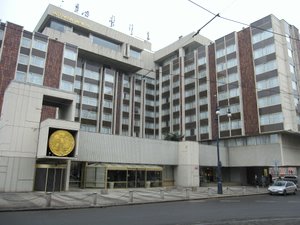 It seems to have something for everyone - a great location, lots of amenities and quality rooms for a wide variety of guests.

Honestly, we generally prefer to visit small hotels in Prague that get less attention than something like the Intercontinental Prague, but all hotels deserve an equal chance, so we thought we'd stop by.
After all, the Intercontinental Hotel Prague is a local landmark - an icon amongst hotels in Prague and generally gets very good reviews.
So, let's take a closer look at what you get for your money and what you can expect from the Intercontinental, because you might be a bit surprised.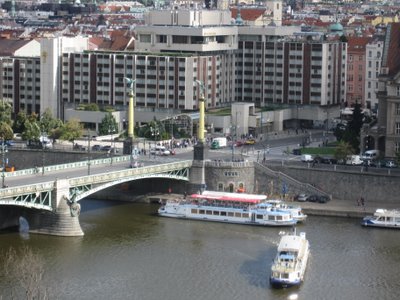 The Intercontinental seen from from Letna Park.
Ugly Only on the Outside
Let's get the sensitive news out of the way first.
The Intercontinental is probably not the prettiest hotel from the outside. It certainly doesn't fit the romantic images of Prague that you often see.
Instead its facade is more indicative of the recent communist era. For some people this kind of architecture is a bad hangover  - while for others it's completely refreshing and different - in a good way. To each his own!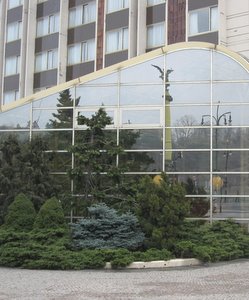 So, you may consider other central Prague hotels if this style is a turn off.
Of course, on the inside, it's all good. The hotel's interior is modern and stylish, yet simple and elegant without going overboard on stuff.
Upon entering you immediately feel that the hotel is of a higher standard. It's clean and luxurious. We were even a bit surprised.
There's nothing here that's too cold or uneasy on the eyes - just a good mix of details and furniture.
The Intercontinental Hotel Prague also has plenty of other talking points. Consider their great amenities and just general goodness that allows us to recommend it. Here are a few highlights:
Business travel.  The hotel is a perfect choice for business travelers, corporate clientele and conferences. The Intercontinental brand comes through here with a very able concierge team to help with all your organization needs.
Spa and fitness. The workout and relaxation options at the hotel are ridiculously large. An array of massage options and 1000 m2 of cardio and workout facilities are available.
Swimming and sunbathing. The hotel has an indoor saltwater pool. Yes, you read that right. And, there's a lovely courtyard with lounge chairs for getting a few rays or just reading a book after a day of sightseeing in Prague.
Rooms. All the rooms are well equipped with at least the following: king sized beds, minibar, safe, coffee/tea makers, 42" TVs, iPod docking stations and high-speed internet.
Dining. We all enjoy a fine restaurant, especially one with a view. Well the Zlata Praha restaurant on the rooftop of the Intercontinental Hotel Prague combines both things perfectly.
Specials. For a luxury hotel, the Intercontinental is generous with their special offers.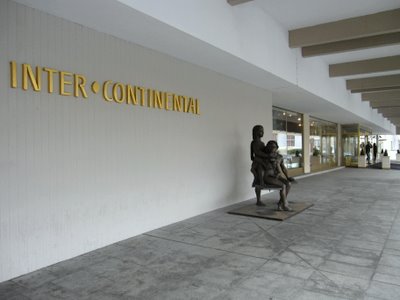 Lobby entrance to the hotel.
Location
For such a large hotel, it's surprising that the Intercontinental Hotel Prague is so well located. You can easily walk to the hotel from Old Town Square in a minute or two. Really, it's that close!
What does all this mean to you? Well, it means you won't have to walk far to get to the best sights in Prague including: Old Town Square, Obecni Dum, Powder Tower, the famous astronomical Prague clock, Charles Bridge and more.
The hotel actually sits above the banks of the Vltava River on a corner of Prague's old Jewish Quarter (Josefov). In fact, the main entrance to the hotel is just across from the Old New Synagogue and other significant parts of this historic area.
This area is basically an extension of Old Town, just with a different sort of history. This area was razed at one time with newer buildings and residences being rebuilt here in a different style than Old Town. Here you will find more art nouveau influences with the exception being parts of the original Jewish Quarter.
The extra value of the hotel's location is its proximity to the river and Letna park just across the nearby bridge.
We highly recommend strolling along the river for picture-perfect views of Mala Strana and Prague Castle. We love to take this walk especially in the evening as the sun sets beyond the castle.
Read reviews and see more photos.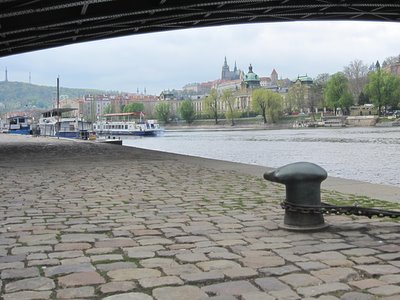 View from under Čechuv bridge that's just adjacent to the hotel.
If you don't mind relaxing a bit, you might consider one of the many river cruises that disembark near the hotel.
They offer a delightful tour of the city. And, you can choose from a variety of times and tour lengths - some include lunch or dinner with music.

Finally...
Aside from our hesitation due to the looks of the place from the outside, the Intercontinental Hotel Prague is a perfectly well-balanced and pleasant place to stay.

There's so much to like here that it's hard to hold the dated facade against the hotel for very long. Just consider the details... king sized beds, wonderful rooftop restaurant, a kingdom of fitness and amenities, and the ideal location.

We would like to see two minor things changed in your favor. One, the internet in the common lounge should be free and the parking doesn't a have to be nearly $60/day. That's just a bit extreme if you ask us.

Okay, that about wraps things up for the Intercontinental.
Check out some other Old Town Hotels here.
---
Intercontinental Hotel Prague
Address: Pařížská 30, Old Town
Tel.: +420 296 631 111
Web site: www.icprague.com
---
Back to Prague Hotels from Intercontinental Hotel Prague