Relaxing Prague River Cruises

These Prague river cruises offer incredible views and a unique way to relax.

We have partnered with a local company to offer 5 types of river cruises. Cruises range from 1 to 3 hours. The longer the cruise the more you get to see and experience.


One Hour Cruise

This short cruise is very popular.
It's also very cheap considering the amount of things you get to see.
Cruise the Vltava and see the Castle, Charles Bridge up close and the beautiful National Theatre.
---

Two Hour Cruise

With two hours, you get to see much more.
The boat's route expands to take in more sights along with a variety of lesser known spots that you might otherwise overlook.
---

2 Hour Cruise with Drink and Dessert

What better way to take a break from Prague sightseeing?
Grab a drink of your choice and taste a traditional Czech dessert while you enjoy the view of many passing Prague attractions.
---

2 Hour Cruise with Lunch and Music

There's no better way to have lunch and enjoy the sights at the same time than with this two hour Prague river cruise.
Choose from hot and cold buffets as you coast through the heart of Prague, with splendid views on both sides of the boat.
---

3 Hour Dinner Cruise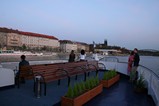 This 3 hour cruise is the perfect way to end a day of sightseeing.
It includes dinner and music. Watch the sky as the sun sets behind Prague Castle and the city's lights come on, reflecting on the water.

Details about Prague River Cruises
All cruises depart from Pier 3 which is just north of Old Town. It's a short walk from the square and easy to find.

Most cruises are offered daily, all year long except for a few holidays.
It's best to book in advance since cruises get booked for groups and other events.

---
Back to Prague Sightseeing Tours

---