Two Hour Prague Cruises

Our two hour Prague cruises offer an extended look at the main sights - and some of the lesser known areas of Prague.
These cruises are extremely popular. It seems that two hours is the perfect length.

The route is much longer than the 1-hour cruise and includes lots of sights you might otherwise miss.

The trip slowly heads upstream past Charles Bridge, the National Theater and up to the impressive Vyšehrad Castle and other sights.
Select from Three Different Cruises

We offer THREE separate 2 hour Prague cruises. Each one has something a little bit different and has its own price. But, each takes the same route on the river. (See map below.)
Basic 2 Hour Cruise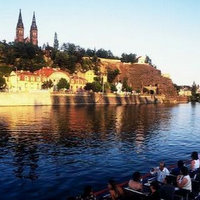 This cruise is one of the most affordable things to do in Prague - hands down.

The perspective from water level is remarkable and we'll take you past a variety of sights you might otherwise overlook - like Vysehrad Castle and the Dancing House to name a few. Drinks and snacks on board.
3 November - 19 March, 15:00 daily
Prices: Adults: 390 CZK
Children (3-11 yrs): 250 CZK
---

2 Hour Cruise with Lunch and Music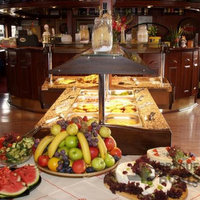 What better way to have an authentic Czech lunch than on a river boat?

This way you are assured a quality lunch and a riverfront view.

Cruise up and down the river as you have lunch buffet style - including an appetizer and main entree.

But, that's not all. Lunch is accompanied by live music entertainment too.

Please note, this is one of the most popular two hour Prague cruises - so we recommend booking a table early.
21 March - 2 November, 12.00 daily
Adults: 690 CZK
Children (3-11 yrs): 400 CZK

2 Hour Cruise with Dessert

Tired of walking and sighseeing at the same time? We know, maybe your feet just need a break.

Well, this cruise should help out.

Sit down with a cup of coffee and dessert while catch up with your guidebook, take photos or just sit back and enjoy the scenery.

All the while you get first-class views and a delicious perspective of the castle and other sights on this two hour cruise.

3 November - 19 March, 15:00 daily
Adults: 490 CZK
Children (3-11 yrs): 350 CZK

Route for Two Hour Prague Cruises

Here's a look at the various sights you will find along the route of ALL 2 hour cruises.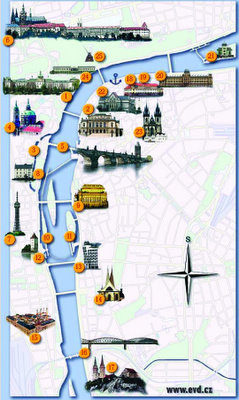 Starting at the dock (see anchor in photo), you will get a great view across the river of Prague's red metronome - where a statue of Stalin once stood.
From here, each cruise goes south on the river passing the castle on your right and going under Charles Bridge. Soon after the bridge, the boat goes through a lock and then continues southward to see the Dancing House and Vysehrad Castle.

Other significant Prague Sights you will see include:
Old Town

Straka Academy
St. Nicholas' Church
Strahov Monastery
Petrin and Letna Parks
Rudolfinum
Charles Bridge
St. Agnes Convent
National Theater
Book a 2 Hour Cruise

Easy steps to book Two Hour Prague Cruises...
1. Complete the form below.
2. We send you a pre-confirmation and request for payment.
3. You pay for the cruise and we send you a voucher and confirmation. That's it!
If you have any questions, be sure to contact us directly.
Back from 2 Hour Prague Cruises to Prague River Cruises