One Hour Prague Cruise

with Audio Commentary
This one hour Prague cruise is a fun way to see the best attractions in a short amount of time.
You get a quick view from the river while getting acquainted with the layout of the city.

The one hour Prague cruise also includes an audio commentary in a choice of seven languages.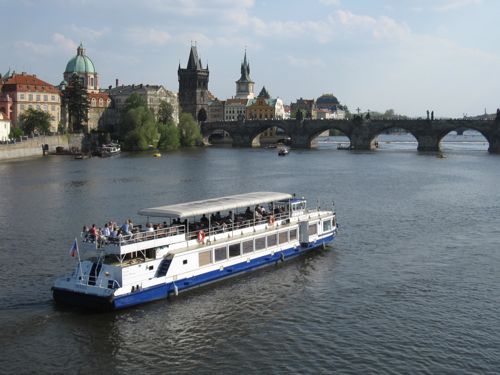 For longer river cruises see our two hour Prague cruises.
Details of the Cruise

This cruise starts at Pier 3, just north of Old Town and leisurely makes its way upstream on the Vltava River while passing a number of stunning sights along the way.

While you take photos, the audio commentary will supply you with a little history and current information regarding the sights you'll see.

If you have a taste for something during the cruise, you can order a variety of drinks and food on the boat.
Adults, 250 CZK
Children (3-11 yrs), 150 CZK

Departure times: This cruise runs everyday 21 March - 2 November. Select your time according to the dates below.

10:00, 10:30, 11:00, 11:30, 12:00, 12:30, 13:00, 13:30, 14:00, 14:30, 15:00, 15:30, 16:00, 16:30, 17:00, 17:30, 18:00, 19:00, 20:00, 21:00 (22:00 only June-Sept)

Audio in 7 languages: English, Czech, French, German, Italian, Russian, and Spanish.
Cruises are operated by our partners, EVD (Prague Boats). They are a well respected local company and have been offering Prague river cruises for many years.


Route of the One Hour Prague Cruise

The cruise departs from a lovely area near Old Town. It's part of Prague's old cobbled riverfront with quiet views of the river and Prague Castle.

The brown line on this map shows the route in more detail. You can see how the cruise will loop back around giving a perspective of both sides of the river.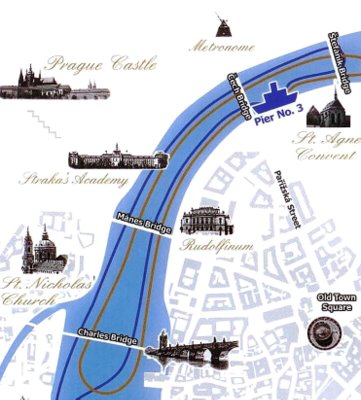 At the dock you will also note the greenery of Letna park across the way with its huge red metronome - at one time, an enormous statue of Stalin stood in its place.
Sights worth noting during the cruise:
Prague Castle
Straka Academy
St. Nicholas' Church
Strahov Monastery
Petrin and Letna Parks
Rudolfinum
Charles Bridge
St. Agnes Convent
If we had emphasize a sight on this list it would probably be Charles Bridge.

The cruise offers a detail and closeness to the bridge that cannot be matched on any other tour. The boat even slows near the bridge so you can consider its beauty and history.
---
Book a Cruise in Advance

Booking this cruise is easy. Just follow the 3 steps.

1. Complete the form below.

2. Pay for the cruise - we will send you a confirmation email AND a link for your payment. You can pay by credit card or Paypal balance.

3. Then, we will send you one final email confirming everything! That's it.
Questions? Please get in touch!