Iron Gate Hotel Prague
The Iron Gate Hotel Prague is a beautiful five star hotel in a wonderfully restored 14th century building. It's in the heart of Old Town and comes highly recommended.
On a visit to the hotel, we were pleasantly surprised by its atmosphere, attention to detail and relaxing courtyard restaurant. This page highlights a few things about the Iron Gate Hotel Prague that we think might interest you.
The Iron Gate is in a restored 14th century building.
About the Hotel
One of the most surprising elements of the Iron Gate is how unassuming it is. You can easily pass right by it without ever noticing it.
That's great in our book, because it means management isn't worried about making a noisy name for the itself - even if it considers itself a luxury Prague hotel.
Check prices and availability.
Location
The Iron Gate Hotel Prague is perfectly located just a short walk from Old Town Square and Charles Bridge. Actually, you can't find a more central hotel unless you want throngs of tourists marching outside your window.
Also nearby are both Josefov (Jewish Quarter), Wenceslas Square and other points of interest including superb restaurants, cafes and plenty of shopping.
So, if you are looking to book a hotel room with fantastic and easy access to tourist attractions, then this is the place.
For some people, the only drawback might be the hotel's distance to Prague Castle. But, for us this is a minor inconvenience. Prague is a walking city so expect some distances between attractions.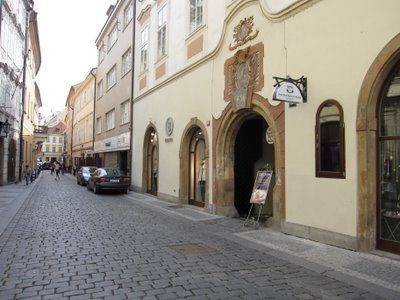 The hotel is unassuming and on a quiet street.
About the Rooms
Another pleasant surprise at the hotel was the sheer variety of rooms and styles. The hotel doesn't have anything that would be described as "standard." Each room is different with its own touch of originality.
From large suites with an upstairs bed and bathroom to incredible royal suites with original painted wooden ceilings and frescoes, guests should find something to their liking.
The hotel also combines a sense of old Prague in each room with lovely antiques and unique details that match the building's history and ambiance. The rooms also include all the necessary amenities like internet access, air-conditioning, minibar, DVD players, large screen TVs with satellite connections.
And, many of the rooms overlook the interior courtyard which gives the hotel an added sense of serenity.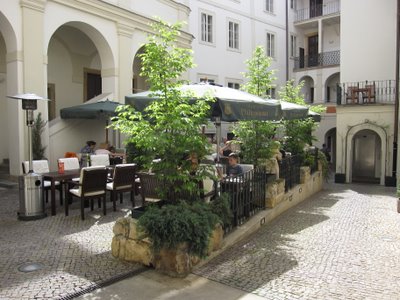 Interior courtyard at the Iron Gate.
Amenities and Services
The hotel offers all the things you'll need to be comfortable. Here's just a short list of a few of them:
• 24 hour reception
• fitness room and suana
• currency exchange
• babysitting / child services
• conference rooms and secretarial services

• multilingual staff
• valet parking
• buffet breakfast
• city tours
• daily housekeeping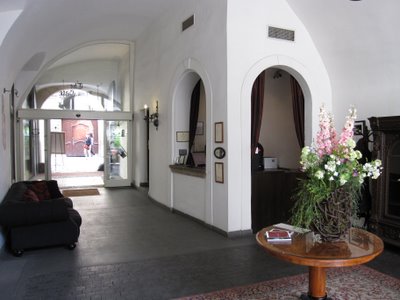 Arched ceilings and interesting details at reception.
Note regarding the staff: we arrived unannounced for a visit. But, the staff was warm and friendly - taking time to answer our questions and curiosity.
And, if we dare say it... they actually seemed proud of their working environment which is quite understandable. This is a nice contrast to some of the "looks" or strange vibes we get in other hotels. (Maybe it was the lovely sunshine coming through the doors to the courtyard.)
---
Summary of Iron Gate Hotel Prague
The Iron Gate is an outstanding hotel on many levels. It's especially worth considering if you want to be in the center of Old Town. And, you get more than a standard Prague hotel room.
The rooms, peaceful courtyard and atmosphere of the entire hotel provide an experience that is hard to match, no matter the city. Furthermore, the Iron Gate captures much of what Prague is and used to be - a grand city with tons of incredible detail and dark romance.
Not for you? Try our other hotels in Old Town Prague.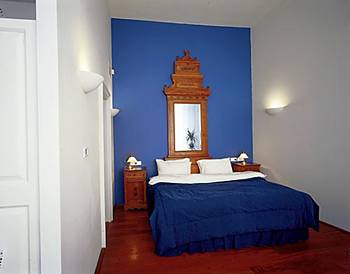 Back to Prague Hotels from Iron Gate Hotel Prague