Lokal Inn Prague

The Lokal Inn Prague is one of most charming little hotels in Prague. Beautiful rooms and a smart location make it practically irresistible. It's simply a cozy small hotel in one of Prague's most historic locations.
Book a room or suite here, and we think you will absolutely love it.

The Lokal is more of an inn or bed and breakfast actually. So, it's not your typical 3 star hotel in Prague. It's powered by authenticity - just look at those original painted ceilings in each suite.

Rooms like these aren't always easy to find in Prague. That's why we're a bit excited to offer you rooms at Lokal Inn Prague.
Why stay at Lokal Inn Prague?


Original painted wooden ceilings
Here's a sneak peek at what makes this small B&B so special, at least in our eyes.
If you've never been to Prague, then these rooms might come as a welcome surprise.
Incredible location - we are always excited about finding true gems like this in Prague's cozy Lesser Town (Malá Strana). It's just around the corner from the foot of Charles Bridge, but tourists seem to overlook this little cobbled street.
Authentic restaurant - the inn's ground floor restaurant is a breath of fresh air when it comes to Czech cuisine. When locals like us show up here for a hearty lunch or a beer in the afternoon, you know you're getting something authentic (Breakfast is also served in the restaurant.)
Classic interior details - we imagine you may not visit Prague again for awhile, so why not choose accommodation with a little history and soul? How about a suite with painted wooden ceilings from the 17th century? Much of the history remains here with all the modern features that you would expect at a hotel.
Details About the Inn

The inn offers more than a standard Prague hotel room. Inside you will find a small collection of 8 double rooms and 4 lovely suites. Each one has its own style with handmade furniture.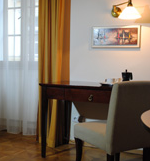 Each room and suite includes a TV, Wi-Fi, en suite bathroom, direct telephone line, writing desk, minibar and electronic safe.


Of all the small hotels in Prague, the Lokal has a friendly list of concierge services too. They will gladly arrange airport transfers, cultural activities, concerts in Prague, restaurant reservations and more.
The fabulous painted ceilings are in each of the four suites.


All rooms are above the ground floor and have double paned windows for a quiet night's sleep.
Lokal Inn Restaurant offers fresh Czech dishes
Location
Booking a room at Lokal means you will be close to everything -- all the main sights as well as fine dining, museums, beautiful Baroque churches and more.

Charles Bridge is just around the corner from the hotel and Old Town is just across the bridge. We suggest taking an evening stroll around the area after you've spent the day on the main attractions. There is a lot to see here in Malá Strana.
Address: Míšeňská 12, Malá Strana, Prague 1.