Hotel Da Vinci Prague
- Closed until further notice

Sorry, but the hotel is now closed.
It has been converted into Showpark Davinci which is also closed.
I will leave the following inforamtion about the hotel and update this page changes as available.
Hotel Da Vinci in more detail...
The Hotel Da Vinci Prague is one of the best central hotels in Prague. It's perfect for any stay whether you're planning a short break or business travel.
We stumbled upon the Da Vinci by accident as we made our way to a restaurant from Wenceslas Square.
So, we made a note of the hotel's location and came back for a tour with the hotel's manager. Thankfully, we were not disappointed!
It turns out, the Hotel Da Vinci Prague is a very nice, cheap hotel in Prague - even though we had never heard of it.
Hotel Da Vinci Prague had that immediate good feeling about it - small, charming and well located. As we all know, first impressions are very important.

As we waited for the hotel manager, we did one of our favorite things to do in a hotel - we flipped through the guest book. These reviews are often more insightful than those on websites.

So we looked through the guest book and only found praise for the staff, breakfast, rooms and location. It took going back a month to read the first "complaint." And that one little complaint was almost comical... "You could have more shelf space in the rooms."

Is that it? More shelf space?

That, isn't much of a complaint if you ask us!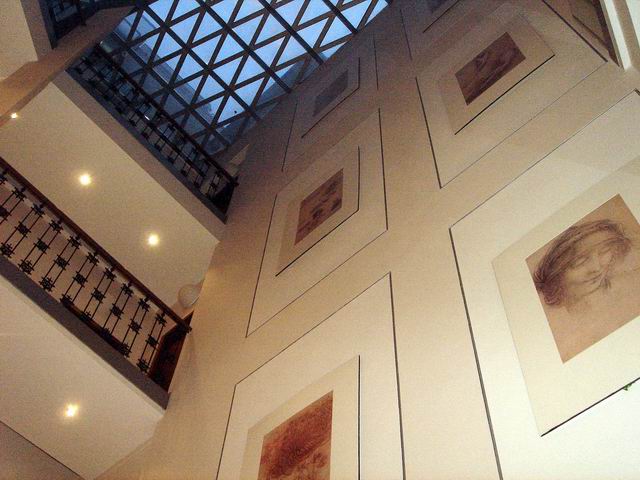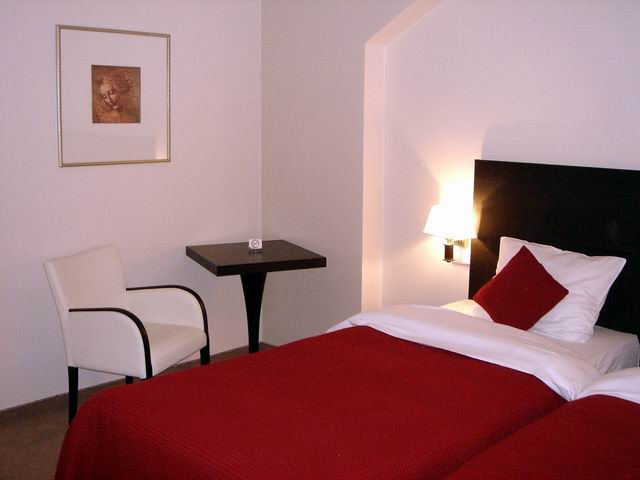 Anyway... the Hotel Da Vinci gets our approval. The manager and staff were quite pleasant and the rooms, lobby, and breakfast room were all very clean and comfortable.

Now, we didn't have breakfast of course, but there were a few comments in the guest book complimenting it as "delicious."

The hotel could be closer to the main Prague attractions, but the metro and trams are very close and you can still walk to a variety of sights from here. For a 3 star hotel in Prague, it's very suitable.
What else is here?
The Da Vinci is a small hotel with just 27 double rooms and one apartment.
But it has all the amenities you'll need.
Wi Fi

satellite TV with free movie channel

hairdryer

mini-bar

laundry services

concierge services

breakfast buffet

parking garage available - that's very good since parking in Prague is not always easy.

both smoking and non-smoking rooms
We were also impressed by look and feel of the interior of the hotel. It has a distinct clean feeling to it with very nice atrium that looks up to the exposed walkways on each floor above.

And the Da Vinci prints and inspiration is completely appropriate - not overdone at all.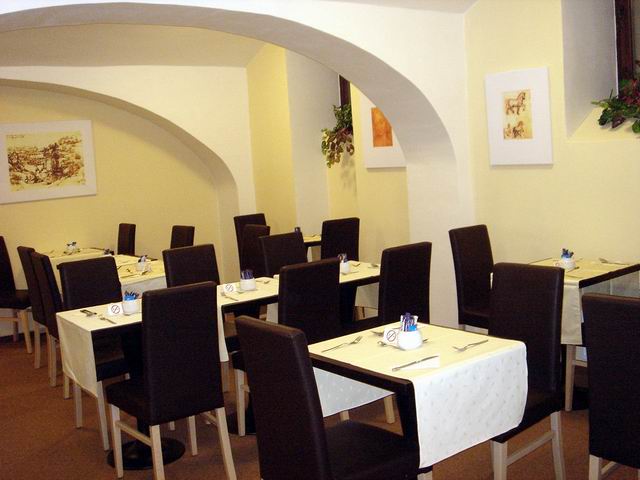 Breakfast room in the hotel.
Location
The Da Vinci Hotel Prague is located a short walk from Wenceslas Square in Prague 2 - which means it's just outside the perimeter of "downtown" you could say.

You can walk to a number of interesting spots from here including Old Town, the Prague Opera House, the National Museum and a variety of wonderful churches and alternative sights.

Also there are a number of authentic local restaurants, cafes and shops nearby.

Lastly, the hotel is very close to the wonderful Vyšehrad Castle. It's just one stop by metro.
It's absolutely worth a visit for a quiet walk or evening stroll if you have time.
Summary
The Hotel Da Vinci Prague doesn't pretend to be anything it's not - which is great in our opinion. It's a charming 3 star hotel in Prague - period. It has all the amenities you really need and the staff is warm and friendly.

The Da Vinci's best value actually might be in its size. It's a small hotel that is able to tend to guests on a more personal level. There are lots of hotels in Prague that just go overboard in size and become impersonal giants - not here.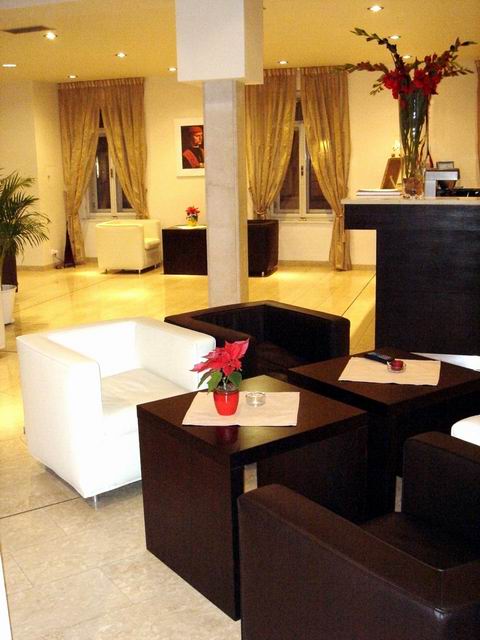 The one possible downside of the Da Vinci might be its location. This of course is relevant to your needs. The hotel is close enough to everything to enjoy Prague, but far enough to not feel like a tourist trap.

Personally, we like the location especially if you are looking to save money on short breaks to Prague, etc.
We also like that it balances a lot of local environment.

The immediate neighborhood will give you a much more authentic feeling for how Czechs live as opposed to other touristy areas.

If you require a hotel in Prague's very, historic center then try our central Prague hotels.

But, if you want to save some money and don't mind being a bit further from Old Town, etc. then the Hotel Da Vinci Prague is a perfect fit.
---