Hotel Imperial Prague
Hotel Imperial Prague is one of the best hotels in Prague, hands down. Its beautiful art deco interior, fabulous cafe and comfortable rooms are first class.
You won't find another luxury Prague hotel with as much unique character as the Imperial.
It's one of those hotels that should be listed on the attractions page - worth a visit even you don't if you don't book a room here.
Best of all, their rooms are often cheaper than many other luxury Prague hotels and other guests have written great reviews. 
Let's get to the specifics of this luxury hotel - because its lovely art deco interiors aren't the only reason the Imperial is rated 5 stars.
Rooms and Amenities
The Hotel Imperial Prague packs a delicious punch of art deco from wall to wall, but it doesn't go overboard. The rooms are perfectly comfortable without being heavy and boring.
And, because the hotel was recently renovated, guests benefit from lots of well needed updates. The 126 rooms and suites here are now a place of comfort and style. Meanwhile the hotel's amenities are just as impressive as the decor. Here are a few things we'd like to point out about the hotel.
One example of the luxurious rooms at the Imperial.
Staff and reception. Never fear, the staff is here. Okay, that's a bit silly - but really, if you have any requests or questions the staff is very supportive. It seems that the hotel's management is serious about customer service and their staff excel at it.
Room choices. The imperial has a variety of types of rooms to choose from - deluxe and executive rooms to junior and imperial suites. No room is too small and all have great modern day conveniences like wi-fi, flat screens and cozy robes and slippers.
Fitness and spa centre. Be sure to take advantage of the hotel's extra amenities. So, there's no need to keep those beer calories on the inside when there's a great gym and cardio zone in the hotel. Or, skip the fitness stuff and head for complete relaxation offers at the Hotel Imperial Prague with the help of sauna or steam bath.
Cafe and Restaurant. The hotel's cafe is well known far and wide for its remarkable beauty and tile details. It was once the choice place for literary icons like Franz Kafka and is still an exciting place to eat or sip coffee. In fact, it's one of our most favorite places in Prague. We love to marvel at the workmanship of the walls and ceilings. Even our kids like it. Wow!
Did you know?
Hotel Imperial Prague dates from 1914 and has a very interesting history of its own. Today, the hotel is listed in Worldhotels Deluxe Collection - a select group of highly distinctive properties.
The entire hotel underwent an extensive renovation from 2005 to 2007.
Interestingly enough, the cafe went upscale with the changes. In the past, you could order a platter of doughnuts and start a food fight. But now its famous flying doughnuts are no more.
Location
We often write about a hotel's location on this website - but honestly, it's for good reason. A restful night and easy walking distance to sights is very important.
Thankfully the Imperial Hotel Prague makes it easy.
The Imperial is located in Old Town, a short walk from the main square and lots of other attractions.
You can easily start your touring from the front door. You essentially won't even need the metro or navigate the trams (both of which are very close to the hotel just in case).
The other point we should make about the hotel's location... you won't feel crammed by tourists once you hit the sidewalk. The hotel is in Old Town, but just far enough away to keep a local feeling without feeling like a tourist.
Outside you'll find lots of locals heading to lunch at nearby restaurants or going to the impressive shopping mall, Palladium.
The hotel is also very close to other main sights like Josefov - Jewish Qurater and Wenceslas Square. So, the location gets our thumbs up!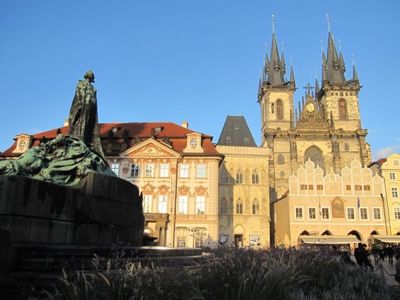 Old Town Square is a short walk from the Imperial.
Summary
It's difficult not to over compliment this luxury Prague hotel. There's a lot to like here and so many previous guests have been satisfied. So it's hard to find a complaint. Even if you're not a guest, this luxury Prague hotel is a sight to itself. And, we hear the breakfast is fantastic.
We had the luxury of seeing the hotel before and after its long renovation and we couldn't be more excited by how things are today.
The only minor, very minor, negative thought we had about the Imperial is that it's situated on a street with trams. So, some noise could possibly carry over into the hotel. But, honestly, we don't think this will be much of a problem.
Let us know if you have any questions about the area. If you're a business traveler the hotel is well suited to your needs as well. Oh, and the Hotel Imperial Prague is a perfect place for weddings, rehearsal dinners and more.
Detail of the tile ceiling in the cafe.
---
Art Deco Hotel Imperial Prague
Address: Na Poříčí 15, Prague 1

Tel.: +420 246 011 600
Web site: www.hotel-imperial.cz
---
Back from Hotel Imperial Prague to Prague Hotels